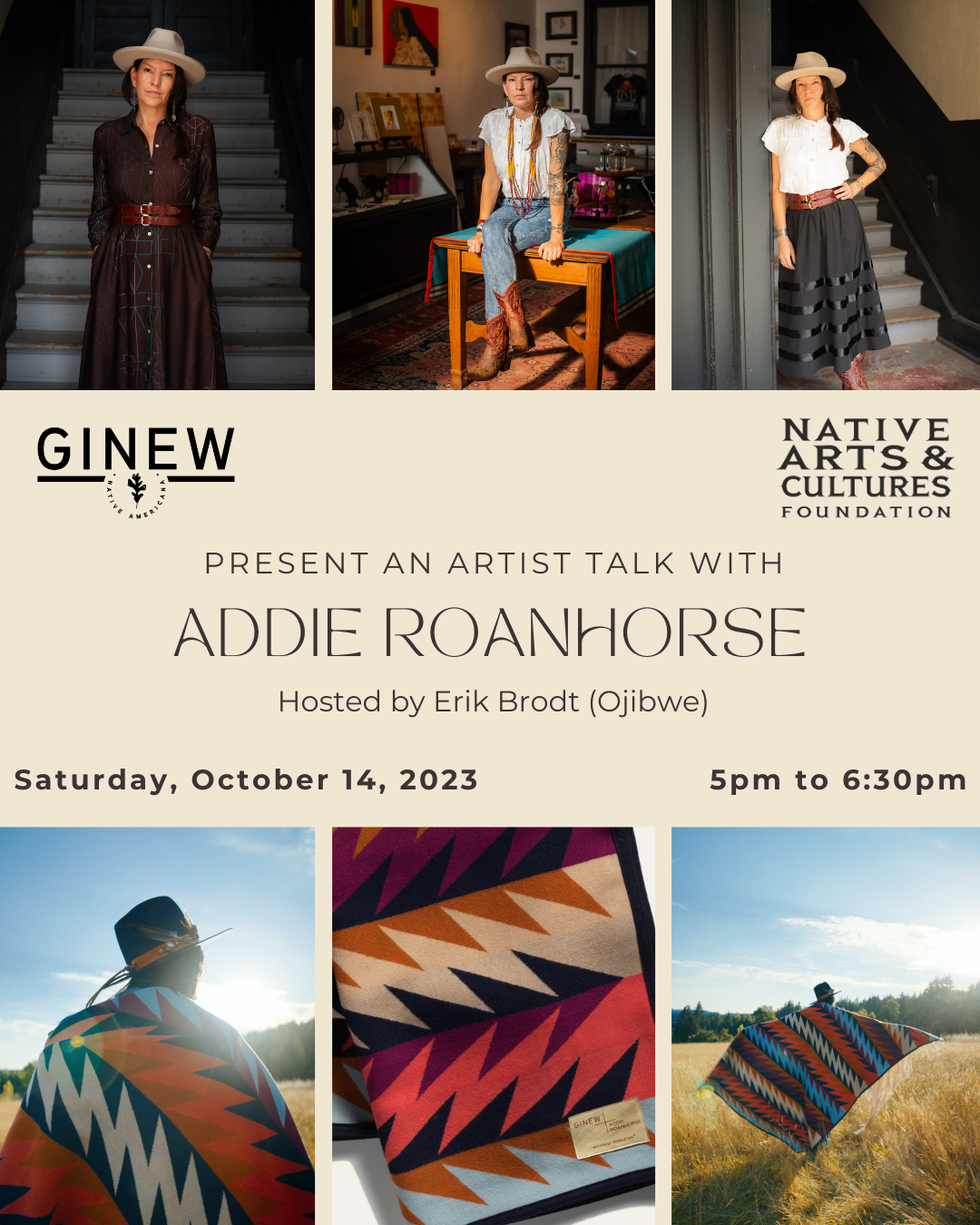 PORTLAND, Oregon – Ginew and Native Arts & Cultures Foundation (NACF) have partnered to bring artist, and graphic designer Addie Roanhorse, a member of the Osage Nation to Portland to speak about the launch of her new blanket design with Ginew, and her role in the production of the new film Killers of the Flower Moon.
Ginew, is a Portland-based Native American-owned apparel brand, and co-owner Dr. Erik Brodt (Ojibwe) will be hosting the talk with Addie to talk about her new blanket design Gently Strikes sold by Ginew and woven by Pendleton Woolen Mills™.
Addie will bring two of her Osage Ribbon work Blankets to display, as she discusses her creative process and experience as an Indigenous artist. She will also speak about her role as an Osage consultant and the Assistant Art Director on Martin Scorsese's new film, Killers of the Flower Moon – she even makes a cameo in the film. The latest trailer is here. This work has placed Addie at the forefront of groundbreaking Indigenous representation in the entertainment industry today.
From the Osage Nation Reservation, Addie identifies as a conduit of history to future generations to protect and preserve Indigenous culture. Much of her work crosses disciplines resulting in mixed media, murals, and textiles. She holds a Bachelor of Fine Arts in Visual Arts and Graphic Design and her work can be seen at Santa Fe Indian Art Market, Osage Nation Foundation Pendleton Blanket, and the Momentary in Bentonville, AR. During the pandemic, Addie was the senior graphic designer for the Osage Nation, and created culturally relevant branding and public health messages for her tribe and served as interim director at the Osage Nation Museum. As an entrepreneur deeply committed to supporting Native artists, she owns the Big Rain Gallery in Pawhuska, OK. Big Rain Gallery is focused on providing and holding space for Native artists to tell their own stories.
Who: Ginew and Native Arts & Cultures Foundation
What: Addie Roanhorse Artist Talk
When: Saturday, October 14th from 5pm to 6:30pm
Where: 800 SE 10th Avenue, Portland, OR 97214
This event is free and open to the public. The Gently Strikes blankets and other Ginew products will be available for sale on site. Presented by Ginew and Native Arts & Cultures Foundation.
About Ginew
Ginew (Gih-noo) is the first Native American-owned apparel brand with a denim collection. This family business was founded by Amanda Bruegl (Oneida, Stockbridge-Munsee) and Erik Brodt (Ojibwe). "Minobimaadiziiwin" - "Yohahi-yo sathahitaʔn" are philosophies in their tribes which embodies the concept of living in a good way. Simply put, LIVE WELL. Erik and Amanda choose to live intentionally with the adventurous spirit of their relatives and invite you to join the adventure. Fusing contemporary Native American style with Ojibwe, Oneida and Stockbridge-Munsee design elements in heirloom-quality garments and goods.
WALK WITH US. Visit ginewusa.com to learn more.
About the Native Arts and Cultures Foundation
The Native Arts and Cultures Foundation's mission is to advance equity and cultural knowledge, focusing on the power of arts and collaboration to strengthen Native communities and promote positive social change with American Indian, Native Hawaiian, and Alaska Native peoples in the United States. To learn more about the Native Arts and Cultures Foundation, visit www.nativeartsandcultures.org.