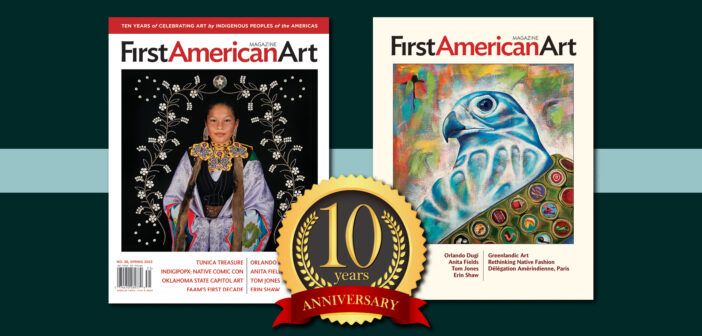 (Tulsa, Okla., May 1, 2023) — First American Art Magazine (FAAM), a quarterly print and digital journal covering art by Indigenous peoples of the Americas, will celebrate its tenth anniversary in Tulsa, Oklahoma, with a free evening reception coinciding with Tulsa's First Friday Art Walk on May 5, 2023, from 6 to 9 p.m. The reception will take place in the atrium at Archer Studios at the Tulsa Artist Fellowship, 109 Martin Luther King Jr. Boulevard and the public is invited to attend.
Complimentary copies of the current FAAM No. 38, Spring 2023 issue, stickers, and bookmarks will be available. Chef Nico Albert (Cherokee Nation) of Burning Cedar Indigenous Foods will cater the event and publishing editor America Meredith (Cherokee Nation) and contributing editor Stacy Pratt, PhD (Mvskoke) will share remarks.
In addition to the event in Tulsa, FAAM is also sponsoring four episodes of the podcast 5 Plain Questions as part of its tenth-anniversary celebrations. Joe Williams (Dakota) of Eleven Warrior Arts and the Plains Art Museum of Fargo, North Dakota, hosts 5 Plain Questions which "poses 5 general questions to Indigenous artists, creators, musicians, writers, movers and shakers, and culture bearers." In these special episodes he visits with the four Native American artists who were profiled in FAAM's very first issue in 2013: Orlando Dugi, Diné fashion designer and beadwork artist; Anita Fields, Osage/Muscogee ceramic and textile artist; Tom Jones, Ho-Chunk photographer; and Erin Shaw, Chickasaw/Choctaw painter. Listeners can tune in and discover how these artists' careers have transformed over the last decade.
FAAM was launched by Native artists in April 2013 as they saw the growing need for a publication that centered Native voices and offered serious yet accessible dialogue about Native art history and living Indigenous art. Since then, the magazine has provided a shared platform for artists, collectors, and scholars while reaching thousands of readers across the globe. It officially marks 10 years of publication with the most recent FAAM No. 38, Spring 2023 issue which will be available at this event.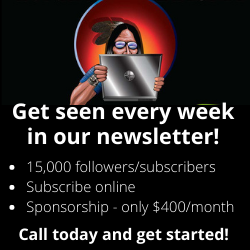 For a selection of images please visit this link. For additional information or photos, please contact America Meredith at (505) 699-5882 or via email at faamevents@gmail.com. Learn more by visiting https://firstamericanartmagazine.com/tenth-anniversary/
About First American Art Magazine
First American Art Magazine (FAAM) is an American Indian–owned and operated quarterly digital and print publication that was launched in 2013 to broaden the understanding of ancestral, historical, and living arts by Indigenous peoples of the Americas in the global art world. FAAM strives to foster historical resilience, cross-cultural understanding, and reintegration of humans into the natural world.