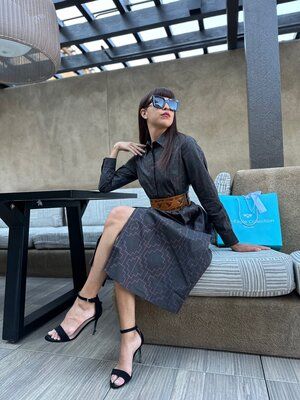 Captivating Exhibition "Biss & Beyond: Evolving Legacies" Pays Tribute to Earl Biss's Creative Spirit and Unveils the Artistic Journey of Dante Biss-Grayson

SANTA FE, NM - Prepare to be immersed in a world where artistic legacies unfold, and creativity flows seamlessly from one generation to the next. FaraHNHeight Fine Art is delighted to present "Biss & Beyond: Evolving Legacies," an awe-inspiring exhibition that celebrates the profound influence of Earl Biss while spotlighting the transformative talents of his protégé, Dante Biss-Grayson.
This unique showcase will run from November 10th, 2023, to January 13th, 2024, at the esteemed FaraHNHeight Fine Art located at 54 1/2 E San Francisco St Suite #4, Santa Fe, NM 87571. This immersive experience invites art enthusiasts and connoisseurs to witness the interplay between mentorship and evolution, as captured through the dynamic brushstrokes of Dante Biss-Grayson.
Dante Biss-Grayson, celebrated Osage artist and visionary fashion designer of the Sky-, presents a body of work that resonates with the spirit of his mentor, Earl Biss. The exhibition transcends mere homage, allowing visitors to traverse a visual odyssey that embodies the School of Biss style. Through each oil painting, Dante artfully melds new directions with classic themes, breathing life into landscapes, horses, and indigenous strength.
Much like the artistic lineage passed down in classical art movements, "Biss & Beyond: Evolving Legacies" highlights the transformative impact of mentorship. Just as the Impressionists illuminated light's nuances and Renaissance masters ignited cultural rebirth, the lineage from Earl Biss to Dante Biss-Grayson ignites a torch of innovation and inspiration.
"Dante Biss-Grayson's works epitomize the symbiotic relationship between mentor and apprentice, resonating deeply with the traditions of artistic lineage," says [Curator's Name], curator of the exhibition. "Through bold colors and masterful strokes, he captures nature's grandeur and the spirit of freedom, echoing the legacy of Earl Biss."
Two Artist Receptions are scheduled to enhance the exhibition experience and connect art enthusiasts with the creative minds behind the brushstrokes. Join us on November 10th, 2023, and December 15th, 2023, both at 6pm, to immerse yourself in the world of "Biss & Beyond: Evolving Legacies."
For further details, interviews, and press inquiries, please contact Gregory Farah at Phone: 1-504-717-0313 Email: farahnheight@gmail.com
About FaraHNHeight Fine Art:
FaraHNHeight Fine Art is a prestigious art gallery dedicated to showcasing innovative and transformative works by renowned artists. With a commitment to cultivating artistic conversations and bridging generational gaps, FaraHNHeight Fine Art has become a beacon of artistic excellence in Santa Fe.