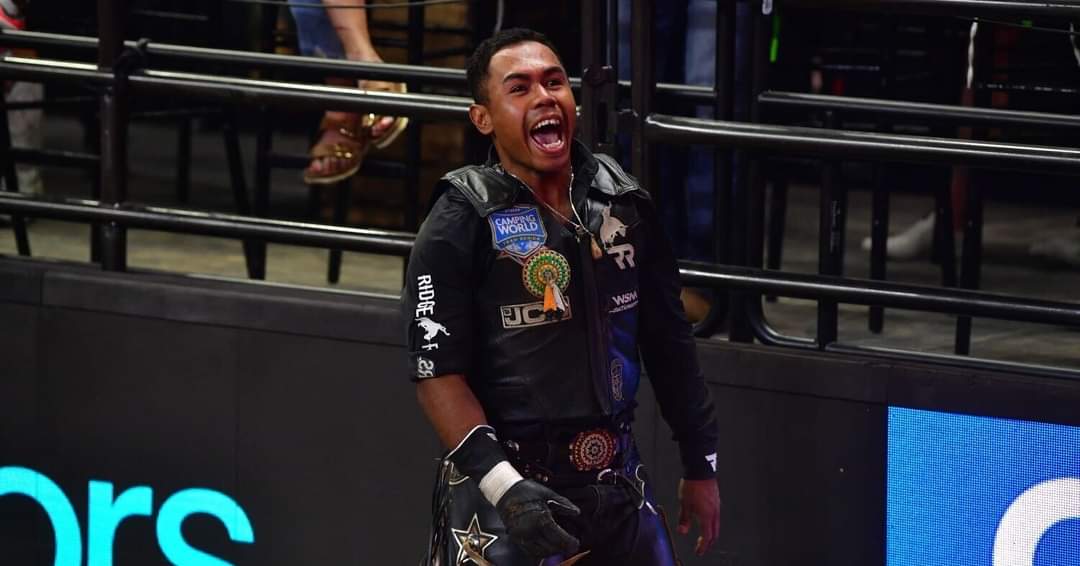 Remote interviews with team leadership, including Head Coach Cord McCoy, and competing riders are available upon request
AUSTIN, Texas – Just two weeks before their triumphant return to Oklahoma City, the Oklahoma Freedom finished sixth overall at the fifth PBR (Professional Bull Riders) Camping World Team Series event of the season, going 1-2 in game play at Gambler Days, presented by Tecovas.
As the bull riding action got underway inside Moody Center, the league No. 2 Oklahoma Freedom took on the reigning PBR Teams Champion Nashville. Despite Casey Roberts and Alex Cerqueira giving the Sooner State squad an early lead, they were defeated in walk-off fashion, as the Stampede's closer Silvano Alves propelled them to a narrow 0.5-point win, 173.5-173.
The Freedom, however, returned in resilient fashion as PBR Gambler Days, presented by Tecovas, continued, defeating the Missouri Thunder 82.75-0 compliments of a crucial 8-second effort from Elizmar Jeremias.
On Championship Sunday it was a showdown of titans as the then league No. 2 Freedom took on the event host and No. 1 Austin Gamblers. While Freedom closer Jeremias prevented the team from being shutout, the lost to the Gamblers in their first head-to-head meeting of the season by 177.5 points, as the final scoreboard read 86.25-263.75.
The Oklahoma Freedom are now ranked No. 3 in the league with an 8-5 overall record. They are now four games back of the league No. 1 Austin Gamblers.
PBR RidePass on Pluto TV will offer replays of all the PBR Camping World Team Series action from Austin, Texas. Check https://pluto.tv/en/live-tv/pbr-ridepassfor the latest programming schedule.
The PBR Camping World Team Series will next travel to the Paycom Center in Oklahoma City, Oklahoma, for the fourth team-hosted event of the 2023 season. The event will be on Friday, September 8, at 7:45 CDT, Saturday, September 9, at 6:45 p.m. CDT and Sunday, September 10, at 1:45 p.m. CDT.
During the opening night of competition in Oklahoma City, the host Freedom will play the Carolina Cowboys.
For more information about Oklahoma Freedom, visit https://pbr.com/teams/freedom/, Oklahoma Freedom on Facebook, @OK_Freedom_ on Instagram, or @OKfreedom_ on Twitter.
Austin Team Standings:
Here are the final Team standings for the Austin PBR Camping World Team Series' Gambler Days, presented by Tecovas:
Austin Gamblers, 3-0-0-525.75
Carolina Cowboys, 2-1-0-603.5
Kansas City Outlaws, 2-1-0-508.25
Arizona Ridge Riders, 2-1-0-425.5
Nashville Stampede, 1-2-0-432
Oklahoma Freedom, 1-2-0-342
Texas Rattlers, 1-2-0-333.75
Missouri Thunder, 0-3-0-87.5
PBR Teams Season Standings:
Here are the current Team standings for the regular season after the conclusion of competition for PBR Gambler Days, presented by Tecovas, in Austin:
Austin Gamblers, 12-1-0-2,184
Kansas City Outlaws, 8-5-0-2,175.75
Oklahoma Freedom, 8-5-0-1,200.75
Carolina Cowboys, 7-6-0-2,087.75
Texas Rattlers, 6-7-0-2,077
Arizona Ridge Riders, 4-9-0-1,207.25
Nashville Stampede, 3-10-0-1,040.5
Missouri Thunder, 2-11-0-781.25
About the Oklahoma Freedom:
The Oklahoma Freedom are based at Paycom Center in Oklahoma City, joining team tenants including the NBA's Oklahoma City Thunder, and their G League affiliate Oklahoma City Blue, where the team will hold its second Freedom Fest homestand on September 8-10, 2023, the sixth event of the 10-event 2023 PBR Teams regular season. The Freedom are coached by Oklahoma native Cord McCoy, a former bull rider and four-time qualifier for PBR World Finals, and 2009 PBR World Champion Kody Lostroh.
PBR is a subsidiary of IMG, a global leader in sports, fashion, events and media. For more information, visit PBR.com, or follow on Facebook at Facebook.com/PBR, Twitter at Twitter.com/PBR, and YouTube at YouTube.com/PBR.