USDA designates more than $60 million to expand high speed internet access in rural areas of Oklahoma tribal nations
By Robby Korth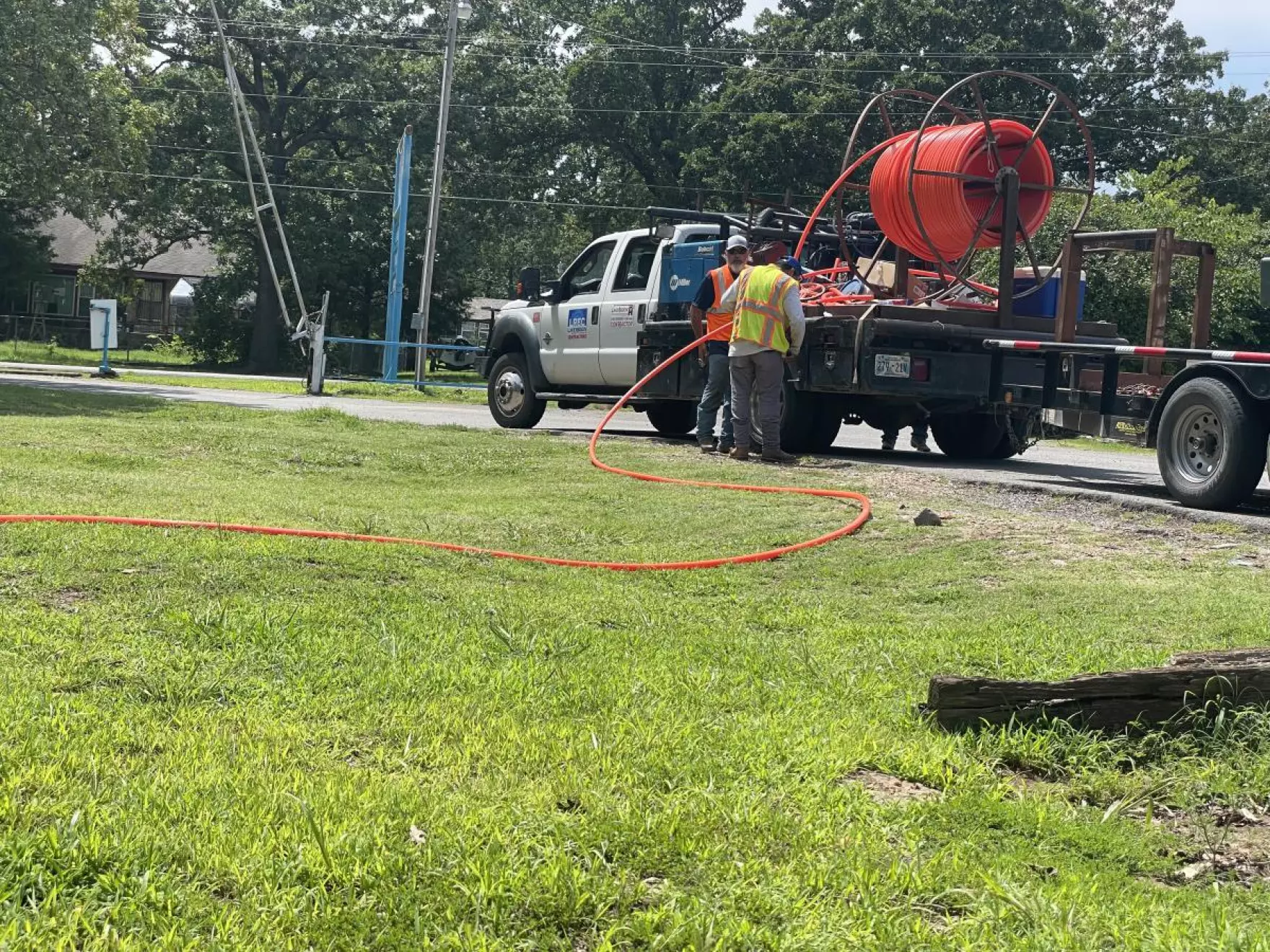 An Oklahoma tribal nation and two telephone companies are receiving $67.4 million to expand broadband access in rural Oklahoma.
The funds are part of a $667 million investment by the US Department of Agriculture to expand rural high speed internet access in 22 states and the Marshall Islands.
The project is called ReConnect. And in Oklahoma, the disbursements look like this:
Pawnee Nation will get $24.9 million to expand access in Pawnee in Payne Counties.
Oklahoma Western Telephone will get  $24.9 million for counties within Choctaw Nation.
And Cimarron Telephone Company will get an almost $9 million grant and $9 million loan to expand access in Muscogee Nation.
The program is part of the federal Bipartisan Infrastructure Law passed in 2021. Other Oklahoma companies have gotten grants from the program before, including two providers who received about $50 million in June.
Secretary of Agriculture Tom Vilsack announced the grants this week and said they are a critical piece to providing better infrastructure in rural areas.
"Keeping the people of rural America connected with reliable, high-speed internet brings new and innovative ideas to the rest of our country and creates good-paying jobs along the way," he said.
---

WASHINGTON D.C.-- The U.S. Department of Agriculture's (USDA) Agricultural Marketing Service (AMS) today announced $72.9 million awarded to 55 states and territories through the Specialty Crop Block Grant Program (SCBGP). The grant program provides funding to enhance the competitiveness of specialty crops and support specialty crop growers through marketing, education, and research.
"USDA is excited to announce that this year's Specialty Crop Block Grant awards marks over $1 billion invested in nearly 12,000 projects that support the U.S. specialty crop industry," said Agriculture Secretary Tom Vilsack. "The Specialty Crop Block Grant Program is a critical piece of USDA and the Biden-Harris Administration's efforts to support small and mid-sized producers and ensure Americans have sustained access to fresh, locally grown specialty crop products."
Fiscal year 2023 SCBGP funding is awarded to the departments of agriculture in the 50 states, the District of Columbia, the Commonwealth of Puerto Rico, U.S. Virgin Islands, American Samoa, and the Commonwealth of the Northern Mariana Islands. Funding for SCBGP is authorized by the 2018 Farm Bill.
States are encouraged to subaward funding to projects that address the needs of U.S. producers of fruits, vegetables, tree nuts, dried fruits, horticulture, and nursery crops. Funded projects include investing in food safety, specialty crop research, including research to focus on conservation and environmental outcomes, developing new and improved seed varieties and specialty crops, and pest and disease control. Additional projects focus on increasing child and adult nutrition knowledge and consumption of specialty crops; and improving efficiency and reducing costs of distribution systems.
More information on the projects is included in the individual press releases for each state and territory. The press releases can be viewed on the SCBGP 2023 Grant Awards webpage.
USDA touches the lives of all Americans each day in so many positive ways. Under the Biden-Harris Administration, USDA is transforming America's food system with a greater focus on more resilient local and regional food production, fairer markets for all producers, ensuring access to safe, healthy and nutritious food in all communities, building new markets and streams of income for farmers and producers using climate smart food and forestry practices, making historic investments in infrastructure and clean energy capabilities in rural America, and committing to equity across the Department by removing systemic barriers and building a workforce more representative of America. To learn more, visit www.usda.gov.
---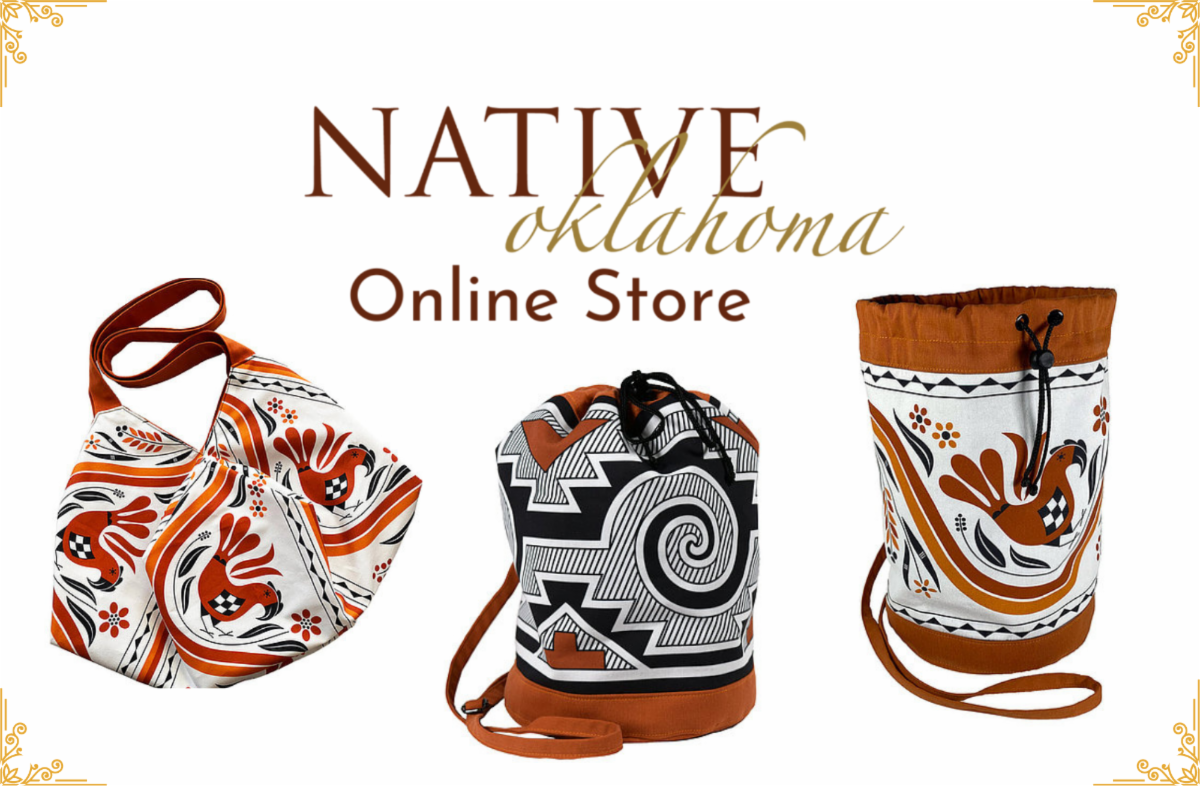 ---
2023 Tulsa Native American Day scheduled Oct. 9 at Dream Keepers Park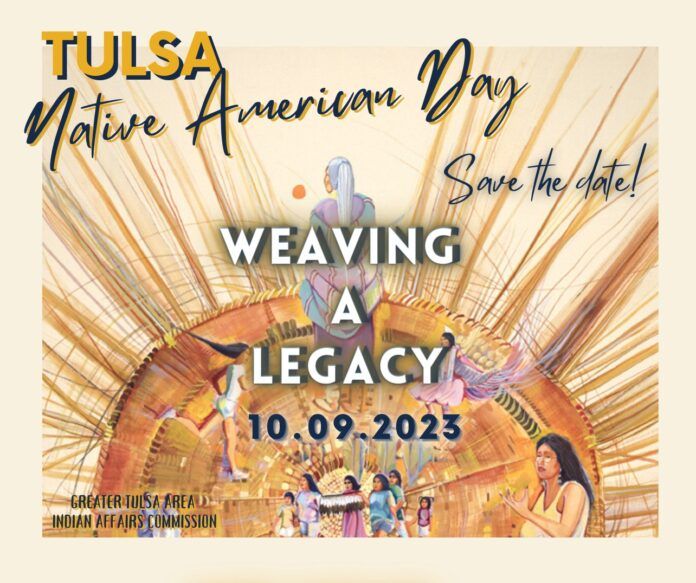 This year's Parade Marshall is FX's 'Reservation Dogs' Co-Creator and Executive Producer Sterlin Harjo. Parade starts at 11 a.m.
by Benny Polacca Osage News
The 7th annual Tulsa Native American Day celebration takes place Saturday, Oct. 9 at Dream Keepers Park with day-long events starting at 9 a.m.
This year's Native American Day takes place with "Weaving a Legacy" as its theme, according to announcements for the event hosted by the Greater Tulsa Indian Affairs Commission.
Celebrated on the second Monday in October and at the request of the city's Indian Affairs Commission, Tulsa made the switch in September 2017 from Columbus Day to observing Native American Day with unanimous support from the city council that year.
On July 27, the Greater Tulsa Indian Affairs Commission issued the following social media announcement: "Parade is at 11 a.m. and we are excited to announce that (FX's 'Reservation Dogs' Co-Creator and Executive Producer) Sterlin Harjo is our Parade Marshall this year! Join us for a fun-filled day celebrating our culture and heritage!"
The announcement with Harjo as Parade Marshall comes as the groundbreaking series started its third and final season this month and is available for streaming on Hulu.
This is the second year for Tulsa's Native American Day Celebration taking place at Dream Keepers Park located at the intersection of South Boulder Avenue and 21st Street, which was formerly known as Veterans Park.
Harjo (Muscogee Creek/ Seminole) "has created and directed five feature films: three narrative dramas and two documentaries," according to his FX professional bio. "His most recent documentary feature, Love and Fury, chronicles the work and intersection of over a dozen contemporary Native American artists. Love and Fury was acquired by Ava DuVernay's ARRAY and released on Netflix in December 2021. The film premiered at the 2021 Hot Docs Canadian International Documentary Festival and was an official selection of the Seattle International Film Festival, Virginia Film Festival and deadCenter Film Festival."
As for the final season of "Reservation Dogs," Harjo discussed the series ending with Variety magazine. "The critically acclaimed FX series, which (returned to Hulu on Aug. 2), is a dramatic comedy about a group of Indigenous teens finding their place among family and friends as they grow up in Oklahoma. But the thing about coming-of-age tales, Harjo notes, is that eventually the characters come of age," according to the magazine.
"It's a story that had an ending," Harjo told Variety. "It's a story about people going through transition, and specifically kids going through a very transitional moment and grief. I just don't think that lasts forever. I think that we're meant to be with them during this transitional time. To me, the show's too important to drag out."
Harjo is also a founding member of the Native sketch comedy troupe, The 1491s, which includes Osage graphic design artist Ryan RedCorn and Dallas Goldtooth (Dakota/ Navajo), who also appears in "Reservation Dogs." RedCorn also served as a writer for "Reservation Dogs."
Follow "Tulsa Native American Day" on Facebook for information on vendor space registration and further updates on the celebration events and activities.
---
Cherokee Nation launches Cherokee Film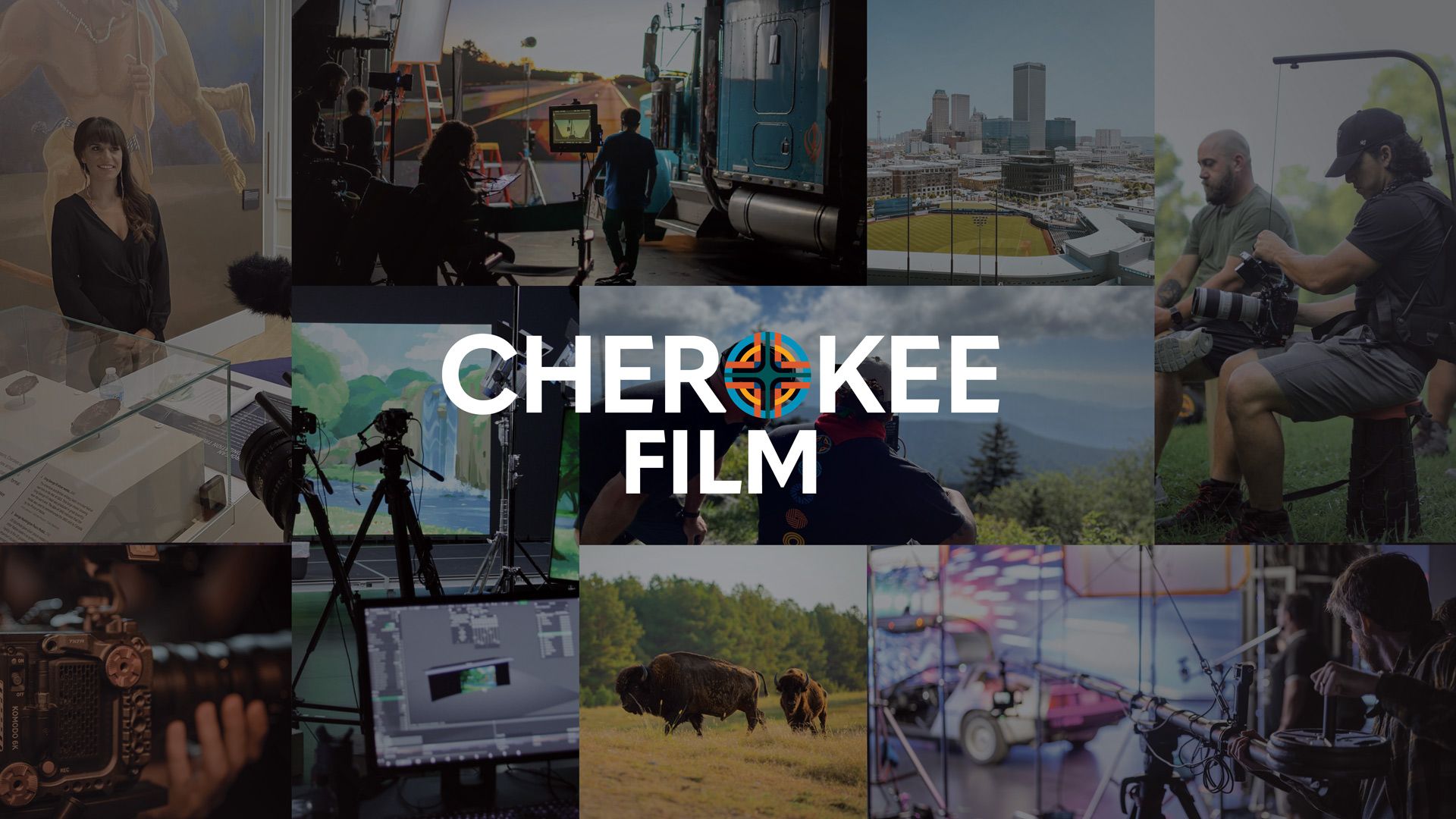 Tribe aligns film industry endeavors, creates innovative ecosystem
TULSA, Okla. – Cherokee Nation is rolling out an expansion and reorganization of its filmmaking ecosystem. Today, Cherokee Nation Businesses announced a new company name with four distinct branches and logos, as well as new social media accounts and website, aimed at better representing the tribe's continued efforts in becoming a film and media production hub and creating important changes within the film and media industries.
The tribe's collective efforts in filmmaking, storytelling and content creation are now Cherokee Film.
"Cherokee Nation has quickly become a leading hub for Indigenous storytellers in television and film," said Cherokee Nation Principal Chief Chuck Hoskin Jr. "As we increase infrastructure, explore incentives, connect resources and remove barriers, Cherokee Nation and its businesses are helping grow and amplify television and film production in Oklahoma while making it possible for our citizens to be a part of it."
Cherokee Film's portfolio includes four branches – Cherokee Film Productions, Cherokee Film Studios, Cherokee Film Commission and Cherokee Film Institute – and represents more than 30 full-time employees.
"Cherokee Nation and its businesses continue to stand at the forefront of industry and economic growth in Oklahoma," said Chuck Garrett, CNB chief executive officer. "We are very proud of our ongoing leadership role in helping grow and evolve the film and television industry, and it's time that our brand recognizes the entirety of those efforts."
Under Cherokee Film Productions, the tribe will continue sharing its stories through the popular and award-winning television production OsiyoTV and will add a slate of new projects, creating new content that tells Cherokee stories and contributes to the tribe's language revitalization efforts. Cherokee Film Studios will continue supporting the local, regional and Native film industries through innovative investments in infrastructure, expanding upon the tribe's existing soundstage facility in Owasso, Oklahoma. The Cherokee Film Commission will continue offering its industry-leading initiatives supporting all types of content creators, such as its $1 million annual film rebate, cultural consulting services and Native American crew, talent and support services directories. Under Cherokee Film Institute, the tribe is investing in a long-term strategy to create educational and workforce opportunities aimed at removing the barrier for Native Americans to enter the industry and create a sustainable workforce in and around the Cherokee Nation reservation.
"The launch of Cherokee Film represents a new way forward, not just for the Cherokee people, but for all of Indian Country and for film and media as a whole. With a community-driven mindset, we have built a living, breathing ecosystem to create positive change through the practice of storytelling in the digital age," said Jennifer Loren, senior director of Cherokee Film. "From our Native American talent and crew databases and film rebate program to our state-of-the-art soundstage, Cherokee Nation is quickly becoming a hub for film and media production while creating job opportunities and generating economic activity throughout northeastern Oklahoma. With Cherokee Film's new investments in film and media production and investments in educating our workforce, we hope to create lasting change that will help diversify the stories we see in mainstream media. Our team at Cherokee Film is passionate about creating a better and more inclusive life for the next seven generations."
Cherokee Film is owned by Cherokee Nation Businesses, the economic engine of the largest Native American tribe in the U.S. The tribally owned holding company remains a driver of community development, economic impact and cultural preservation, as well as a staple in the hospitality industry and leader in federal contracting solutions.
To learn more about the tremendous growth and expansion of Cherokee Film, visit Cherokee.filmand check out the new brand's sizzle reel. Follow Cherokee Film on Facebook, Twitter, YouTube and Instagram.
---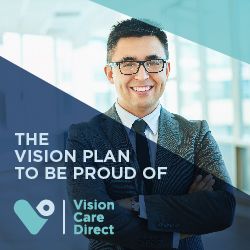 Native Healing Coalition partners with Swarthmore and Haverford colleges to digitize records from Quaker-operated Indian boarding schools

Minneapolis, MN—The National Native American Boarding School Healing Coalition (NABS) will digitize 20,000 archival pages related to Quaker-operated Indian boarding schools. NABS was awarded a grant of $124,311 from the National Historical Publications and Records Commission to work with Friends Historical Library of Swarthmore College and Quaker & Special Collections at Haverford College.
Documents related to Quaker-operated Indian boarding schools have been largely understudied, as they exist in scattered collections with limited access. NABS is making these important histories readily available to scholars and non-specialists alike by housing the digital records in a public database.
"We are grateful to Swarthmore and Haverford for their willingness to partner with us as we try to better understand this history," said Stephen R. Curley (Diné), Director of Digital Archives for NABS. "This partnership is unique and necessary, and we hope it creates more opportunities in the future. It is going to take all communities working together to reveal the truth about Indian boarding schools."
In fall 2023, NABS, Swarthmore, and Haverford will scan 20,000 pages of enrollment papers, financial information, correspondence, administrative records, and photographs. The records from Swarthmore and Haverford, ranging from 1852-1945, relate to at least nine Quaker-operated Indian boarding schools that were located in Indiana, Kansas, Nebraska, New York, Ohio, Oklahoma, and Pennsylvania.
Following the scanning process, a community information session will be held with Tribal communities to discuss the project findings. The project will also include the production of a video that shares oral histories from boarding school survivors, their families, and others.
In spring 2024, the 20,000 digitized records will be made publicly available on a database called the National Indian Boarding School Digital Archive (NIBSDA), which NABS will launch later this year.
"I hope this partnership opens the door for more discussion and understanding about religious institutions' role in the operation of Indian boarding schools," said Celia Caust-Ellenbogen, Associate Curator for Friends Historical Library of Swarthmore College. "These records can inform us about the conditions in which Native students lived, how Quaker institutions were financed through the federal government, and reveal the motivations behind U.S. assimilation policy design."
"The digitization of these collections will yield new research and narratives about the underexamined history of Quaker-operated Indian boarding schools," said Sarah Horowitz, Curator of Rare Books & Manuscripts and Head of Quaker & Special Collections at Haverford College. "These records reveal storied experiences and information that is too often absent from the public record, but that are increasingly sought by historians of Native American and American history."