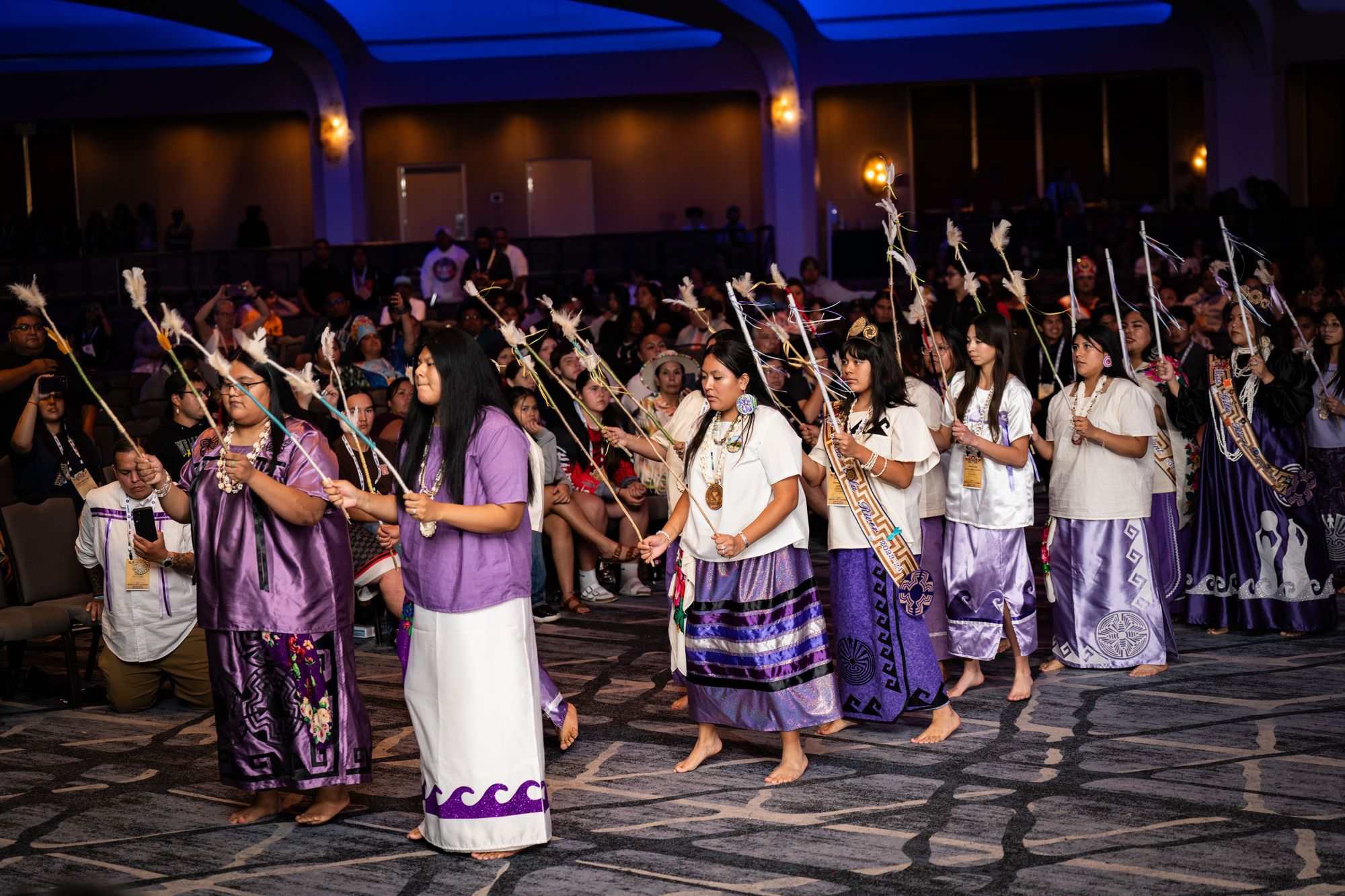 Highlights included prominent speakers and workshops, as well as the election of officers for the National UNITY Council Executive Committee
Mesa, Arizona–UNITY hosted a sold-out annual National Conference, June 29-July 3, at the Washington Hilton in Washington, D.C., with more than 2,200 youth and adult attendees from throughout the United States. The conference drew youth representatives from more than 250 tribal communities in what has been dubbed the Super Bowl of Native youth leadership events.
UNITY's opening ceremony featured representatives from the organization's 300 affiliated youth councils and, this year, included a delegation of Indigenous youth from Taiwan. Featured presentations included U.S. Treasurer Lynn Malerba; Grammy award-winning fashion designer Norma Baker-Flying Horse; documentarian Matika Wilbur; DJ and youth advocate Marcus "Emcee One" Guinn; Shawn "DJ Tribal Touch" Martinez, senior director of live presentation for the Phoenix Suns and Phoenix Mercury; Victoria Vasques, chairwoman of Tribal Tech LLC; and White House Senior Policy Advisor for Native Affairs, Domestic Policy Council, Elizabeth Hildalgo.
"This year's National Conference exceeded our greatest expectations regarding attendance, engagement, and participation. Many of our attendees persevered through some challenging travel situations to make it to Washington DC," said MaryKim Titla, UNITY executive director.
"I'm always inspired by their commitment and leadership and by our speakers' and presenters' passion and knowledge." The conference's theme was "Healing the Spirit of Native Youth." Native American and Alaska Native youth and advisors from rural and urban tribal communities across the U.S. came together for learning, cultural sharing, and collaboration focused on the theme.
Attendees had the opportunity to visit the National Museum of the American Indian for a welcome reception and conference blessing featuring museum director Cynthia Chavez Lamar and Ernie Stevens, Jr., chairman of the Indian Gaming Association. Youth participants also met in regional caucuses, attended empowerment sessions, participated in workshops and fashion shows, and discussed issues important to the Native Youth community. Special conference video messages geared to Native youth in attendance were provided by Vice President of the United States Kamala Harris, Secretary of the Interior Deb Haaland, Representative Sharice Davids, U.S. Department of Commerce Secretary Gina Marie Raimondo, U.N. Ambassador Linda Thomas-Greenfield, and primatologist and anthropologist Dr. Jane Goodall.
In addition, a "Meet Your Federal Partners-Work in Indian Country" panel was moderated by Pawnee Rivera, senior advisor, White House Office of Intergovernmental Affairs and director of tribal affairs; and featured JoAnn Kintz, deputy director, Office of Tribal Justice, Department of Justice; Gary Cooper, assistant secretary, Office of Native American Programs, U.S. Department of Housing and Urban Development; Raina Thiele, senior advisor to the secretary for Alaska affairs and strategic priorities; U.S. Department of the Interior; Naomi Miguel, executive director, White House Initiative on Advancing Educational Equity, Excellence, and Economic Opportunity, U.S. Department of Education; and Lawrence Shorty, USDA Tribal Colleges and University Program.
The National UNITY Council (NUC) held its annual business meeting during the conference. The NUC comprises representatives from UNITY's ten regions, representing 36 states and 320 affiliated youth councils. The youth leaders identified the top 10 issues facing Native youth, which they will prioritize during 2023/2024. They are:
1. Substance abuse
2.Culture and language
3. Mental health
4. Domestic violence
5. Education
6. Tribal leadership support
7. Climate change
8. Suicide
9. Missing and murdered Indigenous relatives
10. Involvement/empowerment
At the NUC business meeting, UNITY youth peers elected Kaytlynn Johnston (Bishop Paiute Tribe of California) and Jonathan Arakawa (Lower Elwha Klallam Tribe of Washington) as co-presidents of the National UNITY Council Executive Committee. During their one-year term, Johnston and Arakawa will work with the following 10 area representatives who were also elected by youth councils during the conference:
•Great Plains Area Representative: Koya Bearstail, 17, Mandan, Hidatsa, Arikara of North Dakota
•Midwest Area Representative: Marla Mesarina, 18, Leech Lake Band of Ojibwe/Sisseton Wahpeton Oyate Sioux Tribe of Minnesota
•Northeast Area Representative: Nathan Solorio, 16, Brokenhead Ojibway First Nations of Pennsylvania
•Northwest Area Representative: Maize Countryman, 19, Northern Arapaho/Navajo/Eastern Shoshone of Idaho
•Pacific Area Representative: Sineca Jackson, 20, Akimel O'odham of Hawaii
•Rocky Mountain Area Representative/Vice President: Watson Whitford, 18, Chippewa Cree/Navajo of Montana
•Southeast Area Representative: Thorn Grove, 19, Akimel O'odham/Tuscarora of North Carolina
•Southern Plains Area Representative: Mahiya Ramirez, 21, Muscogee (Creek) Nation of Oklahoma
•Southwest Area Representative: Derek Capitan, 24, Laguna Pueblo/Navajo of New Mexico
•Western Area Representative/Secretary: Jalen Harvey, 18, Navajo/Acoma Pueblo/Hopi of Arizona
During the annual UNITY Gala at the conference, the following 2023 UNITY awards and scholarships were presented:
•UNITY J.R. Cook Advisor of the Year: Soshina Harvey
•UNITY Eddie Wadda Alumni of the Year: Elke Chenevey
•UNITY Youth Council of the Year: Tesuque Pueblo Youth Coalition, Pueblo of Tesuque, New Mexico
•Golda Cook Scholarships:
o Jeremiah Ailak, San Carlos Apache Tribe, Arizona State University (major in architecture studies; minor in mathematics)
o Angelina Serna, Oneida Nation, Cornell University (major in government; minors in public policy and Native American and Indigenous studies)
•J.R. Cook Memorial Scholarship: Ajah-Rain Yellowhair, Dine (Navajo) Nation, University of Portland (major in political science/global affairs and education)
An official honoring of the 2023 UNITY Circle of Earth Ambassadors took place during the conference. The environmental stewardship and leadership program, which began in the 1990s, provides Native American youth with training sessions and informational workshops to increase their knowledge of environmental issues affecting Indian country.
To read more about the UNITY Earth Ambassadors, who were named in May, click here. The event also featured over 50 workshops and a college and career fair. Sponsors for the national conference included Gaming Laboratories International, Gila River Indian Community, SYCUAN Band of the Kumeyaay Nation, Shakopee Mdewakanton Sioux Community, Nike N7, Comcast NBC Universal, Porch Creek Indians, Seminole Tribe of Florida, RMP Foundation, Tribal Tech LLC, Walmart, San Carlos Apache Tribe, Native Forward, Mille Lacs Band of Ojibwe, Agua Caliente Band of Cahuilla Indians, Pechanga Band of Indians, Soboba Band of Luiseno Indians, McCabe CPA Group, The Wichita and Affiliated Tribes, Titan Facility Services, Casey Family Programs, Chickasaw Nation, and Prairie Island Tribal Council.
Conference partners were Bank of America, International Gaming Technology, National Museum of the American Indian, National Center for American Indian Enterprise Development, National Congress of American Indians, National Indian Education Association, Substance Abuse and Mental Health Services Administration.
UNITY announced the dates and locations for its 2024 signature events. The UNITY Midyear Conference will occur February 2-4, 2024, at the Sheraton Downtown Hotel in Phoenix, Arizona. The National UNITY Conference will happen at the Oregon Convention Center, June29-July 3, 2024.
Registration for both events will open in September 2023. To learn more about UNITY, visitwww.unityinc.org.
ABOUT UNITY
Founded in 1976, United National Indian Tribal Youth, Inc. (UNITY) is a national network organization promoting personal development, citizenship, and leadership among Native Youth. UNITY's mission is to foster the spiritual, mental, physical, and social development of American Indian and Alaska Native youth ages 14-24, and to help build a strong, unified, and self-reliant Native America through greater youth involvement. UNITY's network currently includes 320 affiliated youth councils in 36 states. Youth Councils are sponsored by Tribes, Alaska Native villages, high schools, colleges, urban centers, and others.