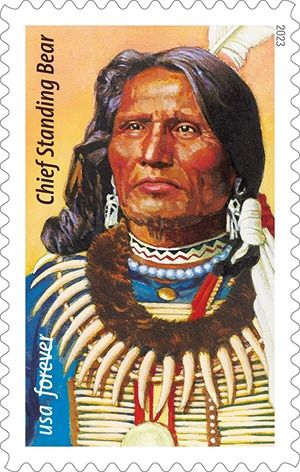 The U.S. Postal Service has honored Chief Standing Bear by issuing a Forever stamp bearing his image.
In 1879, Standing Bear won a landmark court ruling that determined a Native American was a person under the law with an inherent right to life, liberty and the pursuit of happiness.
Candace Schmidt, chairwoman of the Ponca Tribe, is among officials scheduled to attend a first-day-of-issue event for the stamp on May 12 in Lincoln, Nebraska.
In 1877, the U.S. Army forcibly relocated some 700 Ponca tribal members to Indian Territory, what is now Oklahoma, after the federal government gave away their homeland in the Niobrara River Valley in what is now northeastern Nebraska. Later, in a landmark civil rights case, Standing Bear v. Crook, the Ponca chief sued the government for his freedom after being arrested with 29 other Poncas for attempting to return to their homeland. They eventually won the case and were allowed to return to Nebraska.
One issue that Standing Bear's 1879 trial raised, however, wasn't formally resolved until 1924, when Congress adopted the Indian Citizenship Act conferring citizenship on all Native Americans born in the United States.
Illustrator Thomas Blackshear II created the portrait used for the stamp based on a photograph taken of Standing Bear in 1877 while he was in Washington, D.C., as part of a delegation of Ponca chiefs.
The Ponca Tribe of Indians of Oklahoma, also known as the Ponca Nation, is one of two federally recognized tribes of Ponca people. The other is the Ponca Tribe of Nebraska. In Oklahoma the tribe's government offices are headquartered in White Eagle, near Ponca City. Its jurisdictional area includes parts of Kay and Noble counties. As of 2018, there were 3,783 enrolled tribal members in Oklahoma.