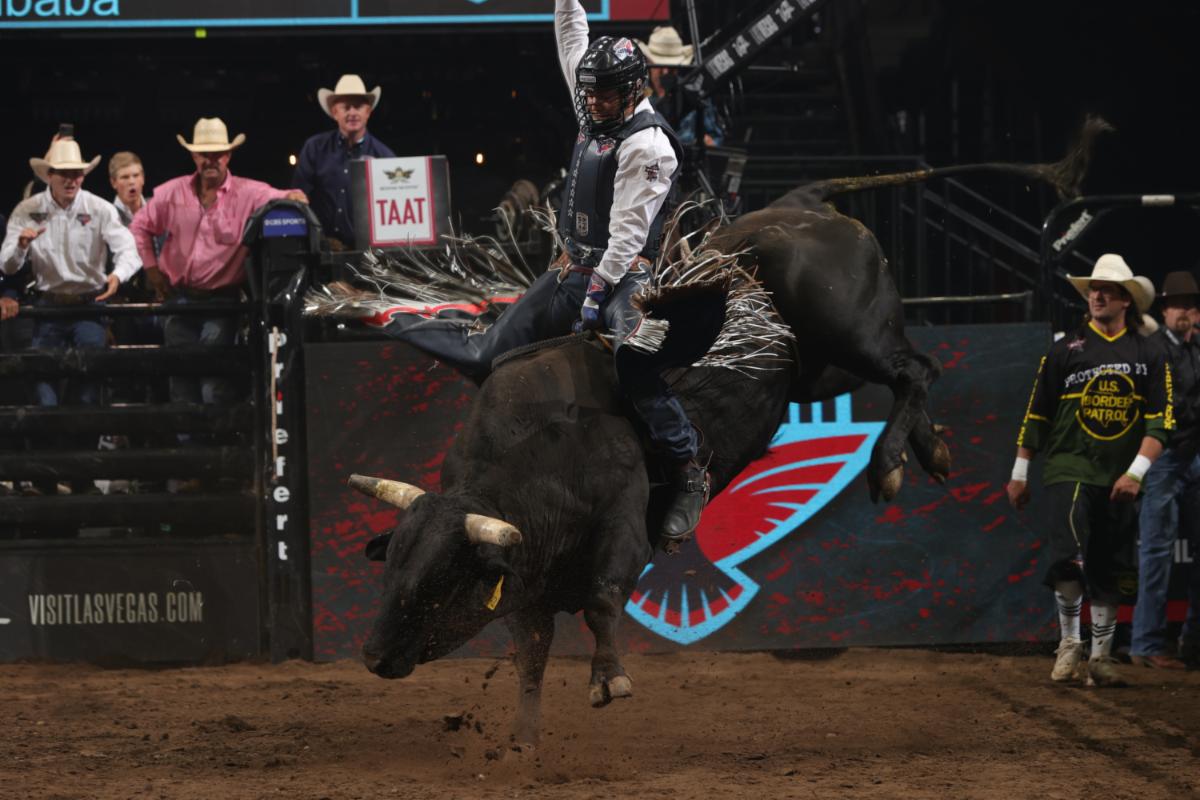 ANAHEIM, Calif. – At the third regular-season PBR (Professional Bull Riders) Team Series event in Anaheim, California, the second and final neutral site event, the Oklahoma Freedom finished third.During the opening night of competition in California, backed by crucial rides from veteran Derek Kolbaba and young gun Casey Roberts, the Freedom defeated the Ariat Texas Rattlers 175.74-86.Ready to ride the winning momentum into Saturday's final game, the Freedom next squared off against the Nashville Stampede.
Remaining red hot, the Freedom delivered their second win of the weekend, narrowly beating the Nashville team 87.75-85.As one of three rosters to go a perfect 2-0 in game play, the Freedom entered the bonus round tied for first alongside the Austin Gamblers and Missouri Thunder.In the crucial tiebreak scenario, Freedom Head Coach Cord McCoy matched Kolbaba with Concho (M Rafter E Bucking Bulls).The pairing, however, did not prove fruitful for the Freedom, as Kolbaba came down in a swift 1.9 seconds. Kolbaba's effort was the seventh best of the bonus round, beating only the Arizona Ridge Riders, earning his team just 2 bonus points.As a result, the Freedom concluded the weekend third in the overall event.The Oklahoma Freedom are now fifth in the regular season standings, having gone 3-4 in game play, amassing 12 bonus round points.PBR RidePass on Pluto TV will offer replays of all the PBR Team Series action from Anaheim.
Click here for the latest programming schedule.
The PBR Team Series will next travel to Bridgestone Arena in Nashville, Tennessee, for the second team hosted homestand of the 2022 PBR Team Series Season. The Nashville Stampede will host Stampede Days Aug. 19-21. The event will be on Friday, August 19 at 7:45 p.m. CT, Saturday, August 20 at 6:45 p.m. CT and Sunday, August 21 at 12:15 p.m. CT.During the opening night of competition in Tennessee on August 19, the Oklahoma Freedom will play the Kansas City Outlaws.The Oklahoma Freedom are based at Paycom Center in Oklahoma City, Oklahoma, where they will host their inaugural homestand, Freedom Fest, on Sept. 16-18.For more information about Oklahoma Freedom, visit https://pbr.com/teams/freedom/, Oklahoma Freedom on Facebook, @OK_Freedom_ on Instagram, or @OKfreedom_ on Twitter.
ANAHEIM TEAM STANDINGS:
Here are the final Team standings for the Anaheim PBR Team Series event:
1.      Austin Gamblers, 2-0-0-7
2.      Missouri Thunder, 2-0-0-4
3.      Oklahoma Freedom, 2-0-0-2
4.      Kansas City Outlaws, 1-1-0-6
5.      Ariat Texas Rattlers, 1-1-0-5
6.      Carolina Cowboys, 0-2-0-8
7.      Nashville Stampede, 0-2-0-3
8.      Arizona Ridge Riders, 0-2-0-1
PBR TEAM SERIES SEASON STANDINGS:
Here are the current Team standings for the regular season after the conclusion of competition for the PBR Team Series event in Anaheim:
1.      Missouri Thunder, 6-1-0-12
2.      Austin Gamblers, 4-3-0-18
3.      Arizona Ridge Riders, 4-3-0-10
4.      Carolina Cowboys, 3-4-0-24
5.      Oklahoma Freedom, 3-4-0-12
6.      Nashville Stampede, 2-5-0-12
7.      Ariat Texas Rattlers, 2-5-0-11
8.      Kansas City Outlaws, 2-5-0-9