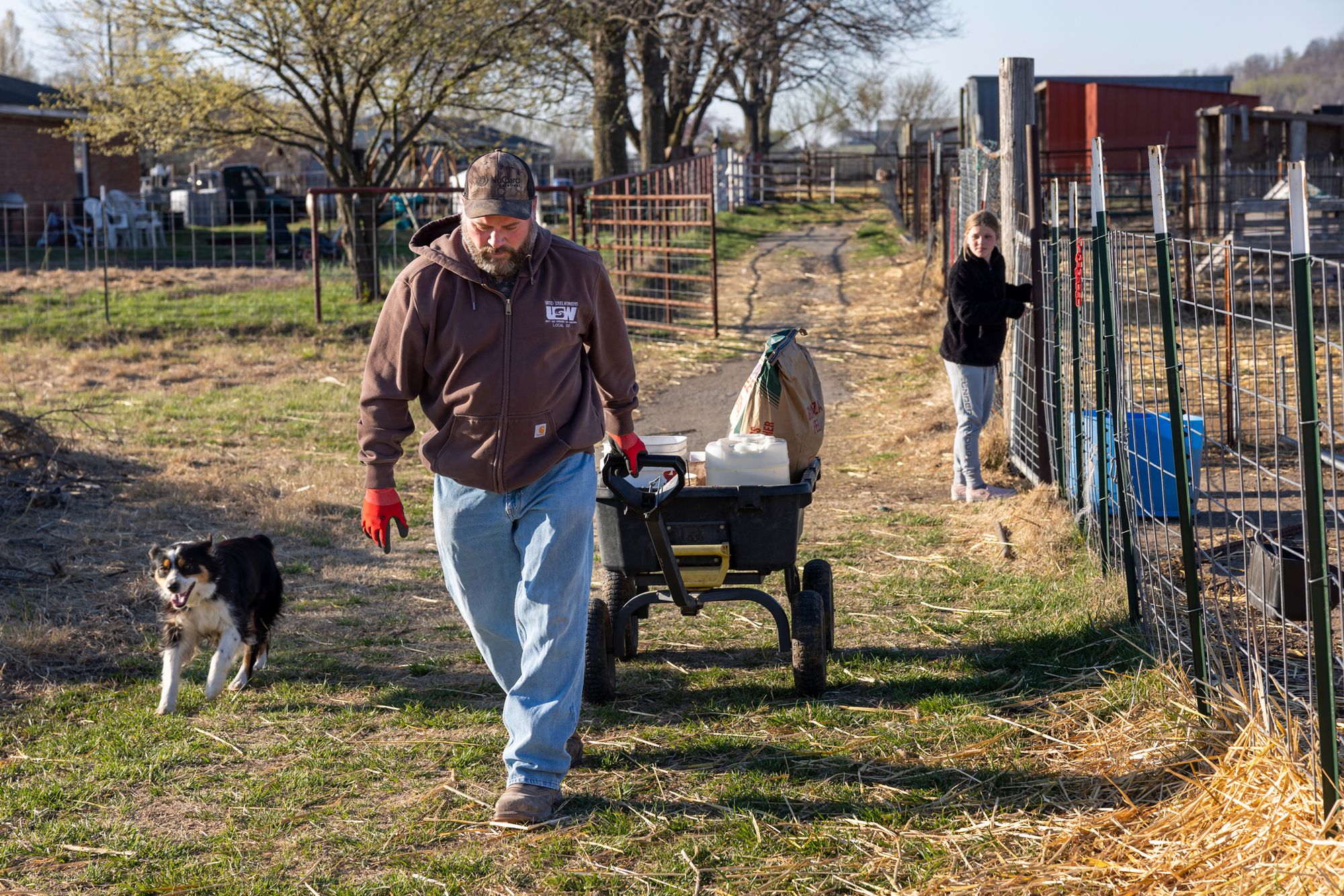 By: Mary Leaver
Will Pappan, one of the third-generation owners of Lively Hope Farm in Wynona, Oklahoma, works to have a positive impact on the industry as he tends to the farm where he grew up and made childhood memories.
"I started this for my kids. I wanted to build a legacy for them," Will said.
Farm life
Pappan and his wife, Sarah, are both employed outside the home while they devote as much time as possible to the farm's daily operations.
Working full-time and then late into the evening on the farm sometimes means the Pappan family may not eat dinner until 9 p.m. But it's worth it when they meet the new baby animals.
With their children, Kirsty (Pappan) Bassett and her husband, Josh Bassett, son, Dewayne Pappan, daughters, Clara Hough, Tara Hough and Hope Pappan, as well as their grandchildren, the Pappans have come to love farm life. Hope, 11, cheerfully shows visitors around and is eager to help feed the animals.
Will's sisters, Linda (Pappan) Schmidt and Faith (Pappan) Allison, co-own the property while Will oversees the farm's business interests.
Growing each year
When Will grew up on his grandparents' farm, it was only a cattle operation. He has expanded the farm's herds to include British White cattle, painted desert sheep, miniature Nubian goats, Muscovy ducks, chickens and livestock guardian dogs. Addie, the working dog, helps with herding, and cats keep the rodent population under control.
Their daughter's horse lives in a pasture across the road from the family home.
Some of the farm animals are types that Will Pappan has always wanted to have. The painted desert sheep are among his favorites. He's also partial to the British White cattle because of their striking white coats and docile nature.
They are in the process of building their farm's livestock. Eventually, Will Pappan plans to regularly sell goats, cattle and livestock guardian dogs. So far, two litters of puppies, three British White bulls and a few goats and sheep have been sold.
Kirsty and Josh Bassett plan to return to Oklahoma from California in June and they have additional plans for expansion.
"We really want our own hay business because hay is so hard to come by. We want to help a lot of people around us that have had a hard time finding it," Will said.
By diversifying his farm's interests, Will said they hope to be able to weather economic fluctuations.
Coming home
Will has always felt his place was on the family farm.
"I was I was born here, basically on this farm," he said. "I've always had it in my mind that this is what I want to do. Life just changes a lot a lot of times and you don't get to do what you want to do."
The loss of his parents is ultimately what led him back home as he and his sisters inherited the property. It took some time for him to settle in.
"It was really tough on us when we first got here. We went through a time of feeling guilty. You want to be here because it's your home, but it's still hard," he said.
Will said the farm is full of happy memories from his childhood, and he is thrilled to see his grandchildren, the fifth generation, making their own memories now. Good friend and neighbor Dominic Thompson frequently stops by, adding to the family atmosphere.
"I grew up playing on the creek here. Now my kids and my grandkids are all going to get to play on the same creek that I grew up playing on. And that's just really cool," Will said.
Rewarding experiences
The rewards from farming can often be long-term, with one generation planning to pass the farm to the next. Will believes this will be the case for his family.
"We've gone from my daughter Kirsty saying, 'I never want to live in Wynona' to actually buying a house and moving across the road and wanting to be a part of the farm," Will said. "That was just a big blessing to us. This was a dream that my kids would move back and be here with us, and then I can turn it over to them."
The farm has provided inspiration to the next generation. Daughter Clara and her friend, Kaitlyn Adkins, plan to start a goat milk business, using the milk in products like soap.
"They want to be a part of it. They realized that there's something awesome happening here," Sarah said. "To watch that unity of them all working together and bringing them together and wanting to make the production happen, making Lively Hope what it is."
Some of the rewards at Lively Hope Farm are more immediate.
"I love going out and seeing their babies every day. That's just a reward in itself for me to be able to come home and see their babies on a regular basis because I just love the babies," Will said.
Sarah said she still cries tears of joy when the babies are born because each birth is unique and contributes to making the farm what it is.
Safeguarding nature
"One of my main goals I strive for is to protect our species of plants, animals, bees, butterflies, birds, fish, reptiles, and whatever else may be on our place," Will said. "I hate chemicals and trash. I try my best not to allow them on our place. I wish people could understand we are responsible for taking care of God's creation."
Another way he protects nature is by avoiding unnecessary medications and chemicals. Medications like antibiotics are used only occasionally. If medication does not directly impact the health and wellness of the animal, Will avoids it. He does not use chemical sprays on his fields.
"I do use medicine when I have to, but it's pretty rare. I want to take care of the earth and leave it better than I found it. I wish the world was different than it is," he said.
Connecting with heritage
While he already has an Indigenous viewpoint when it comes to agriculture, Will is interested in learning as much as he can about other aspects of his heritage.
"I am very proud of my Native American heritage. Although I don't know much about our Citizen Potawatomi culture, I am very proud of our heritage," he said. "It brings my family great honor to represent the Citizen Potawatomi Nation in the agricultural business. We are humbled that this opportunity was presented to us, and we hope to make our people proud."
Will said he appreciates modern conveniences that make his work easier, but he always remembers how challenging life was for his Potawatomi ancestors.
Sarah agrees, mindful of Pappan ancestors who had to raise their own food, make their own clothing and live off their land. She is thankful for the opportunity to get in touch with the family's history.
"How amazing it would be that we would be able to live off of this farm," she said. "If it allows us even a touch of how our ancestors might have lived…to actually eat what we have grown from the plants and the gardens that (Will) planted to the beef that we have out in the pasture. It would be amazing that one day we might be able to do that."
Strength through faith
The name of Lively Hope Farm came from one of the family's favorite Bible scriptures.
"My dad was a preacher, and I'm a deacon in our church," Will said. "We try to put Him first in everything we do."
Sarah reads the scripture: "Blessed be the God and the Father of our Lord Jesus Christ, which, according to His abundant mercy, have begotten us again unto a lively hope by the resurrection of Jesus Christ from the dead."
"We just have to trust Him and know that whatever He puts in our path is His plan for our journey. And we have the lively hope to know that whatever comes is going to be abundant because of what He gave us," she said.
To learn more about Lively Hope Farm, connect with them on Facebook.