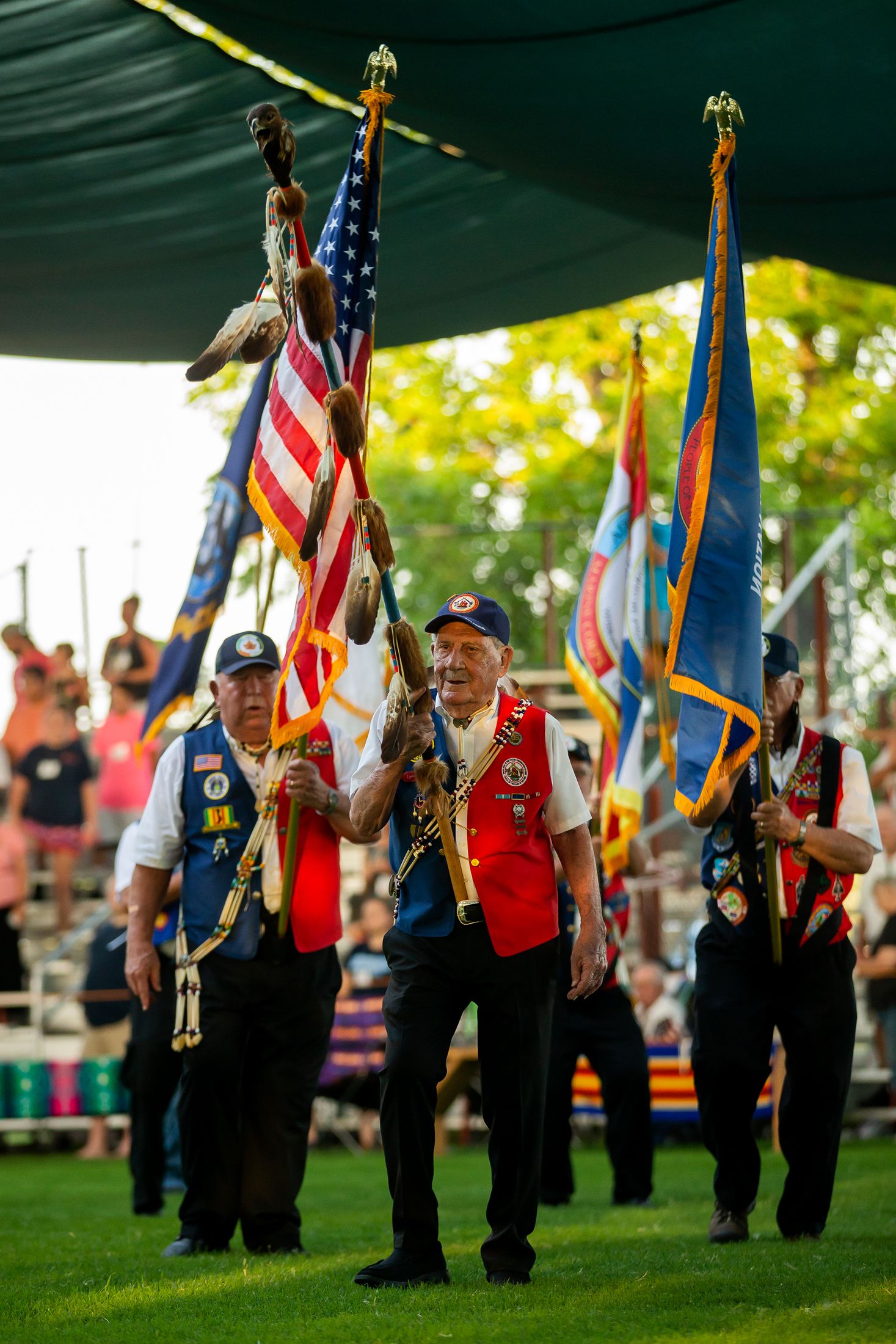 By: Tina Bridenstine
May is Older Americans Month — a time to acknowledge the contributions of older individuals in their communities.
The Hownikan interviewed two Citizen Potawatomi elders about their role in the community and their advice for the younger generations.
Working for peers
Lyman Boursaw, now 90 years old, served in the U.S. Army as a young man.
"Regardless of what my brother says, I was not in the War of 1812," Boursaw quipped. "I was in the Korean War."
The Boursaw family descendant remains active in the CPN Veterans Organization and has carried the Eagle Staff for 20 years.
"It was an honor — quite an honor," he said. "But I can't make that many trips around the ceremony circle anymore. Last year, we did an abbreviated color guard, and this year, I think I'll just have to watch."
In the Army, Boursaw was a specialist for non-commissioned officers and trained on the 75-mm Skysweeper anti-aircraft artillery.
"When I went in the service, it was state of the art. When I got out of the service, it was obsolete," he said. "Everything changes."
Boursaw now lives in Rossville, Kansas, where he is regional housing manager for the Citizen Potawatomi Nation.
He was living 20 miles away in Topeka when the director of housing at the time showed him a vacant piece of ground and told him the Tribe was planning to build a community center and 20 duplexes, then asked Boursaw if he would manage it.
That space, today, holds the duplexes that make up the Rossville Elder Village, where Boursaw himself is a resident, and the community center, where his office is located.
"I live across the parking lot, 110 steps from the front door," Boursaw said. "I count them every day."
As regional housing manager, Boursaw rents and manages the community center and duplexes. In the village, he said the Tribe provides elders with housing, an affordable rent program and the Senior Support Network, where elders can receive assistance with medications, transportation to doctor's appointments and more.
Boursaw said, in some ways, he thinks his age is an advantage in the work he does. He remembers when his mother lived in an assisted living facility with a director he described as young and very intelligent.
"But she had no experience of what the elders had gone through, or what they were going through at that time with all the computers and cell phones and internet and all the things that they did not comprehend," he said. "So, I think being an elder does help in that way. And I believe taking care of our elders is also serving our Tribe."
When asked about advice for the younger generation, Boursaw said, "My only advice is to take good care of the elders. They usually know a lot more than you think they do. Learn from the elders."
And to his fellow Tribal veterans, he said, "We need more participation in the veterans group. Become active."
Dancing at 80
At the age of 80, Tribal elder George Godfrey, from central Illinois, is still telling the story of the Citizen Potawatomi through dance.
"As much as I can," he said. "There's some physical limitations. I have to overcome those. If the temperature is too high, my cardiologist said no. So as long as it's 85 (degrees) and a little below, I'm OK."
Godfrey started dancing in 1988. At that time, he said, few Tribal members danced. He watched others dance and picked up pointers along the way, but much of what he did was just working on his own. Years later, he said, Tribal Chairman John "Rocky" Barrett spoke to Godfrey at a district meeting on the East Coast.
"I don't know if Rocky remembers saying this or not, but he mentioned that I had brought dancing back to the Tribe," Godfrey said.
Through research, especially viewing portraits of Potawatomi by artist George Winter and clothing displayed in museums, Godfrey designed and created historically accurate dance regalia — or as close as possible.
"I want to reflect only what is really historically Potawatomi because I use it as an educational venture as much as anything," he said.
A lot of thought goes into his dancing as well. Dancers should always reflect an animal or emotional aspect and should tell a story, he said.
In his dancing, he tries to incorporate four movements. The first is of a person who stands upright and proud. The next, he dances backwards, representing the story of a blind woman who, when being forcibly removed by the U.S. government, drew backward when the person in front of her led her to a river, and she felt the water. The third is a swaying motion that represents a statement made when the Potawatomi were in Council Bluffs, Iowa, and an elder told an Army officer, "We feel like we're birds in a windstorm, and we don't know which bough to land on." The fourth and last movement is the return of the proud stance.
Dancing has become harder on Godfrey as he gets older, and he thinks he needs to "step back and let the younger people do their thing."
"When I see the young children, I'm very glad that they're taking their own view of dancing and are bringing that into their lives and into the life of the Tribe," he said.
But he also advised the younger generation when they dance to "realize that when they're in the dance arena, they're not to be thinking of themselves but be thinking of everybody."
He also encouraged them to take the initiative to learn about their Tribe, who they are and where they came from.
You can see more about Godfrey and his regalia in CPN member Sharon Hoogstraten's book, Dancing for Our Tribe: Potawatomi Tradition in the New Millennium.
To learn more about the CPN Veterans Organization, visit cpn.news/CPNVeterans.