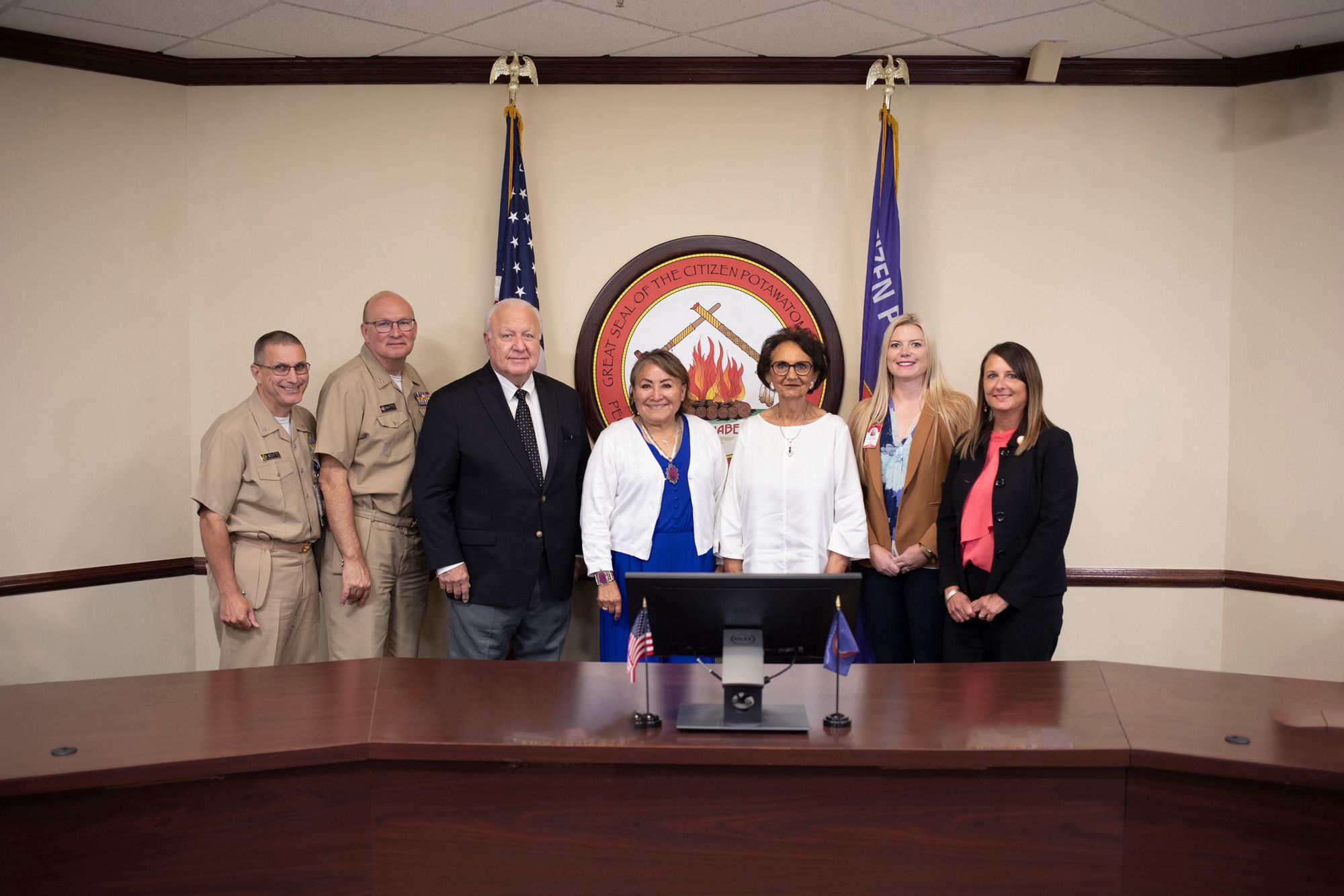 By Mary Leaver, Citizen Potawatomi Nation Public Information Department
The director of the U.S. Indian Health Service visited the Citizen Potawatomi Nation headquarters on June 30, 2023.
Roselyn Tso (Navajo Nation) and her administrative staff met with CPN Chairman John "Rocky" Barrett, Vice-Chairman Linda Capps, Self-Governance Director Kasie Nichols, CPNHS Medical Director Dr. Kassi Sexton and CPNHS staff.
Director Tso, Chairman Barrett, Vice-Chairman Capps, Nichols and Dr. Sexton discussed the growing CPNHS patient population and the need to expand health care services the Tribe provides.
The Indian Health Care Improvement Act of 2010 gave IHS the ability to expend funds directly or through contracts or compacts. The funds helped many tribes construct new facilities, improve existing facilities, expand some community health programs and recruit health care professionals.
"That's probably been the single most important budgetary appropriation impact that Congress and IHS has made to CPN," Nichols said.
While the Oklahoma City area IHS remains underfunded, Nichols said the IHCIA funds, along with other federal grants, have helped CPN close some funding gaps.
The group also discussed the sometimes-complicated federal regulations regarding purchased care, or when a patient is referred to a health provider outside the Tribal health system. Dr. Sexton said she would like to see the process made simpler to help both patients and clinic staff.
Director Tso agreed that the process should be streamlined and said she has created a team to explore options.
"I think we have to uncomplicate this on our side — on the IHS side. We're going to be taking a deep dive into these issues that we've been hearing about from the tribes. We want to make it simple, particularly for that patient that needs the care," she said.
Director Tso toured the East and West Clinic as well as the Behavioral Health facilities.
She said she was impressed with CPNHS and its staff, in particular the West Clinic's specialty services, where diabetes care, podiatry and optometry are in a single facility to make it more convenient for diabetes patients to receive care.
As IHS director, Tso leads a nationwide health care delivery system responsible for providing preventive, curative and community health care to approximately 2.7 million Native American and Alaska Natives in hospitals, clinics and other settings throughout the U.S.
Tso was sworn in as IHS director on Sept. 27, 2022, by the U.S. Department of Health and Human Services Secretary Xavier Becerra. She has served in various leadership roles at IHS for nearly four decades. Prior to her national service, she was the director of the IHS Navajo Area since 2019, leading the comprehensive federal, tribal and urban Indian health care system for more than 244,000 Native Americans and Alaska Natives throughout Arizona, New Mexico and Utah.
Find out more about Citizen Potawatomi Nation Health Services at cpn.news/health.