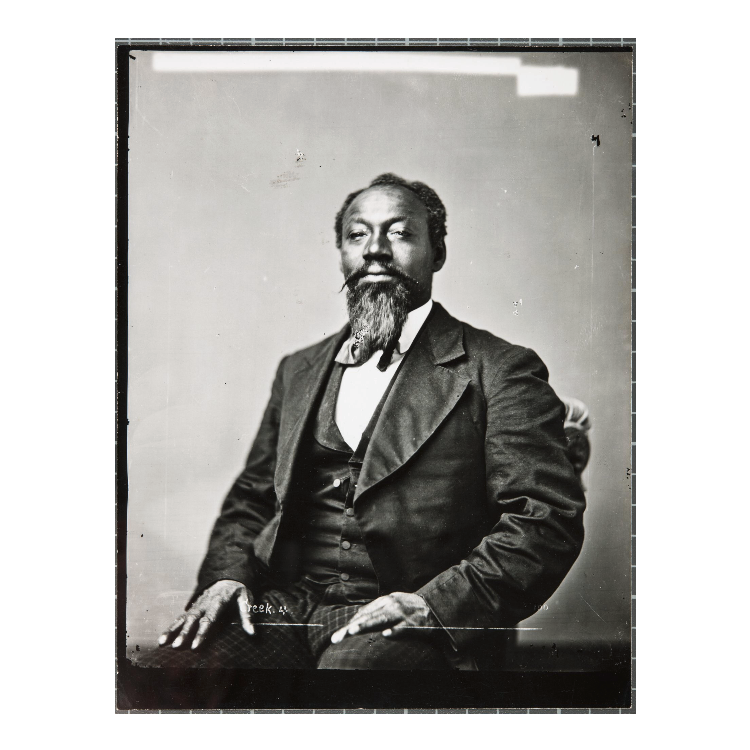 In celebration of Black History Month, we take a closer look at
Silas Jefferson, featured in these photos from the Gilcrease
collection. Silas Jefferson was a Muscogee Freedman and
prominent figure in his community. Muscogee Freedmen include
both mixed blood Black and Muscogee people and formerly
enslaved African Americans that were once owned by tribal
citizens during the late 19th century. Also known by his
Mvskoke name, HotvlkeMekko, Jefferson was born in 1835 in
Taskigi Tribal Town in Alabama and arrived in Indian Territory
three years later when his family was forcibly removed from
Mvskoke homelands and made their way west on the Trail of
Tears. He claimed Mvskoke citizenship by blood through his
mother Betsey McNac, a member of the influential Wind Clan,
and became a clan leader as an adult. During the Civil War, he
joined the Union as part of the First Indian Home Guard
Regiment and later became the only Muscogee Freedman to
represent one of the Creek Tribal Towns in council.
Significantly, he also served as tribal interpreter and later, as a
tribal liaison for Smithsonian Institution anthropologists who
sought to learn about Mvskoke life and customs. Silas Jefferson
died in 1913 near Beggs, Oklahoma. These photographs of
Hotvlke Mekko document the complexities of late 19th century
race relations in Indian Territory when Freedmen in the
Mvskoke Nation attended segregated schools but also voted and
served in political posts in tribal governments.