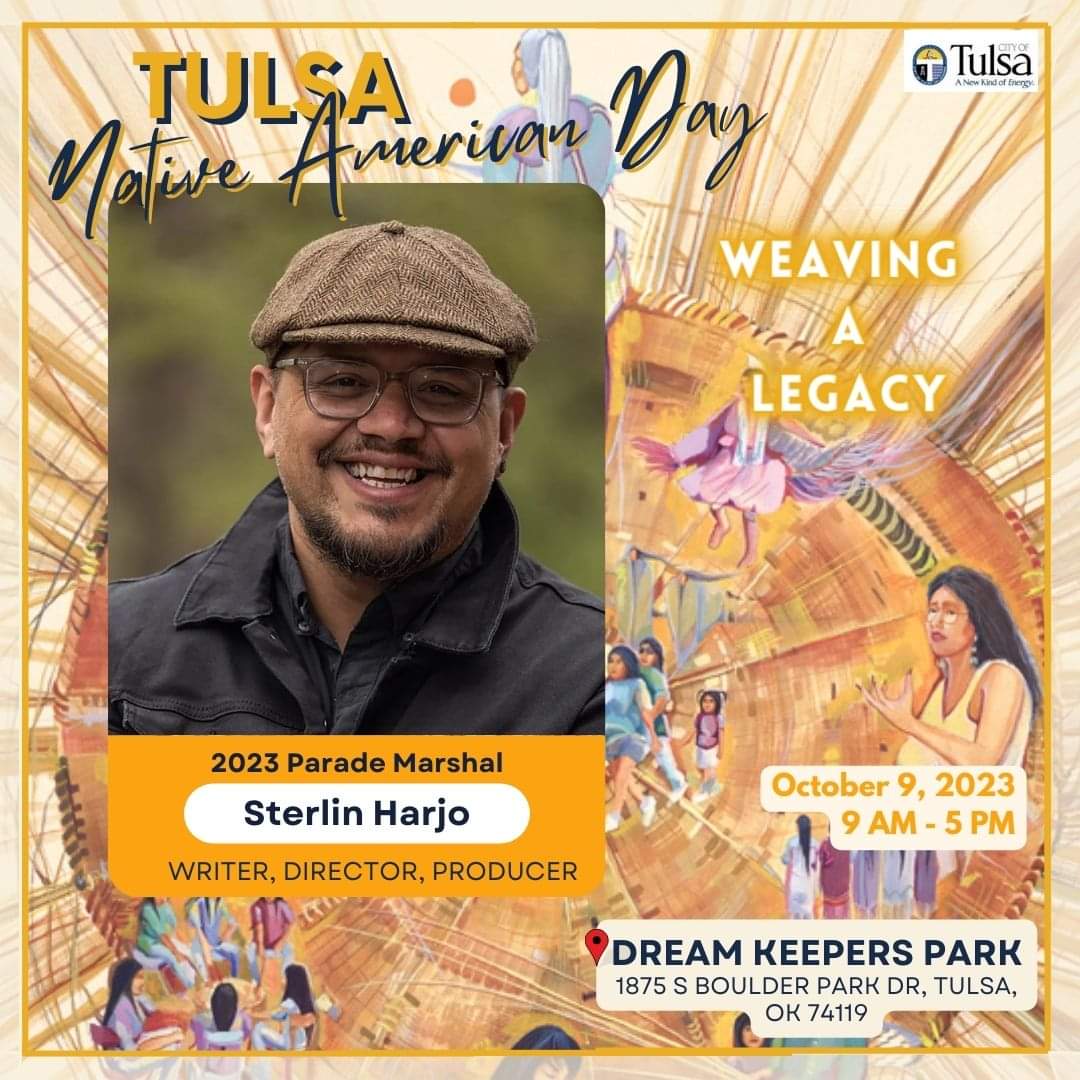 (Tulsa, OK) – Tulsa's annual Native American Day celebration, hosted by the Greater Tulsa Area Indian Affairs Commission, will be held Oct. 9, starting at 9 a.m. at Dream Keepers Park, 1875 S. Boulder Park Drive. This year's theme is "Weaving a Legacy."
"In Tulsa, on Native American Day we recognize our city's tremendous Native American culture and heritage," Mayor G.T. Bynum said. "We celebrate at Dream Keepers Park, not far from the Council Oak Tree where Tulsa was founded. I am grateful for everyone who works to honor this special day each year."
Native American Day is celebrated on the second Monday of October, this year on Oct. 9. The city of Tulsa is home to a population of approximately 30,000 Native Americans. Oklahoma is home to 39 federally recognized Native American tribes.
"Come join us for a fun filled day of celebrating Tulsa's 7th annual Native American Day," said Cheryl Cohenour, chair of Tulsa Native American Day and member of the Greater Tulsa Area Indian Affairs Commission. "Our parade starts at 11a.m., and Sterlin Harjo is our Parade Marshall this year. Our featured artist is the renowned Dana Tiger. There will be food trucks, dancing and drumming, as well as a program in the morning that includes our Chiefs from the Osage Nation, Muscogee Creek Nation and Cherokee Nation."
Native Americans have continuously inhabited the Greater Tulsa area for thousands of years. By celebrating Native American Day, Tulsa formally recognizes its indigenous populations who have made valuable contributions to our community through shared knowledge, stewardship of the land, labor, science, technology, philosophy, arts, and deep cultural influences that have substantially shaped the character of the city of Tulsa.
The deadline is Oct. 1 for all sign-ups to be a merchandise or food vendor, or a volunteer. Sign up online with the following links:
Vendors: https://www.eventbrite.com/e/634416545967
Volunteers: https://www.eventbrite.com/e/634420357367
Food Vendors: https://www.eventbrite.com/e/642491087137
Some parking will be available at Dream Keepers Park. Also, a shuttle will be available from the parking lot of Boston Avenue United Methodist Church, 1301 S. Boston Ave. The shuttles will run from 8:30 a.m. to 4 p.m. People going to the festival need to bring their own chairs. In case of rain, a large general admission tent will be on site.
See below the schedule/agenda for the 2023 Tulsa Native American Day:
9-9:15 a.m.       Opening Ceremony
Introduction of Greater Tulsa Area Indian Affairs Commission
Introduction of Mayor of Tulsa via video
Welcome - District 4 City Councilor Laura Bellis
Recognition of City Councilors attending
Land Acknowledgement – Lachelle King, Mayor's Office of Resilience and Equity
9:30-10 a.m.       Posting of Colors-CREEK Women Veterans Songs
Flag Song, Memorial and Victory Songs
The Lord's Prayer 'Signed' by Native Princesses
Connie Foreman Singing The Lord's Prayer
Singers & Drummers Paul Bighorse, Mason Bighorse, Paul Macron
Open invite for others
Convocation - Archie Mason
Introduction of Princesses
10 a.m.-2 p.m.    Art in the Field, canvasses and art for kids to create
10-11a.m. Welcome and Introduction of Tribal Leaders
Osage Chief Standing Bear
Muskogee Creek Chief Hill
Cherokee Chief Hoskin, Jr.
Introduction of Parade Marshall- Sterlin Harjo
11 a.m.-noon      PARADE
Parade Marshall: Sterlin Harjo
Chiefs, Tulsa City Council Members, and Princesses, many schools and bands
12:30 p.m.          PARADE CONCLUDED
Open drum for others to join in afternoon
1-1:30 p.m.         Cherokee Choir
Pawnee Singers and Dancers
1:30-2 p.m.         Q& A with Chief Standing Bear & Danette Daniels
Showing trailer of Killers of Flower Moon; questions afterwards
2-2:30 p.m.        Cultural dancing & Princess Dance
2:30-3 p.m.        DREAM KEEPER AWARD WINNERS - Winners to attend personally
Cultural exhibits and demonstrations all afternoon; IHCRC drummers with Robbie Anquoe
3-3:30 p.m. Dancing exhibition - Rising Buffalo Dancers.