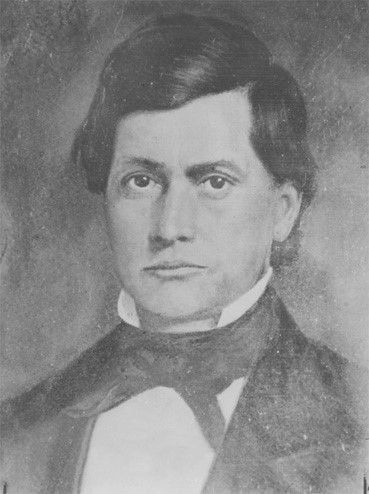 In autumn of 1856, Cyrus Harris, along with a few other men, stood in a field near the Chickasaw Council House at Good Spring (now Tishomingo) and waited.
During the first gubernatorial election, after adoption of their own constitution following the separation from the Choctaw Nation the previous year, Chickasaw voters cast their vote by lining up and standing behind their candidate of choice. Election judges counted each voter behind each candidate, certified the tally and declared 39-year-old Harris the winner.Described as a man of "great generosity, integrity, patriotism and self-sacrifice," Harris dedicated his life to serving the Chickasaw people.Elected in 1856, 1860, 1866, 1868 and 1872 for two-year terms, Harris was at the core of implementing the first Chickasaw government after the 1856 constitution. He guided the Chickasaw Nation through many tumultuous times and was a staunch advocate for education.
During his tenure as Governor, Harris led the Chickasaws in the years leading up to the Civil War and once again during postwar Reconstruction. He expressed concerns regarding non-First American people moving into Chickasaw lands, development of the railroad and federal government policies advocating for allotment of communal Chickasaw lands.Harris was a strong advocate for education and signed numerous resolutions leading to the establishment and maintenance of boarding schools on tribal land.Harris was a businessman and interpreter prior to his election as governor. He was born Aug. 22, 1817, to Elizabeth Colbert Oxberry-Gunn and James Harris near Pontotoc, Mississippi, on his grandmother Molly Colbert Gunn's estate. His great-grandfather, General William Colbert, was a renowned Chickasaw leader.In 1827, Harris attended Monroe Mission School and later a school in western Tennessee. Three years later, he returned to Mississippi to live with his grandmother, mother and later his uncle, Martin Colbert.
In 1835, as groups of Chickasaws were preparing to remove to Indian Territory, Harris, who spoke Chickasaw and English fluently, served as an interpreter at a government land office at Pontotoc. He also served as an interpreter at the numerous councils conducted to arrange details of the Chickasaws' removal to Indian Territory.Harris and his mother began the forced Removal to Indian Territory in 1837. They arrived at Blue River in present-day Johnston County, Oklahoma, in 1838, where he opened a successful mercantile.Harris' political career began in 1850 when he accompanied Edmund Pickens as a delegate to Washington, D.C., and again in 1854. He was the first elected Chickasaw Nation Governor after the Chickasaw people formally adopted the 1856 constitution.After serving five terms, supporters of Governor Harris in 1878 submitted his name for Governor, but in a contested election, Benjamin C. Burney won by five votes. To maintain order, Governor Harris withdrew and retired from politics.
Cyrus Harris, 70, died Jan. 6, 1888, in Mill Creek, Indian Territory.But the story of this remarkable man did not end with his death. Harris was laid to rest on his land in the Old Mill Creek Cemetery, located along Mill Creek near the grist mill he built. Construction of the mill led to the name of the creek being changed from Cherokee Creek to Mill Creek.Almost eight decades later, in the 1960s, Governor Harris' burial site was at risk when Mill Creek's banks flooded and eroded cemetery land.Attempts to save the historic Chickasaw leader's grave were chronicled in the July 17, 1960, issue of the "Ada Evening News" by reporter Eric Allen.Allen visited the cemetery with Governor Harris' great-grandson, the late Jack Penner, serving as his guide.The cemetery was situated on what is now the Penner Ranch. At the time, the remains of Governor Harris' home, a small log cabin, still stood on the property at the edge of a tree-lined meadow 3 miles west of the present town of Mill Creek. The cabin and surrounding area were once the center of the original Mill Creek, Chickasaw Nation townsite.
The town of Mill Creek was moved to its present site, 3 miles east along State Highway 7, after the railroad was built in 1901, bypassing the original town. Governor Harris' burial place was north of the cabin. In 1960, it was overgrown with trees and knee-deep brush."You will find it hard to believe that one of those broken and lichen-covered tombstones marks the grave of Cyrus Harris," Allen reported in the "Ada Evening News" article.At the time of the reporter's visit, the creek had cut into a corner of the graveyard and washed out a section of the old iron fence.The reporter speculated an abutment could be built to save this important burial site from being wiped out.Fast forward about a year, and the reporter's pleas for preservation were answered when the Governor's remains were relocated.In 2014, former tribal Judge Charles Tate shared notes his late mother, Chickasaw Hall of Fame member Juanita Tate, had preserved about moving Governor Harris' body to Drake-Nebo Cemetery, located a few miles west of the original burial place.The Tates are descendants of Governor Harris."They (family members) voted to move the grave back with his wife whose body was moved (to Drake Cemetery) in the 1900s," according to Mrs. Tate's notes. Family members L.E. Kinney and Wilber White helped with the 1961 reinterment, according to Mrs. Tate's notes.Judge Tate said he would like to see the gravesite become a destination site or have a historical marker erected along the highway noting the important site.
About Drake-Nebo Cemetery
Named for the surrounding communities, the rural Drake-Nebo Cemetery is the final resting place for several members of the Cyrus Harris family among its more than 500 gravesites. The Harris family gravesite is in the middle section of the cemetery's west side. A wrought-iron gate surrounds the burial plot. Also interred are five members of the Williams family who were killed by a tornado in 1917. A monument to the family, who had been buried in unmarked graves for many years, was erected.The cemetery is located 6 miles south of Sulphur, off U.S. Highway 177, west on Goddard Road for 1 mile, then south 1.5 miles and west 1/4 mile.

About Penner Ranch
The oldest continuously family-owned business in Oklahoma, the Penner Angus Ranch can trace its roots to 1855, when Cyrus Harris founded the town of Mill Creek and began raising livestock, among many other business ventures. Governor Harris' daughter, Amanda, married Felix Penner, a Texas native born to German immigrants, in 1891, according to Chickasaw Nation marriage records.Mr. Penner expanded the livestock operations and introduced Angus cattle to the area in 1912. The ranch eventually contained 11,000 acres. Charles and his brother, Cyrus, continued the ranching operation after Felix Penner died in 1939. In 1995, the ranch received an Oklahoma Centennial Farm and Ranch award. At the time, the Penner Trust owned the Penner Angus Ranch and developed it around the families' original Chickasaw allotments. The ranch is still in operation today as a cow-calf operation with Cyrus Harris' great-great-grandson, Harris Penner, and his family at the helm.Several scenes from "Montford: The Chickasaw Rancher" were filmed at Penner Ranch