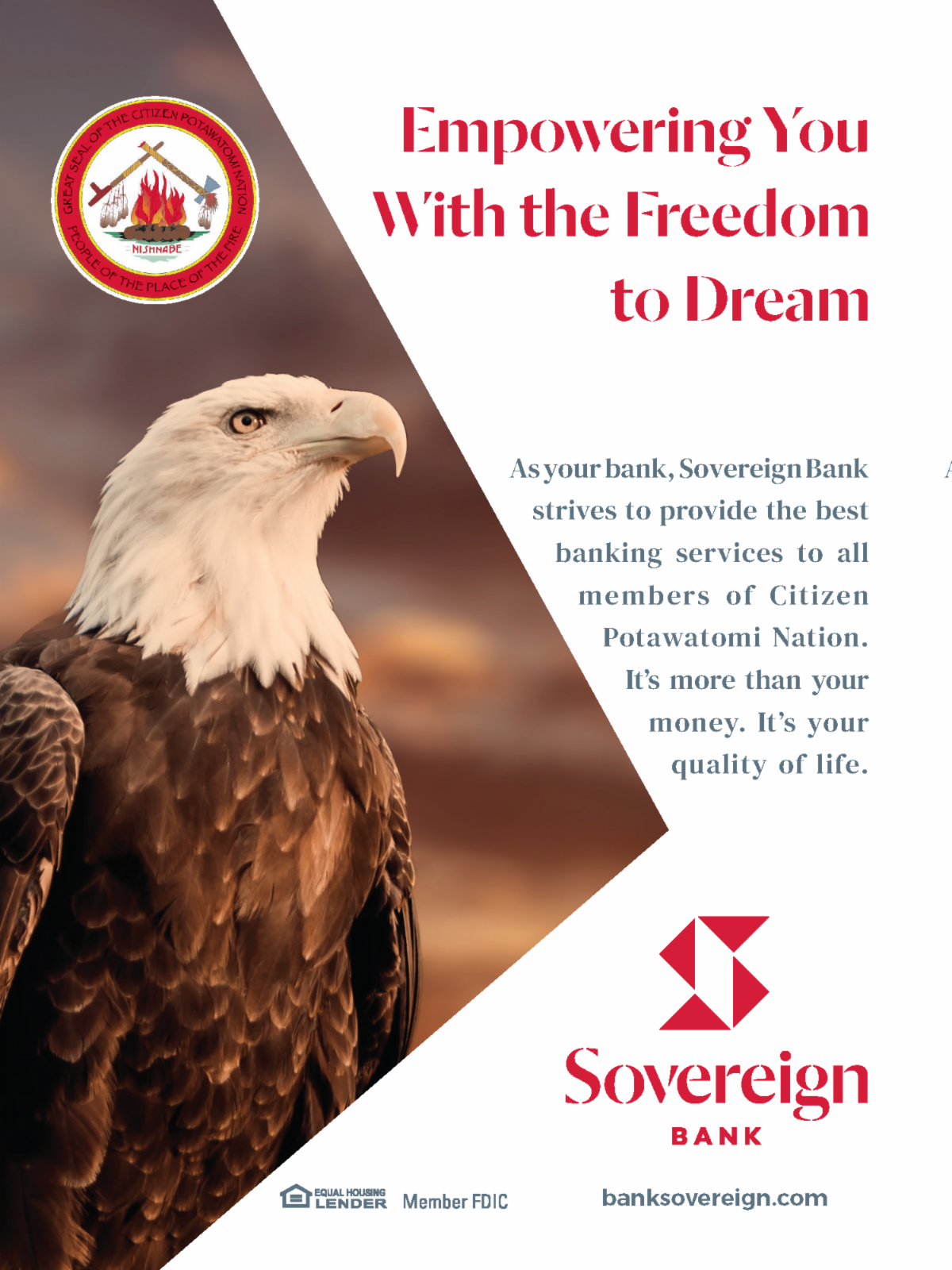 By: Paige Willett
The last few years brought many changes for First National Bank & Trust Co., including
new leadership, acquisition of another bank and now a complete rebrand of its look along with products and services. Beginning in April 2023, FNB will be known as Sovereign Bank.
In 2021, Citizen Potawatomi Nation and Sovereign Bank purchased The First State Bank and merged the two entities — Oklahoma's largest acquisitions transaction of its kind in banking since 2016. There are now nine branches and a loan production office in Edmond, Oklahoma, for a total of 10 locations. The bank's total assets increased in excess of $800 million.
Bank leadership, including Sovereign Bank President and CEO Bryan Cain, felt the rebrand was necessary following the merger "to really define our identity."
"We really kind of had an identity crisis," he said. "We didn't know who we were. Were we First National Bank? Were we First State Bank? This way, we're just Sovereign Bank."
Senior Vice President and Director of Marketing and Communications Kathrynn Cavanaugh agreed. They focused on realigning Sovereign Bank's organizational values and clarifying its purpose and mission.
"It became a necessity in the sense that we needed a unified vision, mission and message, both for our employees and for our markets. Because for both banks that joined together, we were merging different markets, different cultures and things like that," she said.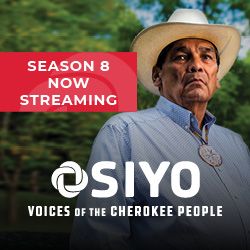 STYLE, PRODUCTS
In a recent letter to current customers, Cain described Sovereign Bank's new logo and aesthetic for their digital and physical products.
"Our new name also includes a new logo — fresh, clean and simple, with an appealing bright red with accents of silver and white," it read. "You'll see this logo everywhere, from signage to bank shirts. It is uniquely ours, just like our name, so we won't be confused with any other bank or company."
Cavanaugh describes the new logo as "modern and sharp" with references to the bank's Tribal ownership. The "S" that stands for "Sovereign" is comprised of four isosceles triangles, each one pointing in a cardinal direction, a depiction of the Potawatomi medicine wheel. The design acknowledges "the all-compassing, united presence of the Potawatomi Nation across the world," she said.
The colors hold meaning as well with the red taken from Citizen Potawatomi Nation's tribal seal. Cain said the rebranding presents the opportunity to lean into its ownership by a Native nation and celebrate it. Sovereign Bank is the largest tribally owned bank in the United States.
"I think any time you look for a name, you look for something that really identifies who you are. For us, again, going back to our Tribal ownership is something that set us apart in the marketplace," Cain said.
In the coming months, Sovereign Bank also plans to elevate their online offerings by launching a new website and upgrade the smartphone apps for both retail and business banking. It will also offer online account opening. These new products will allow customers to bank wherever they are located and attract customers outside of Oklahoma.
"Our younger generation, they're not going to go into a bank," Cain said. "Their phone is the bank. So, the more that we can ease that access to them and make it available in the palm of their hand, then the better it is for them, too."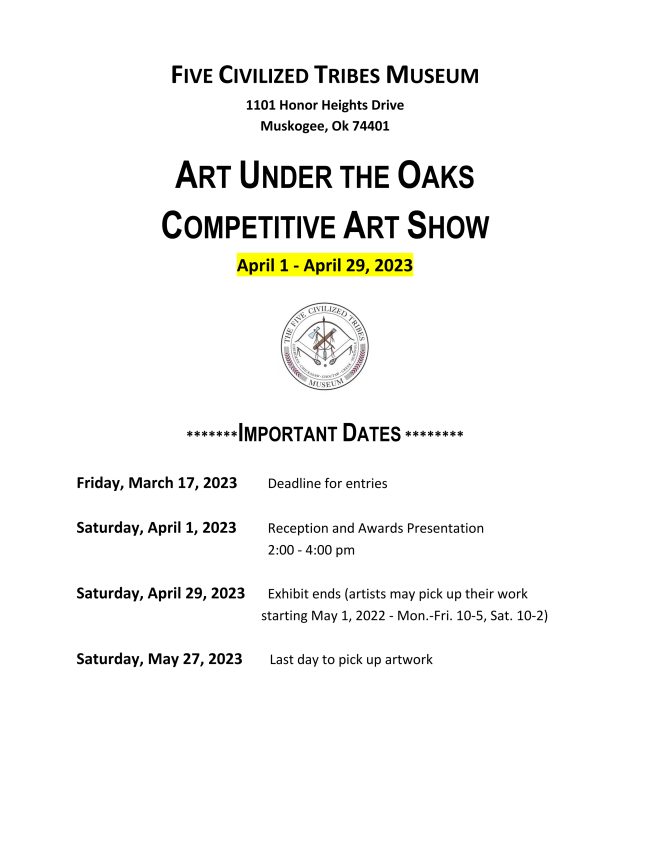 COMMUNITY, MISSION
As an institution, Sovereign Bank focuses on serving the underserved and helping its customers gain financial independence. Cain said that mission will remain the same.
"The community that really hasn't been served is the tribal community, and so we feel like no one understands that better than us," he said. "Being tribally owned gives us not just a leg up on the competition, but it gives us a true understanding of how that community is and what their needs are."
Sovereign Bank's new tagline is "Freedom to Dream," and Cavanaugh sees their staff and services as partners and resources in helping customers develop their futures. That includes financial education about loans and credit scores, not only to individuals but to the community, as well as positively impacting the schools, economies and organizations around their business.
"Without a bank and a post office, you're not going to have a thriving community. … Your needs are going to be different in one community versus a different community but being able to be agile and provide those services to meet those needs is critical to development, economically and educationally, for a lot of communities. From a purpose standpoint, that's what we do as a community bank," Cavanaugh said.
Sovereign Bank aims to focus on innovation and creative problem solving in its new chapter, making collaboration between different departments a day-to-day occurrence. It also plans to continue hearing feedback from employees across locations to spur growth. Leadership sought many different opinions on the merger and rebrand, which led to positive internal feedback.
Cain said the staff remains dedicated to "doing the right thing" as a business, for its staff, its customers, the Indigenous community and Sovereign Bank's larger service area. The rebrand raises everyone's expectations, and he hopes anyone interacting with Sovereign sees them met during their experience.
"As far as the Potawatomi Nation, I hope that Citizen Potawatomi members understand that everywhere we go, we understand the importance that we are a reflection on them and that we carry that with us," Cain said.
"We as an institution are very excited about the rebrand. We're excited about the future of the bank, the opportunities that we have in front of us."
Follow Sovereign Bank on Facebook @banksovereign or online at banksovereign.com.