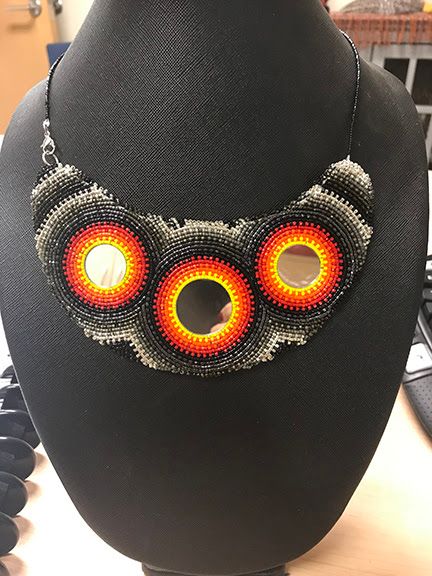 Cotie Poe-Underwood is hastily putting the final touches on her artwork for the annual Artesian Arts Festival in Sulphur, Oklahoma. Winning awards during last year's Artesian Arts Festival and the recent Southeastern Art Show and Market, the budding Chickasaw artist's current goals include taking home "Best in Show" from one of the two Chickasaw Nation sponsored events.
"I am excited to participate in the Artesian Arts Festival," Poe-Underwood said. "This is my third year. I was nervous the first time. I didn't think the caliber of my art was good enough. Wayne Walker (fellow Chickasaw artist) encouraged me to enter a twine bag I made into an art show. Seven years later, I finally entered a competition."
Poe-Underwood is now confident in her abilities. She will be submitting her creations in three different categories for the Artesian Arts Festival, including weapon-making, beadwork/quillwork and textiles.
"I never know what is going to inspire me. While on the beach in California, I found some beautiful cane," Poe-Underwood said. "I am using it to make a traditional Chickasaw blow dart gun to enter during the Artesian Arts Festival."
Other artist categories for the Artesian Arts Festival include drawing, graphic arts, mixed media, painting, photography, jewelry, sculpture, textiles, 3D diverse, pottery, traditional dress and regalia, weaponry, and cultural diverse.


Along with a booth allowing her to show her wares available to the public, Poe-Underwood looks forward to networking with other First American artists. Many artists come from across the country to attend.
Poe-Underwood spent more than a decade employed at the Chickasaw Cultural Center and the ARTesian Gallery and Studios — both located in Sulphur — producing art, crafts and textiles. Producing artwork has since become ingrained into her daily routine. Creating these objects allows her time to relax and unwind from the pressures of the day.
"Making these pieces is one of the only times I am free from my mind, allowing me to relax and forget about my worries," she said. "I get lost in the 'now.' I am totally focused on my work."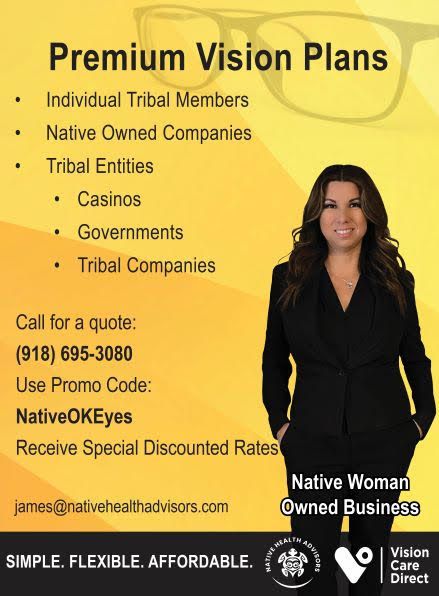 In addition to fine art pieces, she has been introduced to many First American and Chickasaw crafts. Through family and service to others, Poe-Underwood has come to specialize in creating cultural items used by early Chickasaw and other First Americans of Muskogean heritage.
It wasn't until she was older that she began "finding herself" as an artist, she said.
"When I was young, I couldn't sit still long enough to do anything," Poe-Underwood said. "The first time I remember really getting involved in artistic pursuits was a woodshop class I took in high school. Making things with my hands during that class became appealing to me.
"I distinctly remember loving the smell of burnt wood, the finish I put on some of the pieces. At the time, I didn't think the things I built in that class were art. Looking back, I realize those early pieces definitely were," she said.

Today, Poe-Underwood creates traditional weapons, Chickasaw stomp dance items and regalia, baskets, pottery, and corn husk dolls, among other culturally significant objects. Poe-Underwood has dedicated herself to producing pieces of art that can be authenticated by experts and archeologists as being "true" to Chickasaw history and culture.

"I come from a long line of Chickasaw artists," she said. "My grandma and great-aunts, Leona Imotichey and Sharon Poe, are artists. Leona did a lot of pottery and beadwork. Also, my dad drew and painted. He painted a mural of frogs on the dugout of Mill Creek School. I grew up around art."
Poe-Underwood's 2022 Southeastern Art Show and Market award-winning beaded piece, "The Runner," pays homage to Chickasaw men. Chickasaw men were known to run great distances in the Chickasaw ancestral Homeland. Predating European contact, the image on "The Runner" has been found on carved shells, pottery and gorgets of ancient Chickasaw artwork.
"The Runner" was purposely beaded with colors faithful to what Chickasaws would have had available to them within nature at the time.
"I didn't want my beadwork (in this piece) to be super colorful. I wanted to craft with what we would have used centuries ago. I only want the main parts to stand out on 'The Runner.' I beaded his moccasins in cooper color to illustrate the focus of the piece."
In addition to "The Runner," Poe-Underwood placed first in the cultural diverse category at the Southeastern Art Show and Market with her entry of stickball sticks with a beaded stickball quiver made out of flat reed.
During her 2021 appearance at the Artesian Arts Festival, she was also presented the Judges Award in the textiles category.

"I received an award for a poncho I created," she said. "It was woven from bamboo and cotton thread. I learned to weave from Margaret Roach Wheeler at the ARTesian Gallery and Studios. I was able to shadow her and learn a little of her craft while working at the ARTesian (Gallery and Studios)."
Along with using visual pieces to tell her culture's stories, Poe-Underwood is also a trained storyteller. She learned the art of storytelling from Chickasaw storyteller, historian, author and 2020 recipient of the Chickasaw Silver Feather Award, Glenda Galvan. Poe-Underwood is one of several Chickasaw storytellers carrying forward oral traditions taught to them by Chickasaw elders.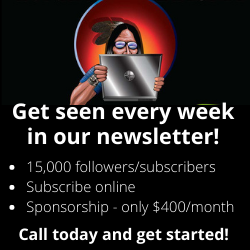 "While at the Chickasaw Cultural Center, I would do anything they would let me," she said. "I met and was influenced by many different Chickasaw artists. I did my first beaded collar at the cultural center. I would learn anything I could — from anyone I could — and try to pass that along to others."
Poe-Underwood has worked for the Chickasaw Nation for more than 15 years. She began her career with the Chickasaw Nation as a participant in the School-To-Work Program in 2007, and she has worked in various positions within the Chickasaw Nation.
"I continue to explore who I am as a Chickasaw and a woman. I have stomp danced since I was 14. When I went to work at the Chickasaw Cultural Center, I not only danced and entertained, but interacted with visitors to share my culture."
Poe-Underwood said she received guidance from renowned Chickasaw artist and weaver Margaret Roach-Wheeler. She has also learned many skills from Dixie Brewer, cultural activities manager for the Chickasaw Nation.

"As an artist, one learns to reach out to other Chickasaws for ideas, suggestions and inspiration," she said.
Poe-Underwood also collaborates with other artists. She is currently working with Chickasaw artists Dustin Mater and Josh Hinson to produce pieces to be displayed in the traveling art exhibit "Collective Wisdom."

The "Collective Wisdom" exhibit requires pieces have two or more First American artists incorporate their media together in a single art piece. "Collective Wisdom" will be on tour until 2024, with a stop at the ARTesian Gallery and Studios in Sulphur, through May 31, 2023, during Artesian Arts Festival.
Two years ago, Poe-Underwood found what she considers her "dream job." She began hosting Chickasaw community council meetings in various parts of the country. The Chickasaw Nation sponsors citizen groups all across the U.S. These meetings allow "at-large" Chickasaw citizens to remain connected to their tribal heritage.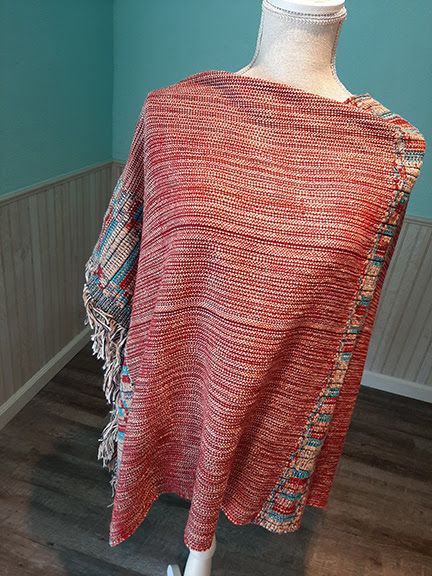 Currently the community outreach senior project manager, Poe-Underwood often uses skills and knowledge learned at the Chickasaw Cultural Center and ARTesian Gallery and Studios to entertain and inform citizens.
"I usually take along an art project when I travel," she said. "My passion is getting art out into the public that will raise awareness about Chickasaw heritage."

Poe-Underwood graduated from Mill Creek High School and Murray State College, earning an associate degree in business administration. She then attended Ada's East Central University, earning a bachelor's degree in interdisciplinary studies with a certificate in hospitality and event planning.

Poe-Underwood also earned a master's in business administration with a specialty in Native American leadership from Southeastern Oklahoma State University, Durant, Oklahoma.
Born in Ada, Poe-Underwood spent her youth within a 30-mile radius of Chickasaw communities such as Pontotoc, Connerville and Tishomingo. She attended McLish Public Schools. She recalls the student body was mostly comprised of First American students who greatly influenced her life.
Poe-Underwood currently lives in Sulphur with her husband, Nicholas, and their four children.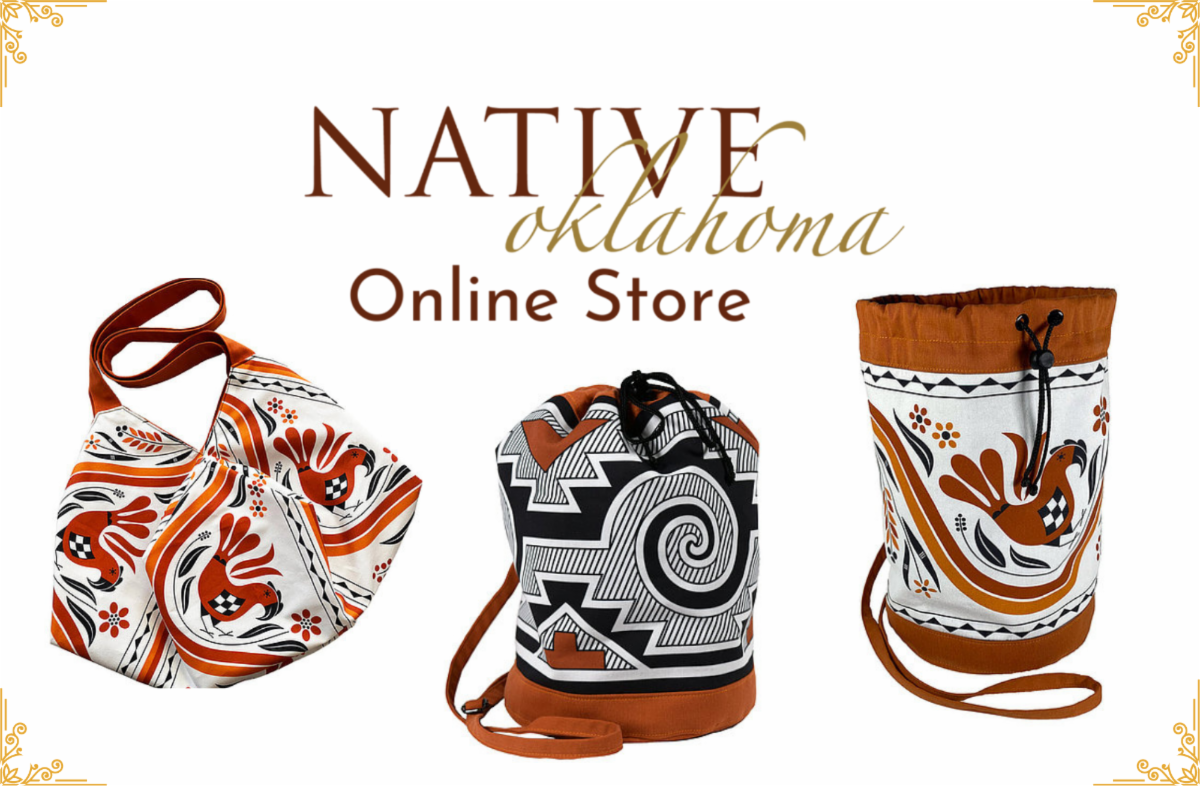 About the Artesian Art Festival
The 10th annual Artesian Arts Festival will take place April 22, 2023, in Sulphur, Oklahoma.
This year's art market will feature First American artists and the festival will include live music, dance demonstrations, food trucks and more. The art market offers diverse art media and a vast selection of visual art including paintings, pottery, jewelry, sculpture, beadwork, textiles, basketry and metalwork.

Located on the beautiful Artesian Plaza in downtown Sulphur, Oklahoma, the Artesian Arts Festival is nestled among the Artesian Hotel, Casino and Spa, the ARTesian Gallery and Studios, the Chickasaw National Recreation Area and numerous boutiques and shops.

Open to the public at no cost, the Artesian Arts Festival welcomed an estimated 5,000 visitors to the 2022 festival.
Visit ArtesianArtsFestival.com for more information.