Chickasaw Nation Governor Bill Anoatubby inaugurated to historic 10th term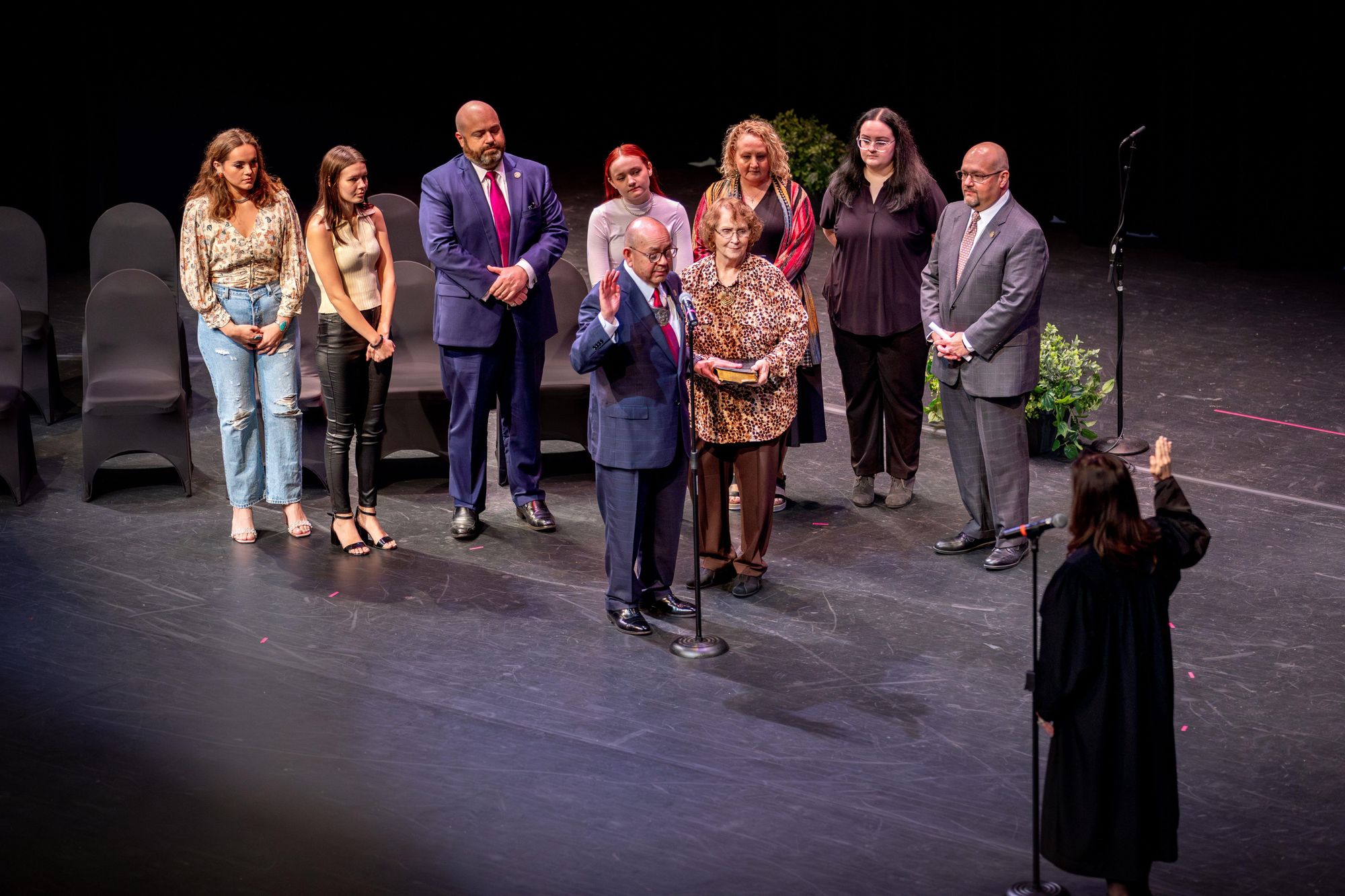 ADA, Okla. – Chickasaw Nation Governor Bill Anoatubby took the oath of office for an unprecedented 10th consecutive term during an Oct. 2 inauguration ceremony conducted at Ataloa Theatre on East Central University's campus.
"Throughout our history, Chickasaws have worked together for the common good of our tribe," said Governor Anoatubby. "That same spirit of unity is central to our success today."  

Lt. Governor Chris Anoatubby, who has served the Chickasaw Nation for more than two decades, was also sworn into office. He is beginning his second term as Lt. Governor.
Other Chickasaw Nation elected officials taking the oath of office include a Chickasaw Supreme Court Justice and four Chickasaw legislators.
"Together, we have, and we will continue to make remarkable progress in our mission: 'To enhance the overall quality of life of the Chickasaw people."' Governor Anoatubby said.
Governor Anoatubby has served the Chickasaw people for 36 years as governor. He has served the Chickasaw Nation for 48 years, accepting his first position as health services director in 1975.
In 1979, he was elected Lt. Governor and served in that role until elected Governor in 1987.
In 1987, the Chickasaw Nation had approximately 250 employees and a budget of $11 million, most of which came from the federal government.
Governor Anoatubby's administration has led the Chickasaw Nation to exponential growth in successful business operations and expansive development of programs and services available to the Chickasaw people and other First Americans.
Today, the Chickasaw Nation operates more than 100 successful businesses in gaming, hospitality, tourism, banking, manufacturing, chocolate and other industries, and directly employs more than 14,000 workers.
The Chickasaw Nation's annual economic impact in Oklahoma is $5.5 billion, supporting more than 34,400 jobs and $1.8 billion in wages and benefits.
Successful business development and diversification efforts enable the Chickasaw Nation to pursue new opportunities and diverse economic ventures, which continues to support self-determination and long-term sustainability.
Business revenues provide the majority of funding for the more than 200 programs and services available to Chickasaws.
Housing
Housing is one example of these services.
Working to meet the housing needs of Chickasaw citizens is essential to fulfilling the tribe's mission.
"Building strong families and strong communities is fundamental to our strength as a nation, and we have worked for decades to make quality, affordable housing more accessible," Governor Anoatubby said.
Expanded housing services help meet the needs of Chickasaws in all walks of life. Those services include rental assistance and home ownership services, including programs to facilitate home loans, as well as home repairs and improvement assistance. Housing assistance for Chickasaws across the U.S. includes the storm shelter installation program as well as grants for closing costs, repairs, and home improvements.
Health Care
Significant strides in health care have been made in the past four decades, including an acclaimed hospital, four clinics, eight pharmacies, four dental clinics, a diabetes care center, emergency medical services, four nutrition centers, eight WIC offices, five wellness centers and services that range from pediatrics to physical therapy.
A health facility to serve the needs of Chickasaws and First Americans in the Oklahoma City area is in the planning stages.
Education
Education has historically been one of the Chickasaw Nation's highest priorities, and a significant investment in education services has been made to ensure the future well-being of the Chickasaw Nation.
As a result, a variety of educational services and resources for Chickasaws of all ages are available, ranging from child development centers to adult learning programs.
In addition to providing grants and scholarships this year, totaling more than $30.9 million to more than 8,100 students, the Chickasaw Nation operates three Head Start centers and one preschool, as well as two child development centers. Construction is underway for a second child development center in Ada, and facilities in Tishomingo and Purcell are planned.
The Chickasaw Nation also offers tutoring assistance, internships, career development, student support services, operates the Chickasaw Institute of Technology, and many other educational programs.
"We will continue our long history of encouraging education and supporting professional development, so that all Chickasaw are able to receive a quality education and achieve career success."
Elders and Cultural Preservation

Governor Anoatubby reflected on the importance of Chickasaw elders and the need to share their cultural knowledge, experience, and wisdom with the next generation.
Maintaining and sharing Chickasaw culture and language is paramount to preserving Chickasaw identity and the Chickasaw Nation offers a wide array of opportunities to learn the Chickasaw language and traditional ways of life.

The Chickasaw Cultural Center, Sulphur, continues its mission of telling the Chickasaw story and sharing tribal traditions and culture. Since its 2010 opening, the cultural center has hosted hundreds of thousands of guests from across the globe.
Expanded programs, events and cultural initiatives help Chickasaw citizens, employees and community members learn about the Chickasaw people and customs.
Preserving and providing access to the Chickasaw language is a top priority, as the language is an essential connection to the past and integral to tribal identity. Several opportunities including classes and online applications are available to learn the Chickasaw language.
Last year, Governor Anoatubby issued a proclamation declaring the decade spanning from 2022-2032 as "Chikashshanompa' Ilanompoli'! (Let's Speak Chickasaw!): A Decade of Chickasaw Language."
1983 Chickasaw Nation Constitution
The inauguration was also an opportunity to reflect on the 40th anniversary of the ratification of the 1983 Chickasaw Nation Constitution, a pivotal document which established the modern Chickasaw Nation government.
It serves as a foundation for the tribe's continued self-determination and effective governance.

"Today's ceremony represents more than the promising potential of the next four years – today is a celebration of our tribal sovereignty and the foresight of the men and women who continued to fight for our rights as a tribal government," Governor Anoatubby said.
Looking Ahead

Embarking on his 10th term of service, Governor Anoatubby said meeting the needs of the Chickasaw people and protection of Chickasaw sovereignty remains paramount.
"With each decision, opportunity and challenge, our dedication to enriching the lives of Chickasaws is and will always remain, our guiding compass."
Continuing to honor, support, and care for veterans, protecting natural resources and working with communities to build lasting infrastructure and enhance public health and safety will continue for the years to come, he said.
"We will continue partnering with local, county and state agencies to further strengthen our criminal justice system and emergency management capabilities to ensure the safest possible communities throughout the Chickasaw Nation," Governor Anoatubby said.
Three incumbent legislators, Pontotoc District Seat 3 legislator J. Lisa Impson, Ada; Pontotoc District Seat 4 legislator Dr. Karen Goodnight, Goldsby; and Pickens District Seat 2 legislator Connie Barker, Marietta, were sworn in during the ceremony.
Newly elected Tishomingo District Seat 3 legislator Dusk Monetathchi, of Sulphur, took the oath of office during the event.
Chickasaw Nation Supreme Court Justice Seat 3 Cheri Bellefeuille-Gordon, Sulphur, was also sworn in during the ceremony.
---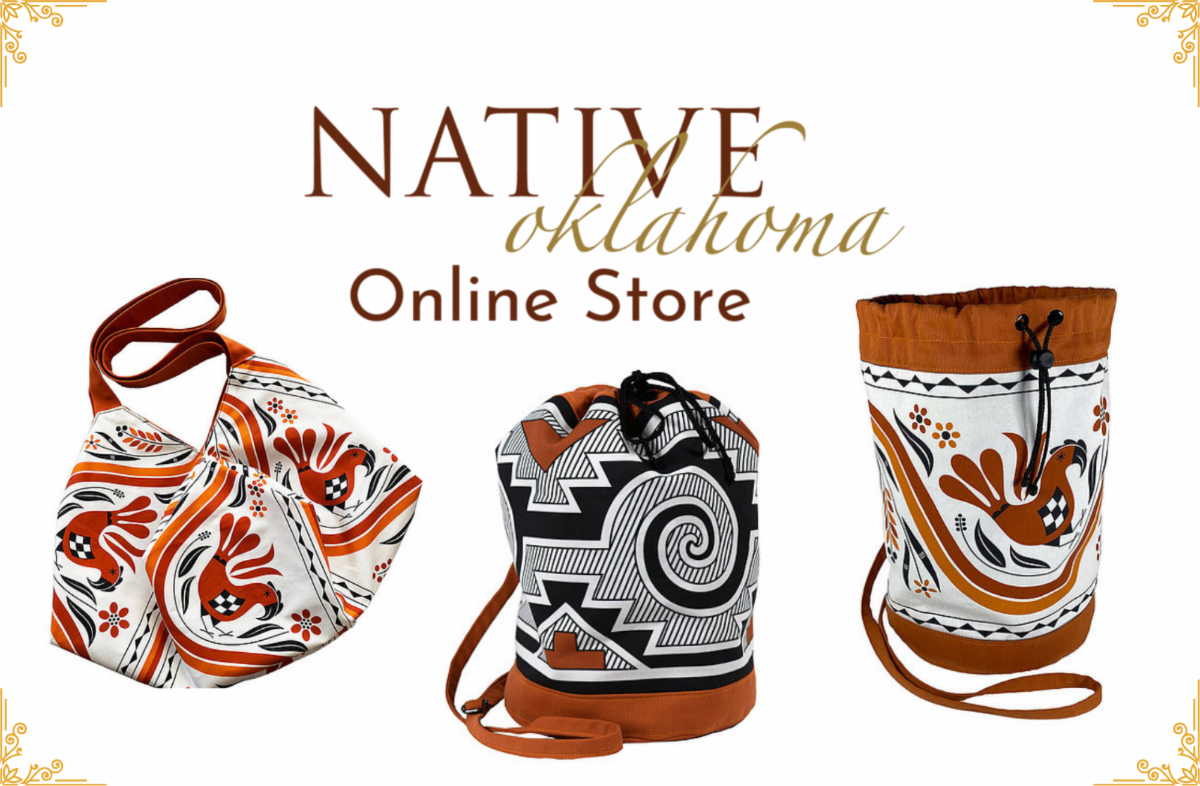 ---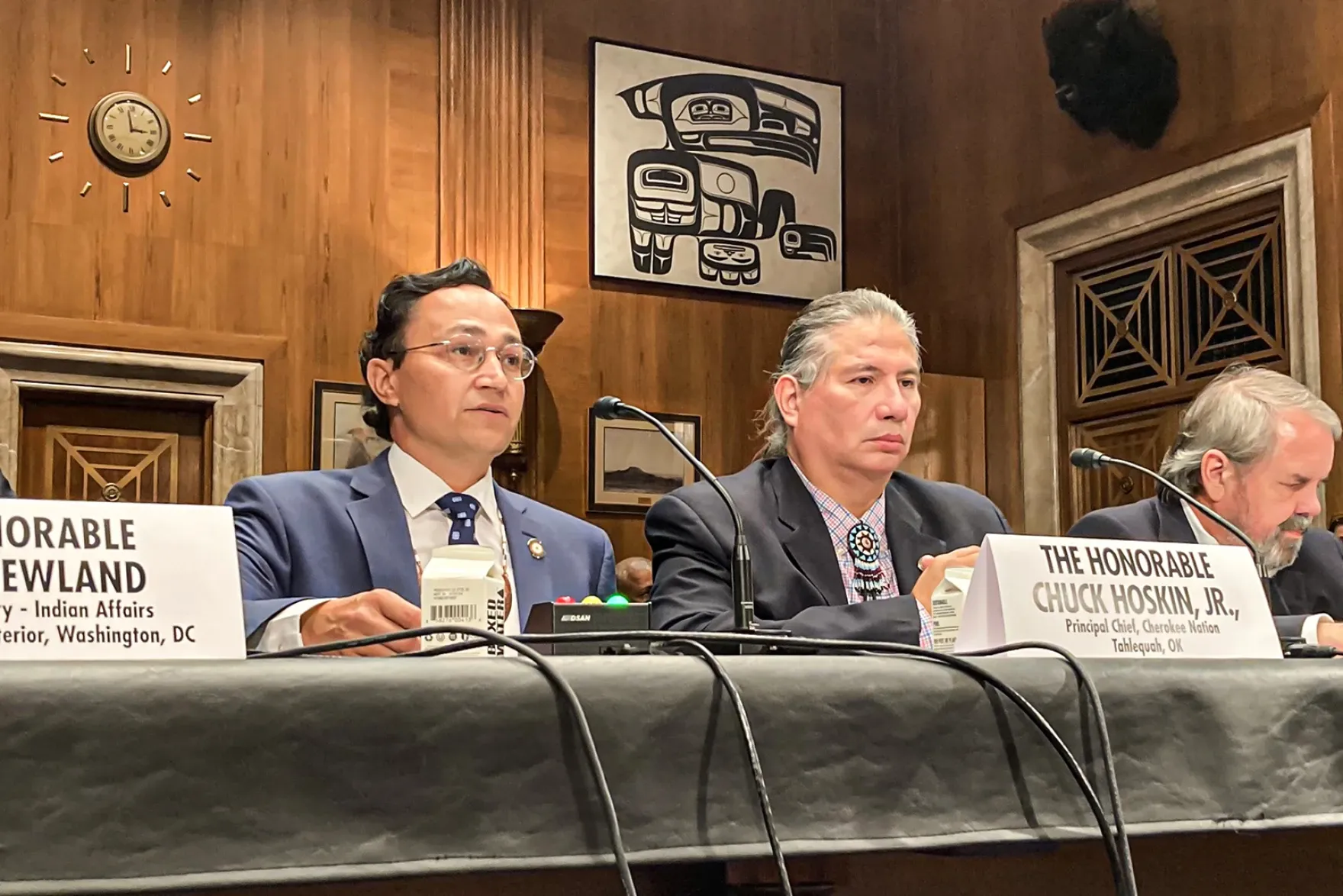 More than half of the tribal nations in the state sent a letter to the legislature and Gov. Kevin Stitt, asking to come back to the table and negotiate on the issue of tribal-state compacts.
The letter was signed by 24 tribal nation leaders, including President Terri Parton of the Wichita Affiliated Tribes, Ben Barnes of the Shawnee Tribe and Jacob Keyes, the new Iowa tribal chairman, as well as leaders of the five larger tribes.
All expressed their gratitude about the results of July's special session, where members of the legislature overturned two of Stitt's vetoes of tribal tag and tobacco compacts.
They also expressed their dismay at the political polarization on the issue and say they're willing to go back and renegotiate compacts, but that it needs to be done under a confidentiality agreement.
"Our single condition is that we engage in our talks under an appropriate intergovernmental confidentiality agreement. Implementation of meaningful government-to-government talks must focus on talking to, not past each other," read the letter.
Before the special session in July, Chickasaw Nation leaders found themselves in headlines around the state after the governor's office gave details of their negotiations to reporters.
The letter was delivered last week.
---
Greater Tulsa Area Indian Affairs Commission to Host Native American Day Festivities Oct. 9 at Dream Keepers Park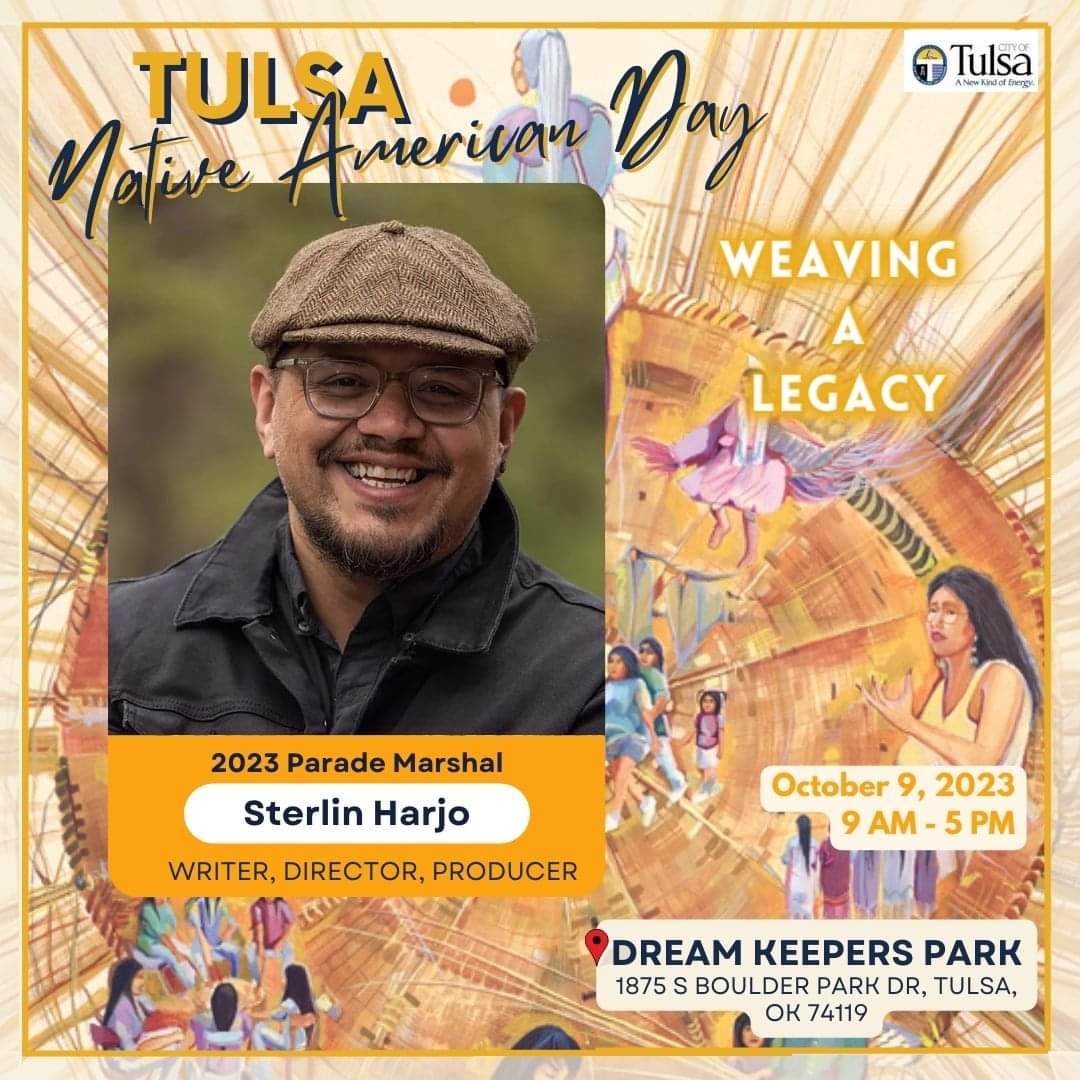 (Tulsa, OK) – Tulsa's annual Native American Day celebration, hosted by the Greater Tulsa Area Indian Affairs Commission, is coming up on Oct. 9 starting at 9 a.m. at Dream Keepers Park, 1875 S. Boulder Park Drive.
This year's theme is "Weaving a Legacy."
Native American Day is celebrated on the second Monday of October, this year on Oct. 9. The city of Tulsa is home to a population of approximately 30,000 Native Americans. Oklahoma is home to 39 federally recognized Native American tribes.
Native Americans have continuously inhabited the Greater Tulsa area for over a hundred years. By celebrating Native American Day, Tulsa formally recognizes its indigenous populations who have made valuable contributions to our community through shared knowledge, stewardship of the land, labor, science, technology, philosophy, arts, and deep cultural influences that have substantially shaped the character of the city of Tulsa.
Some parking will be available at Dream Keepers Park. Also, a shuttle will be available from the parking lot of Boston Avenue United Methodist Church, 1301 S. Boston Ave. The shuttles will run from 8:30 a.m. to 4 p.m. People going to the festival need to bring their own chairs. In case of rain, a large general admission tent will be on site.
See below the schedule/agenda for the 2023 Tulsa Native American Day:
9-9:15 a.m.        Opening Ceremony
Introduction of Greater Tulsa Area Indian Affairs Commission
Introduction of Mayor of Tulsa via video
Welcome - District 4 City Councilor Laura Bellis
Recognition of City Councilors attending
Land Acknowledgement – Lachelle King, Mayor's Office of Resilience and Equity
9:30-10 a.m.       Posting of Colors-CREEK Women Veterans Songs
Flag Song, Memorial and Victory Songs
The Lord's Prayer 'Signed' by Native Princesses
Connie Foreman Singing The Lord's Prayer
Singers & Drummers Paul Bighorse, Mason Bighorse, Paul Macron
Open invite for others
Convocation - Archie Mason
Introduction of Princesses
10 a.m.-2 p.m.    Art in the Field, canvasses and art for kids to create
10-11a.m. Welcome and Introduction of Tribal Leaders
Osage Chief Standing Bear
Muskogee Creek Chief Hill
Cherokee Chief Hoskin, Jr.
Introduction of Parade Marshall- Sterlin Harjo
11 a.m.-noon      PARADE
Parade Marshall: Sterlin Harjo
Chiefs, Tulsa City Council Members, and Princesses, many schools and bands
12:30 p.m. PARADE CONCLUDED
Open drum for others to join in afternoon
1-1:30 p.m.         Cherokee Choir
Pawnee Singers and Dancers
1:30-2 p.m.         Q& A with Chief Standing Bear & Danette Daniels
Showing trailer of Killers of Flower Moon; questions afterwards
2-2:30 p.m.         Cultural dancing & Princess Dance
2:30-3 p.m.         DREAM KEEPER AWARD WINNERS - Winners to attend personally
Cultural exhibits and demonstrations all afternoon; IHCRC drummers with Robbie Anquoe
3-3:30 p.m. Dancing exhibition - Rising Buffalo Dancers.
---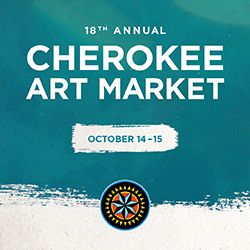 ---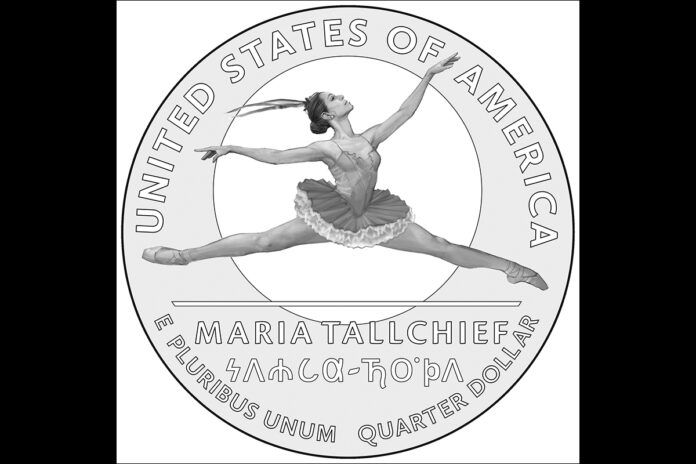 Unveiling of new statue honoring Marjorie Tallchief to also take place
A celebration honoring the new American Quarter featuring legendary Osage prima ballerina Maria Tallchief will be held on Sunday, Oct. 29 from 1-5 p.m. at the Tulsa Historical Society and Museum.
Special guests include Marilynn Malerba, the U.S. Treasurer and 18th Chief of the Mohegan Nation, Elise Paschen, Maria's daughter who is a world-renowned poet and professor at the School of the Art Institute of Chicago. She will also offer a book signing during the event.
Other special guests include the Smithsonian Under Secretary for Museums and Culture, Kevin Gover (Pawnee), as well as Misty Copeland, former principal dancer for American Ballet Theatre and the first African American woman to earn the position in the company's history.
The event will feature the unveiling of a new bronze statue of Marjorie Tallchief, Maria's younger sister. The event is free and open to the public.
Additional performances will be held by the Wahzhazhe Ballet and students from Daposka Ahnkodapi, the Osage Nation's private elementary school. Children's book readings and activities will be provided by staff from the U.S. Mint and the Smithsonian's American Women's History Museum.
About the quarter
"The Maria Tallchief Quarter" is the 10th coin in the American Women Quarters™ Program and features Maria in balletic pose from one of her break-out roles, "The Firebird." Her Osage name is etched on the coin, an act of tribal sovereignty guided by numerous Osage leaders, including Dr. Herman Mograine Lookout, Vann Bighorse, and Chad Renfro, according to a prepared release. Her name, "Wa-Xthe-Thoṉba," is etched on the coin and translates to "Two Standards." The name was given to Tallchief by the Osage Tribal Council when the state of Oklahoma created "Maria Tallchief Day" on June 29, 1953.
The name was selected by her grandmother, Eliza Bigheart Tall Chief, to reflect Tallchief's life in two worlds – as an Osage woman who danced to traditional songs and as a prima ballerina who danced her way into the hearts of ballet lovers worldwide, according to the release. Seventy years later, Tulsa Mayor G.T. Bynum will proclaim Sunday, Oct. 29, 2023, Maria and Marjorie Tallchief Day.
Maria Tallchief is considered America's first major prima ballerina, an accomplishment amplified by the fact that she is also the first Indigenous woman to earn the rank. Maria was inducted into the Women's Hall of Fame in 1996 and received a National Medal of Arts in 1999. Maria joins the short list of exceptionally accomplished women featured on the United States quarter, including Wilma Mankiller, Eleanor Roosevelt, Maya Angelou, Celia Cruz, and more.
The celebration is in partnership with the U.S. Mint, the Smithsonian American Women's History Museum and the Tulsa Historical Society and Museum.
For more information, contact the Osage Nation Communications Department at communications@osagenation-nsn.gov or call (918) 770-3931.