Investing in Indian Country is Investing in America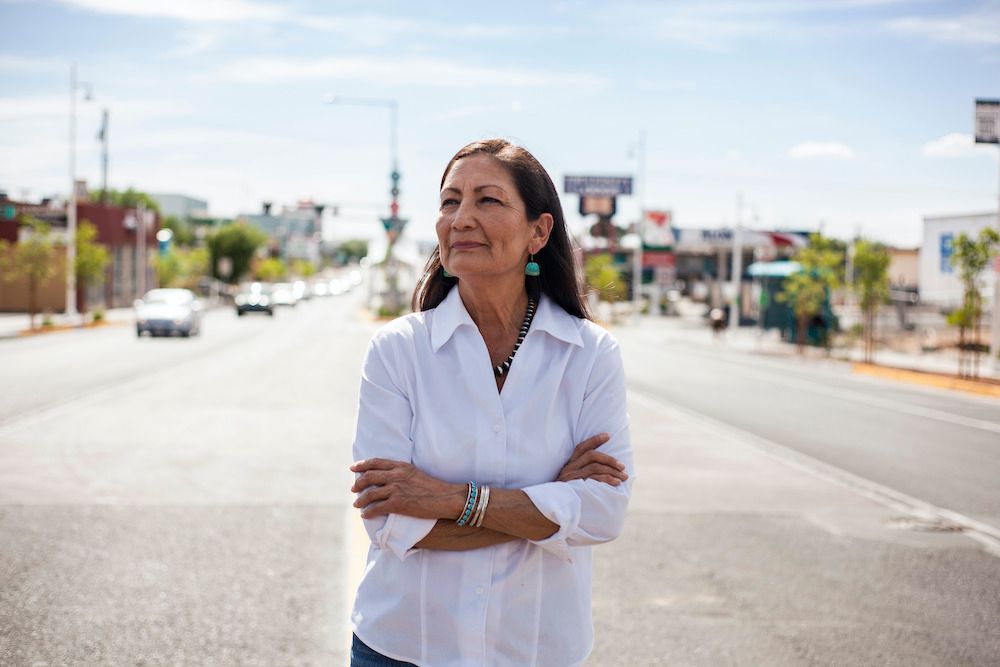 BY DEB HAALAND
OPINION. Before I was Secretary of the Interior, or even a member of Congress, I was an organizer. With signs made on my kitchen floor with poster board and markers, I urged our leaders to act for and invest in Indian Country.
Today, my tools for change look different. With documents signed at the desk of the Secretary of the Interior, we are charting a new course for our communities. And with more than $45 billion in funding from President Biden's Investing in America agenda – from the American Rescue Plan, Bipartisan Infrastructure Law, and Inflation Reduction Act – we are acting for and investing in Indian Country.
I feel a great responsibility to take all perspectives into account to leave a better America for future generations. It's a responsibility of the position I hold, but also one that I inherited from my ancestors. With these historic investments, we are empowering Tribes to build long-term resilience for our communities.
During a recent visit to the Hopi Tribe in Arizona, I announced a $6.6 million investment that will replace the water distribution system at Keams Canyon. For generations, Hopi people have been exposed to groundwater that contains unsafe levels of arsenic – a hazard we are finally addressing. One Hopi leader shared that while his Tribe has long felt invisible in the eyes of the federal government, "This new project… it makes us feel seen."
Feeling seen also means being appreciated for who we are – the original stewards of our shared lands and waters. It means incorporating our unique perspectives to addressing the greatest challenge of our lifetime: the climate crisis. For many Tribes, existential threats like rising sea levels are already at our doorsteps.
In response, we are leveraging an initial $155 million to advance a Voluntary Community Driven Relocation program for impacted Tribes. In May, Assistant Secretary for Indian Affairs Bryan Newland joined the Quinault Indian Nation in Washington State to see relocation progress underway. With these important resources, the Tribe can remain on its ancestral homelands at higher elevation for future generations to steward.
Our country is finally responding to the climate crisis. That is why we are prioritizing an essential yet globally underutilized solution that must help lead our climate response: Indigenous Knowledge.
This tool is at the core of co-stewardship agreements being made with Tribes across our country.
Our Administration has signed more than 20 agreements, with many more in review. They include one with the Rappahannock Tribe in Virginia, which will now manage 465 acres of re-acquired ancestral homelands at Fones Cliff, a sacred site and essential habitat for bald eagles. While visiting, I learned from Chief Anne Richardson how this agreement will strengthen the Tribe's sovereignty and protection of its homelands. Her words of love and dedication to her people and their future resonates with me deeply.
This long-overdue change has only begun, but it cannot happen in a vacuum. If we want everyone to thrive, we must address the intergenerational pain our people still carry.
Through the Federal Indian Boarding School Initiative, we are unraveling the era of assimilation that has scarred every Indigenous person I know. Part of this work is about giving space for survivors and their descendants to share their stories. "The Road to Healing" is a year-long tour with Assistant Secretary Newland and I, that brings trauma-informed resources and a forum to grieve and heal together. To date, we've held eight sessions, with more to come. By telling our stories, we will honor this shared trauma and move forward.
Our healing initiatives include efforts to elevate the Missing and Murdered Indigenous Peoples and Human Trafficking crises through inter- and intra-agency law enforcement coordination and increased resources, and our support for the Not Invisible Act Commission. Since the first pangs of colonization on this continent, Indigenous people have gone missing and worse. This 500-year-old crisis must come to an end. I am grateful to the professionals who carry out this mission, and to the families who assist us in this painful but essential endeavor.
As I reflect on our path together, I am filled with gratitude for President Biden's dedication to Indigenous peoples. I am grateful for his willingness to put someone who has lived on the receiving end of federal Indian policy in a position of influence. Our work for Indian Country is far from over. We may not agree on every decision, but the progress we've accomplished – with investments made possible by this Administration – can never be taken from us.
The tools I carry may look different now, but my perspective is unchanged: With Indigenous wisdom, resilience and worldview at every decision-making table, we will usher in a future that our children and grandchildren deserve to inherit.
Deb Haaland is the United States Secretary of the Interior. A member of the Laguna Pueblo, she is the first Native American to serve as a cabinet secretary.
---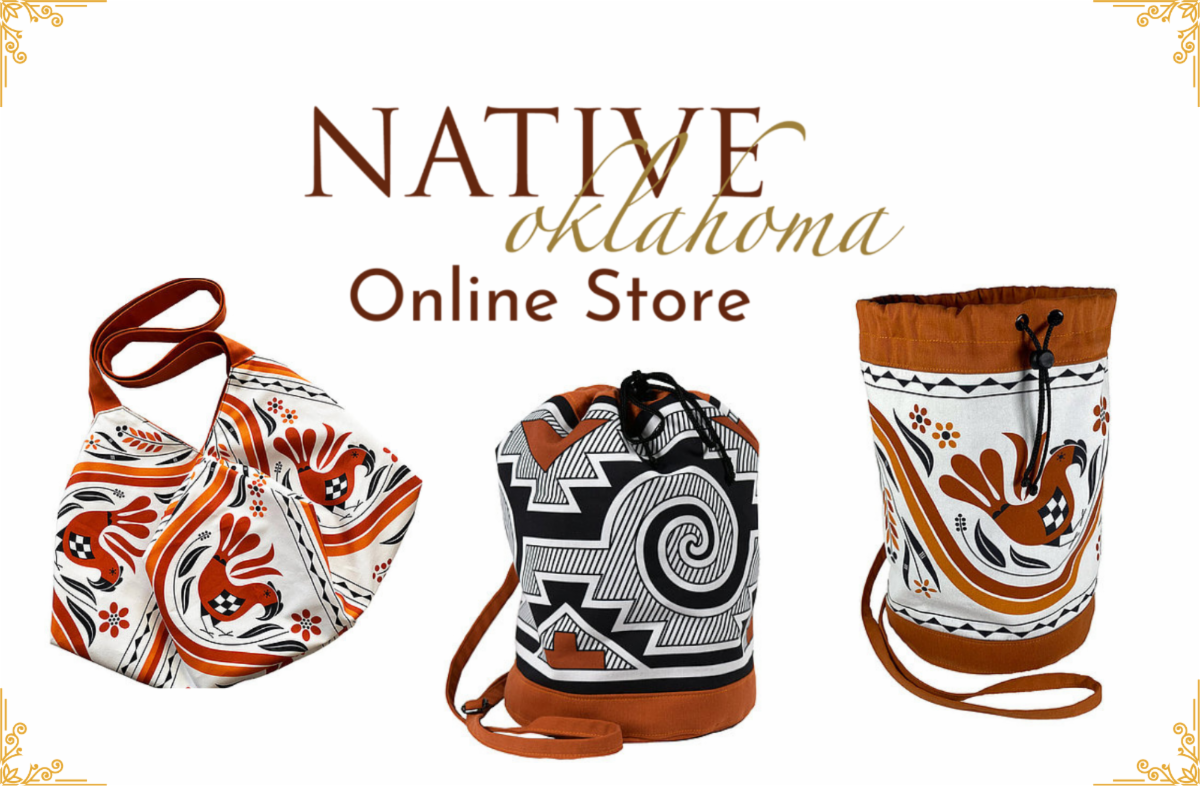 ---
Food distribution offers more for citizens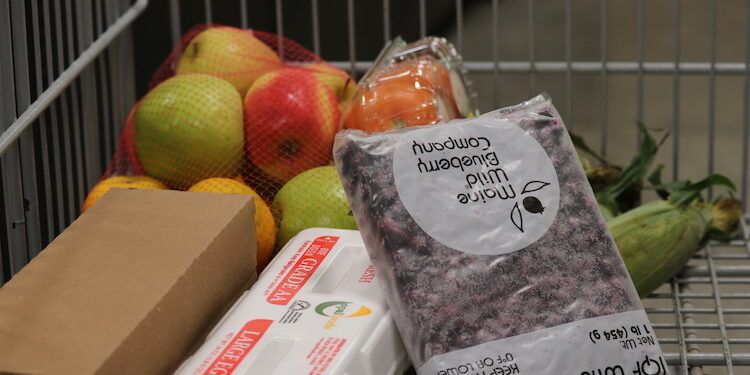 Guide rates have increased for program participants
OKMULGEE, Okla. – The Muscogee (Creek) Nation Food Distribution Program has announced an increase in the guide rates and an increase in food options to start on Sept. 1.
According to manager Devin Davis, this is the first time he has seen an increase in the guide rates in almost 20 years working in the industry.
"The cost of living has a lot to do with it," Davis said.
With the increase in food supplies monthly, participants will be able to afford other living expenses and worry less about food.
Now individuals will receive increased units in proteins, including meat and egg options.
For example, the units of meat will increase from three units to five units per individual household, according to Davis.
Not all, but some meat options are two pounds per unit, potentially increasing the total from six pounds to ten pounds per month.
"Not all our meat is equal to two pounds. The meats that are two for one are hamburger meat, bison, pork chops, canned tuna and canned chicken," Training and Compliance Officer Anita Watashe said.
Many of the participants live on a fixed income like disability or social security, according to Watashe.
Davis claims he worries about the elders who may have family members in and out of their home who use some of the resources they have. Many of them live on fixed incomes and rely on other programs.
Many participants will try to ration meals to last through the month, which can get difficult.
Food distribution only offers a select amount of items to cover each food group. Participants from time to time may have to purchase other grocery items out of pocket.
With the increases the program will provide even more selection in items. Now included on the menu is bison stew meat, fresh eggs, and frozen strawberries.
For lead inventory Mike Wegley, he claims the increase only applies to certain items, thus the workload does not change too much for his small team.
Overall, the crew hopes this increase will help attract more participants.
Davis and Watashe claim the program numbers have still been low since the pandemic started. Many left the program and went to SNAP benefits.
Since the pandemic has ended, many participants have been dropped from the SNAP Program, their guidelines have since gone back to pre-pandemic status.
For the food distribution program, income guidelines remain the same.
According to Watashe, there is no limit on the number of family members in a household for the program, as long as they meet other program requirements. The largest household served has included 10 family members.
The program serves any member of a federally recognized tribe residing within the Mvskoke reservation boundaries.
For more information call 918-549-2401 or visit; https://www.muscogeenation.com/muscogee-nation-agencies/department-of-community-and-human-services/#Food-Distribution.
---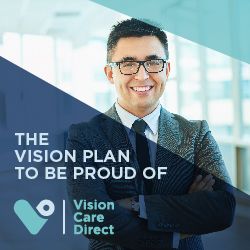 ---
Applications open soon for new affordable housing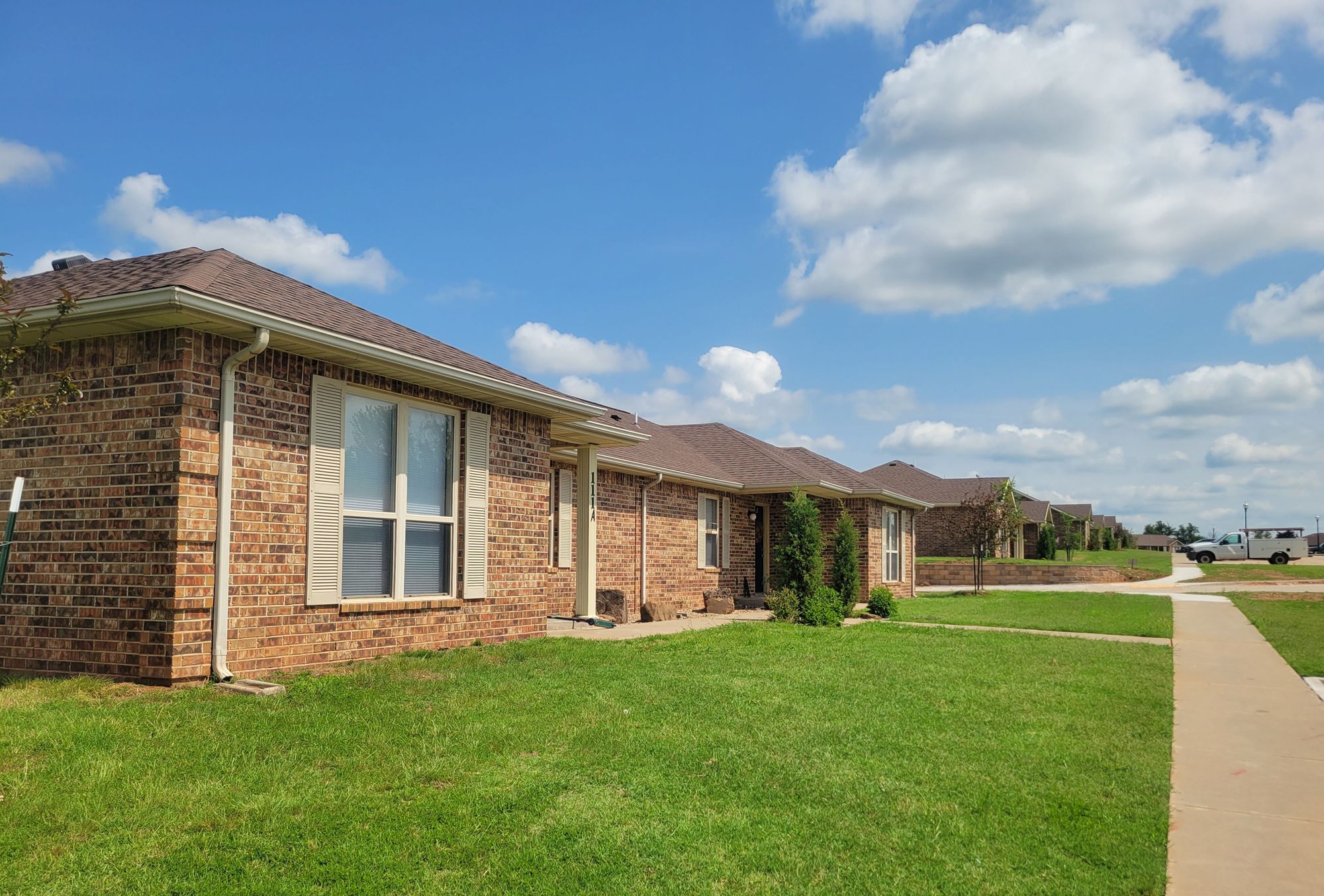 By Tina Bridenstine, Citizen Potawatomi Nation Public Information Department
Citizen Potawatomi Nation has 160 affordable rent units — 46 family units and 114 elder units — but that number is set to increase soon. After two years of planning, construction started this spring on 66 new family units.
They will be added to the existing family units that were built in Tecumseh, Oklahoma, in 2005. The original duplexes, CPN Housing Department Director Scott George said, are all made up of three-bedroom units, which made it hard for some families to get off the waiting list.
"The waiting list for those has always been a mixture of families that could use a larger unit or a smaller unit, and because they didn't meet that three-bedroom criteria, they were passed over and put at the bottom of the list," he said.
To alleviate that problem, the new development has plans for two-, three- and four-bedroom units, with two different floor plans for each size.
"We'll also add an additional playground and an additional storm shelter," George said.
The existing units have a Federal Emergency Management Agency-certified storm shelter already, but George hopes the new shelter might also serve another purpose for the community — such as offering a space to host community meetings or events.
He added that the development will also include ADA (Americans with Disabilities Act) units, which will have an area of refuge within the unit.
Building in phases
"Just before COVID, we started talking about it, and then all during that time, we worked with an architect to develop the floor plans," George said. "We just let it out for bid this winter, actually in February."
Dirt work and infrastructure were completed in 2022, and construction of the units started in spring of 2023.
The development will be built in stages, with George estimating each stage to take six months and the final stage to be finished in two years.
The first stage will see the completion of 16 two- and three-bedroom units. The rest of the two- and three-bedroom units will be completed in the second and fourth stages, and all of the four-bedroom units will be built during the third stage.
The playground and storm shelter are also planned for the last stage.
Applying for waiting list
The development, like the CPN Housing Department's other programs, is funded through the United States Department of Housing and Urban Development (HUD) and the Native American Housing Assistance and Self Determination Act (NAHASDA).
The units are available for low-income Native Americans, though CPN tribal members have first preference. Applicants cannot have any felonies and must go through a background check.
"Our mission is the same as HUD's mission," George said. "We have to provide safe, sanitary, affordable housing, and we take the 'safe' part very seriously."
Rent for the units is based on income and won't be more than 30% of the renter's total adjusted monthly income.
George added that some income is still needed because renters pay their own utilities. However, he said the housing department is familiar with typical utility costs for the units, so if they think an applicant's income is not enough to pay the utilities, they will make recommendations for additional options.
Right now, there is a waiting list for housing, but George hopes to start taking applications for the new units soon.
George recommends making an appointment to go into the office in person so employees can explain how the program works, what the rent structure is, and help with any questions about documents and the application process.
"It serves us a lot better, and them, for them to come in person to pick up the application," George said. "We can help them fill it out here if they need to, or they can take it home and come back."
Those interested in applying for housing can call the CPN Housing Department at 405-273-2833 or 800-880-9880 or visit in person at 44007 Hardesty Road, Shawnee, OK.
---
California woman rallies to heal other women as co-founder of Palo Verde Wellness Center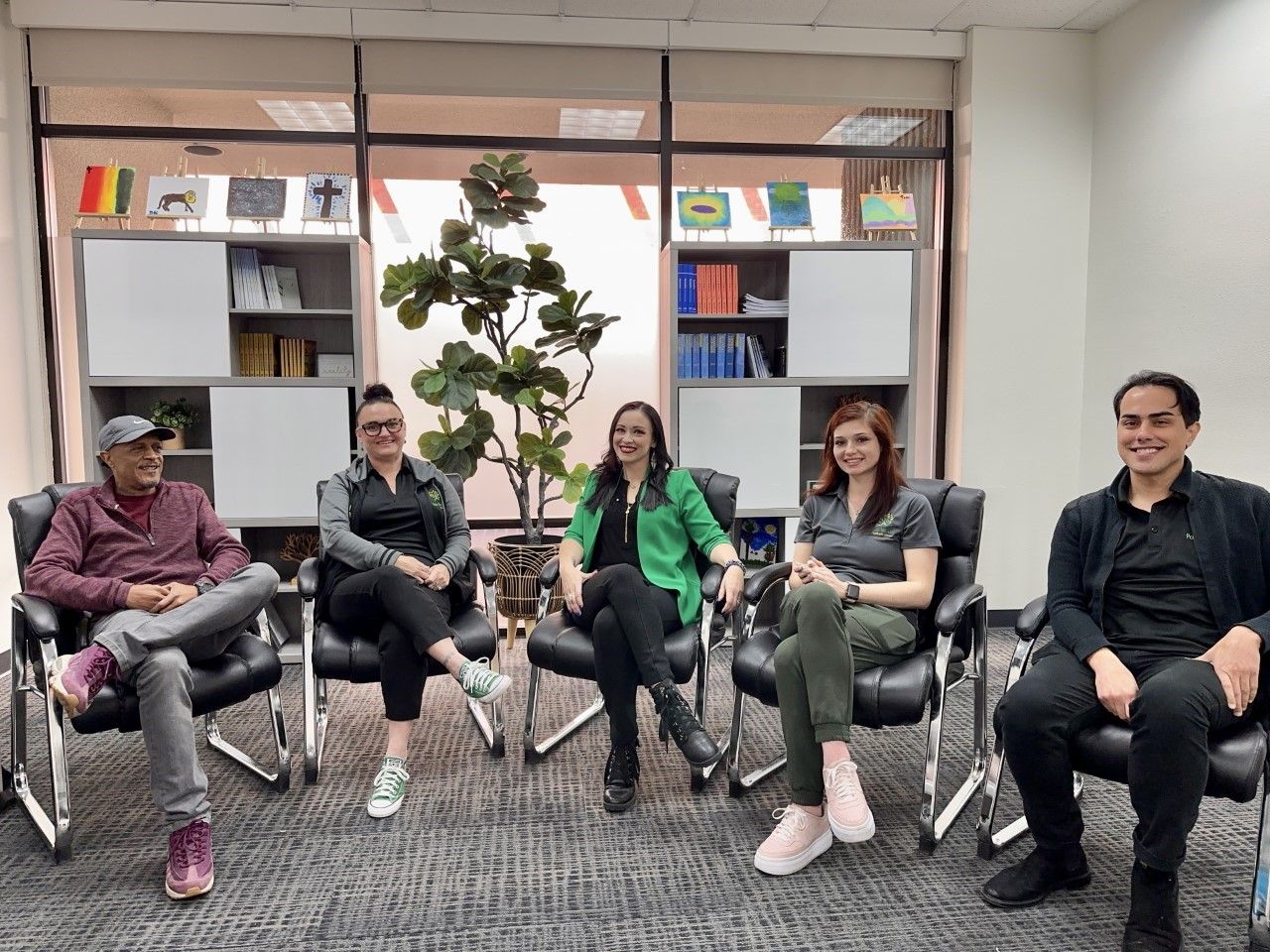 PALM SPRINGS, Calif. – Addiction.
Darby Foster knows about it both professionally and personally.
This Chickasaw woman fights it daily as co-founder and executive director of Palo Verde Wellness Center, which strives toward a mission of "holistically healing the mind, body and spirit."
Through a contractual agreement between Foster's center and Indian Health Service (IHS), she is assisting First Americans from 10 tribal nations in the fight against addiction.

"We have a staff of seven experts in various fields that are helping them live their best lives without abusing drugs and alcohol," Foster said.
As much as 25% of her clientele are First Americans and it is Foster's unyielding belief in holistic and proven addiction treatments that guide patients on their journey to sobriety.
"I believe people who seek out our unique program because of an innate desire to be free from harmful habits that weigh down mind, body and spirits," she stated. "In my experience, clients often succeed when they truly want recovery for themselves. We offer many programs from which they can choose to become involved and participate. I designed the program so that clients can be introduced to all the different kinds of 12-step programs. The right 'fit' for a client is so important. It must engage them mentally, emotionally and spiritually. It is where they will find their community. I know from personal experience that a variety of different modalities helped me. We engage each client on an individual basis to help them curate a foundation for their recovery," Foster said.
Personal Battle
Observing Foster's vast accomplishments, one would never fathom such a highly educated and motivated Chickasaw woman would ever suffer a drug crisis.
She earned a bachelor's degree in psychology from California State University San Bernardino. Foster earned a master's degree in social work from California Baptist University, located in Riverside. She has received her credentials as a therapist (ACSW). She is a certified first responder counselor. Foster also received extended training in the modality of EMDR (eye movement desensitization and reprocessing), so she can help clients better address their traumas.
"Like many of us in recovery, I was a 'troubled child.' I gave birth to my daughter, Anita, at 16 and my son, Anthony, when I was 19," she said. "I maintained sobriety for 12 years through their adolescence. I was in the throes of my drug addiction for most of my teenage years, but I experienced brief periods of sobriety during my pregnancies and after the children were born."
She did break free and began pursuing her educational goals. Then, divorce, homelessness and car repossession contributed to a relapse of abuse. Her Chickasaw mother took over rearing her teenage children for the nine months it took her to put the pieces back together slowly and purposely to beat addiction, again.
Deeply moved by her experience, she wanted to help people beat the deadly effects of addiction.
"It's that unconquered and unconquerable spirit of Chickasaws. We are all warriors. Our ancestors were warriors," Foster said. "I know what activities and programs helped me the most. I wanted to make my experience available to those wishing to change their lives for the better.
"I like to say I'm a student of life," she said with a laugh. "I want to constantly learn. I want to learn and understand everything.
"I chose my career in the recovery industry because I genuinely care and wanted to give back what was so freely given to me. My personal journey led me to a path that allows me to help others struggling with substance use to find freedom. I have found out authentic, lasting recovery does not take place until there has been deep healing of the mind, body and spirit. Bravely working on all three is the key that unlocks the door that holds us prisoner to our addictions," she observed.
Professional Triumph
Foster's Palo Verde Wellness Center celebrated its first birthday in June 2023.
Success came extremely fast.
Both the IHS contract and Medi-Cal contracts were inked within the first six months the treatment center opened. Medi-Cal is California's state-managed medical carrier for those who cannot financially bear the expensive burden of private health insurance.
"Everyone here is highly educated and a vigorously trained professional in treating substance abuse. We all are heavily involved with the community. We are trusted, we open our hearts to clients. We get to know them, watch them, encourage them and assist in their journey to sobriety," Foster explained.
"One of the best traits of this staff is we open ourselves up to the pain our clients are suffering. But our industry is different because we also understand – sometimes – we must mourn them. We subject ourselves to pain and risk heartbreaking emotions every time we walk through the doors."
Foster explained the immense joy that overwhelms her whenever she hears laughter emerging from a group room near her office. "I know they say laughter is the best medicine, but when I hear laughter, it is so satisfying because hurt, pain, confusion and worry are tied to clients. My favorite experience professionally is when a client becomes a peer."
She is not a proponent of all typical addiction treatments or remedies. In fact, Foster believes the "basis of all addiction is trauma."
If the trauma goes unaddressed, the client will have a more difficult time breaking free.
"Many clients are quite surprised that interactions they considered completely normal in their upbringing could traumatize them. If we do not treat the underlying trauma, it's like putting a Band-Aid on a bullet wound," she observed.
Happy Endings
It was a wild, emotional ride for Foster. Addicted twice but determined to beat it, she met her husband, Kody, in her addiction, and they entered recovery together. Even sharing a sobriety date, she jokingly calls him her sobriety twin.
"He supports me so much, particularly when I do crazy things like earning a master's degree while working full time running a recovery center," she explained with a heartfelt laugh.
The children were reunited with her and are now grown. Her daughter is now the program manager for Palo Verde Wellness Center, and they work together side-by-side every day. Her son is currently attending a University in Southern California.
Foster believes in self-care.
"The stresses and emotions of doing this can take a toll on everyone. You must get away from it and heal yourself," she said with an emphatic tone. "I enjoy hiking, and we go to pow wows here." She also tends the fires at a First American sweat lodge for women.
She watches Chickasaw cultural videos and recently constructed her first ribbon skirt. "I'm pretty pleased with it, too. It looks great, and I enjoy wearing it." The entire family will be attending their first Chickasaw Annual Meeting and Festival this October.
But what she loves the most, her greatest desire outside of her work, is going to estate sales, flea markets and yard sales to see if someone's discarded trinkets are a treasure to her. Foster describes the décor of her home as a "weird little museum. I've refurbished and reupholstered many antique pieces that we use every day," she said proudly.
And you can watch the sheer delight of her adventures by going to YouTube and searching "Millennial Treasure Hunters." Foster and her children have posted several videos of their adventures bidding on abandoned storage spaces, hoping, wishing, laughing and pouring over "stuff" in hopes of finding a treasure. They also have a TikTok under "Millennial treasure hunters," where small snippets of videos and other exciting shots are shown.
Indeed, she and her husband, Kody, are shown in one of the videos tearing into a safe with a hammer, screwdriver and pry bar. Basically, it contained two $2 bills, but the unit was full of computers, brand new clothes and machinery to print T-shirts. Her daughter Anita stays behind the camera and records all the video, edits it and uploads it.
Foster enthusiastically beckons viewers to join her in the search and explains when a valuable item is discovered or expresses gratitude for items merely "cute," not valuable.
The family is learning the Chickasaw language through Chickasaw AYA app. "My husband and kids and I are having a lot of fun with the Chickasaw app. We have a family competition going on and really enjoy learning words in Chickasaw and unlocking new parts of the story."
"I am currently following the elder story. My husband picked the farmer, my son picked the warrior, and my daughter is doing the lawman's journey."
For more information on the app, visit Chickasaw.net/AYA.
---