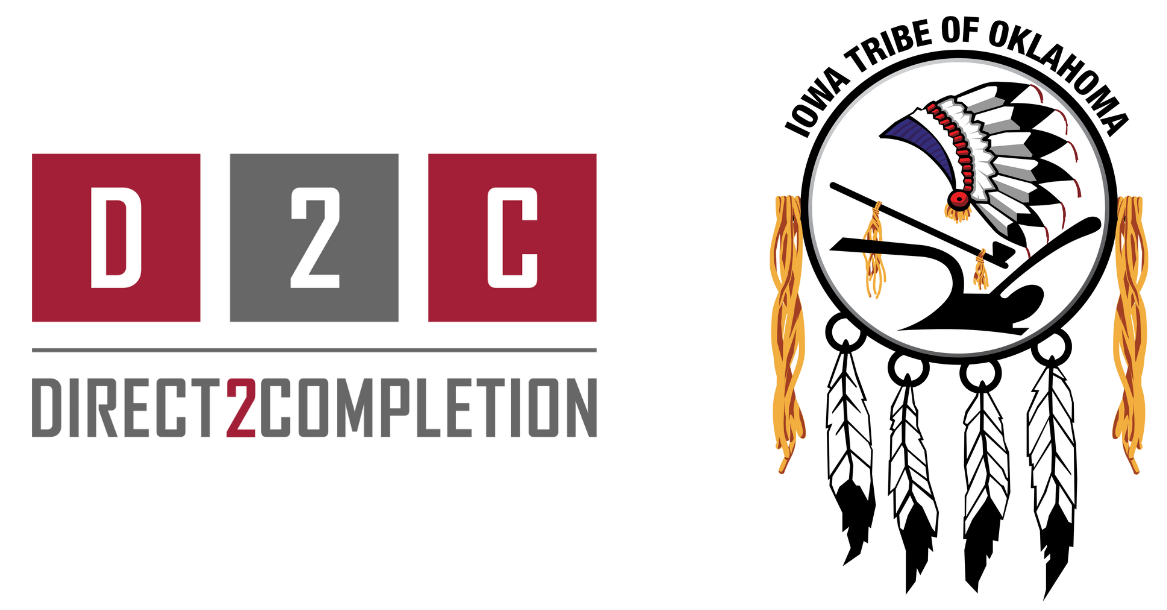 TULSA, Oklahoma – Tulsa-based Direct 2 Completion (D2C), a leading construction program management and owner's representative firm, is thrilled to announce a partnership with the Iowa Tribe of Oklahoma (ITO) that will transform tribal health care and child development. The project involves the development of the Perkins Family Clinic and ITO Childcare After-School Program. Both projects are near Perkins, Oklahoma, about 15 miles south of Stillwater. These two projects are being built under the guidance and supervision of D2C to revolutionize health care and childcare services in the region.
The Iowa Tribe of Oklahoma says they chose to use an owner's representative for construction of the tribe's new clinic to supply the required technical expertise in construction project management. D2C, in coordination with the tribe, will develop project objectives, priorities, and controls to improve project delivery time and control costs of the new clinic.
The sprawling 10-acre site will consist of two newly constructed standalone facilities with a shared common space, parking and site utilities. The Perkins Family Clinic plans call for a state-of-the-art medical building offering a wide range of primary and preventative health services, all rooted in Native values. The facility will feature outpatient medical suites, dental services, pharmacy, radiology, laboratory, behavioral health services, public health nursing services, pediatrics, and more. Many of these services are new to the Perkins Family Clinic, which provides comprehensive health care to Native American families and non-Natives in the area.
The ITO Childcare After-School Program complements the health center and will provide much-needed resources for early childhood education and after-school care for working families. The program will feature thoughtfully designed classrooms, a fully equipped kitchen, a playground, an indoor recreation area, an outdoor learning lab, and a safe room. This facility will foster a safe, nurturing, and engaging environment for children to support their growth and development.
As an owner's representative, D2C's primary role is to protect the Iowa Tribe of Oklahoma's best interests throughout the project. The company's oversight and guidance help ensure projects are completed on time, within budget, and according to the owner's specifications and quality standards. In acting as an owner's advocate, D2C facilitates resources, meetings, and deliverables on ITO's behalf to ensure the projects are successfully executed.
Officials with the Iowa Tribe of Oklahoma say they chose D2C for the company's expertise in providing management services for health care construction projects to Native American tribes and other medical facilities. D2C has assembled a project team with the knowledge, resources, and tools to successfully complete the clinic construction project. D2C and the Iowa Tribe of Oklahoma's excellent working relationship prepare the project to succeed on schedule and within budget.
As the program manager and owner representative, D2C is honored to help the Iowa Tribe of Oklahoma in its ambitions to change lives by supporting families and children.
"Working with Iowa Tribe of Oklahoma on developing their new clinic and childcare program has been an incredibly enriching experience. Beyond the technical aspects of construction, we have had the privilege of witnessing this project's profound impact on the community," said Mike Owen, Vice President of D2C. "These projects will serve as a place of healing and teaching, as well as a symbol of cultural preservation and resilience. It's an honor to contribute to a project that fosters health, unity and empowerment for the tribal members. We're confident the community will feel the positive ripple effects of this project for generations to come."
D2C also serves as the owner's representative for other large-scale construction projects across Indian Country. The firm is committed to delivering exceptional results while staying true to the project's goals and vision. D2C anticipates an impactful collaboration and is eager to keep the community updated on the progress of ITO's venture.
Construction is in the program management phase and is projected to be complete by spring 2025.
About D2C:
D2C was founded in 2021 and is a Native-owned and managed company in Tulsa, Oklahoma. It is a certified Native-owned business by multiple tribal governments and employs citizens from several tribal nations. D2C's highly skilled staff holds numerous industry certifications and has won multiple awards, including the 2023 Builder of the Year by Associated General Contractors of Oklahoma. The company's industry-leading general contractors, construction managers, subcontractors, administrators, and engineers collectively possess more than ten decades of experience and expertise. Learn more about D2C at d2completion.com.
About the Iowa Tribe of Oklahoma:
The Iowa Tribe of Oklahoma, located in Perkins, Oklahoma, is a sovereign tribal nation with the inherent right to self-governance recognized by treaties and federal law. With more than 800 enrolled tribal members, the Iowa Tribe calls itself Baxoje (Bah Kho-je), meaning "People of the Grey Snow." Its jurisdictional area covers all or parts of Payne, Oklahoma, Lincoln, and Logan counties. In addition to administering services to tribal citizens, the tribe manages various enterprises, including three casinos, a tribally operated police department and a fire department. For more information, visit www.bahkhoje.com.