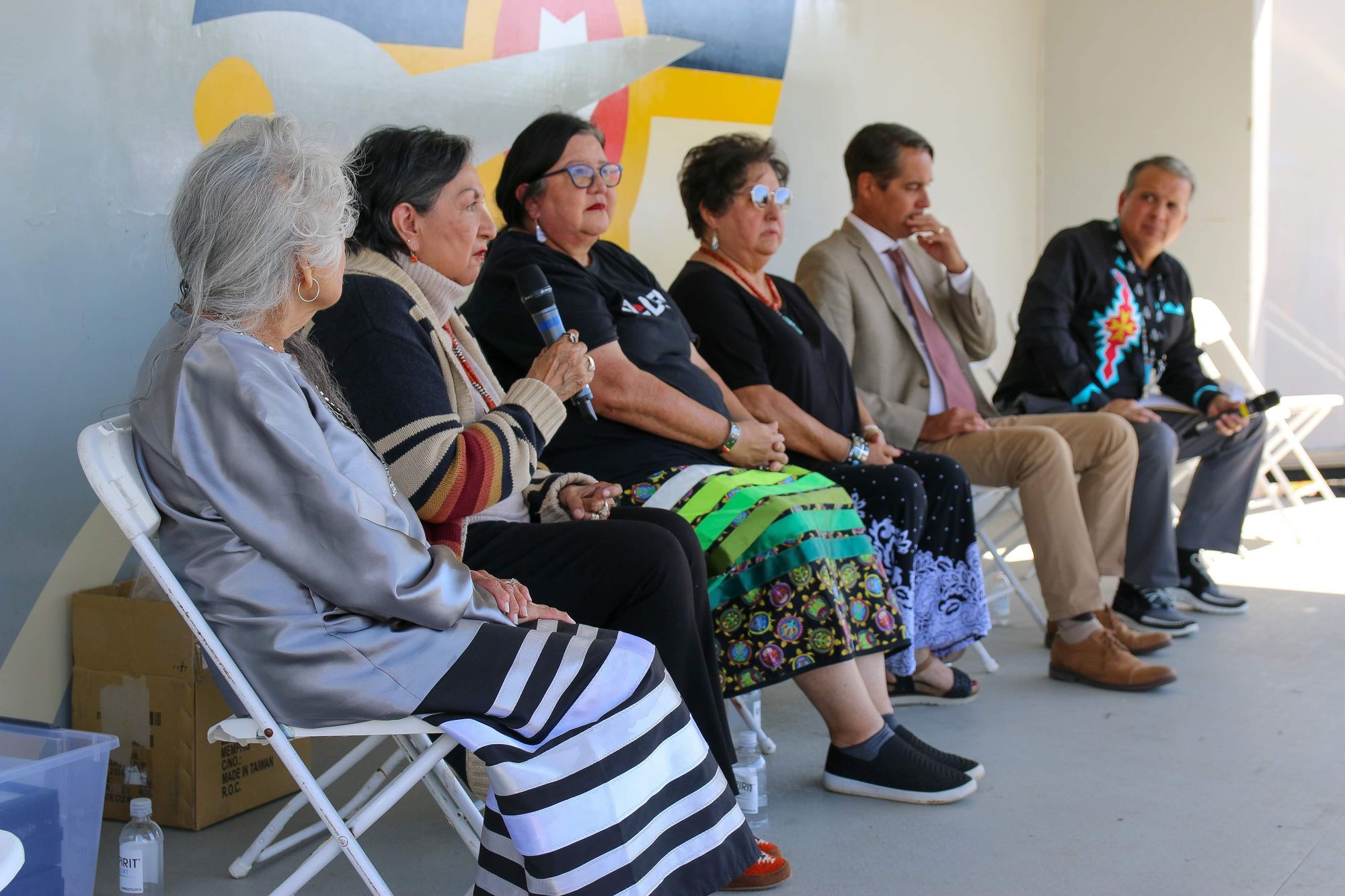 By Kimberly Burk
TULSA – The opening of "Killers of the Flower Moon" is just days away, and moviegoers across the world will soon know the shocking truth about the "Osage Reign of Terror."
"It's been something that I expected was going to happen at some point," Osage Nation Assistant Chief R.J. Walker told the audience on Monday during Tulsa's Native American Day Celebration. "It's a story that was going to be told."
Walker served on a panel along with Winnie Guess Perdue, Frances Williams, Danette Daniels and Billie Ponca, who acted in or were closely associated with the Martin Scorsese movie that opens Oct. 20.
Based on the book by David Grann, the movie stars Robert DeNiro, Leonardo DeCaprio and Native actor Lily Gladstone and tells the story of oil-rich members of the Pawhuska-based tribe murdered in the 1920s for their headrights.
Dozens of tribal citizens worked as staff members and extras as the film was being shot. Norman's Yancey Red Corn, who portrays Chief Bonnicastle, is among the Oklahomans with speaking roles.
Walker said that during the making of the film in Osage County, he saw Scorsese and the actors "come in and respect the Osage Nation and respect the elders. They wanted to make the story right."
Daniels, who owns the Waterbird Gallery in Pawhuska, said tribal members who were worried about how they would be portrayed and perhaps stereotyped wrote a letter to Scorsese, inviting him to a traditional Osage meal. He accepted.
About 300 people lined up against a wall, and Scorsese shook hands with each of them, which took about an hour, Daniels said.
"They changed the script after that to include more about the Osage story," with less focus on the federal investigation, Daniels said.
Perdue, who is a Cherokee elder, said the Osage and the Cherokee have a history of not getting along. But during the filming of the movie, she said, she formed close friendships. She portrayed a wealthy Osage woman who was part of a delegation to Washington.
"Never have I been met with such honor," Perdue said of her time working on the film. "This was a spiritual experience."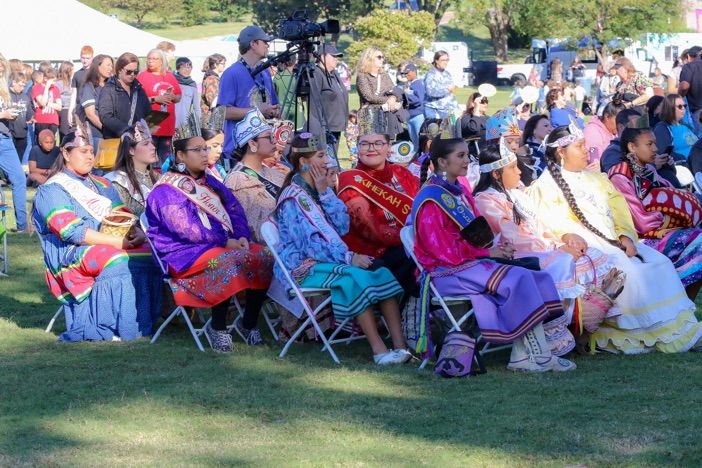 In the audience at Dream Keepers Park was Omaha tribal citizen George McCauley of Minneapolis, who had accompanied his wife to Tulsa on her business trip. McCauley is an Indian child welfare consultant and part-time actor who was an extra in the movie. He said he played a nattily dressed "rich Osage."
"I didn't know when they started filming how great a movie it was going to be," said McCauley, whose previous film credits include "The Jingle Dress" and "A Stray."
"I was just glad they sought out real Indians. I don't know how much time I'll be on screen or if I'll be recognizable, but generations from now will know who they are and what I looked like."
Walker spoke during opening ceremonies on Monday along with Muscogee Chief David Hill and Cherokee Chief Chuck Hoskin Jr. The city of Tulsa rests within the boundaries of the Osage, Muscogee (Creek) and Cherokee Tribes. The seventh annual celebration was organized by the Greater Tulsa Area Indian Affairs Commission and featured singers, dancers and Indian princesses from those tribes and others across the state.
Seminole filmmaker Sterlin Harjo, co-creator of the popular "Reservation Dogs" television series, which was filmed in Oklahoma, was the scheduled parade marshal but could not attend due to a family emergency.
Walker appeared on behalf of Osage Nation Principal Chief Geoffrey Standing Bear. Walker said Standing Bear is "tugged and pulled in so many different directions, with the movie coming out and other things going on."
Among those projects is the plugging of abandoned wells on the Osage Reservation, for which the tribe's Office of Self-Governance recently received another $19 million grant from the U.S. Department of the Interior's Orphaned Wells Program Office.
"We have plugged 82 orphaned wells so far," Walker said. More than 1,600 documented orphaned wells are among the 43,000 wellbores on the reservation, according to a September news release from the tribe.
"We greatly appreciate this federal administration for stepping in with these funds after a history of assault and neglect on our land," Standing Bear said in the news release. "This program stops the pollution of our land and harmful chemicals leaking into our environment."
The abandoned wells have for years leaked methane carbon into the atmosphere and were deactivated due to neglect, economic viability or failure to transfer ownership, according to the tribe.
Kimberly Burk is an editor for Gaylord News, a reporting project of the University of Oklahoma Gaylord College of Journalism and Mass Communication. For more news by Gaylord News go to GaylordNews.net.