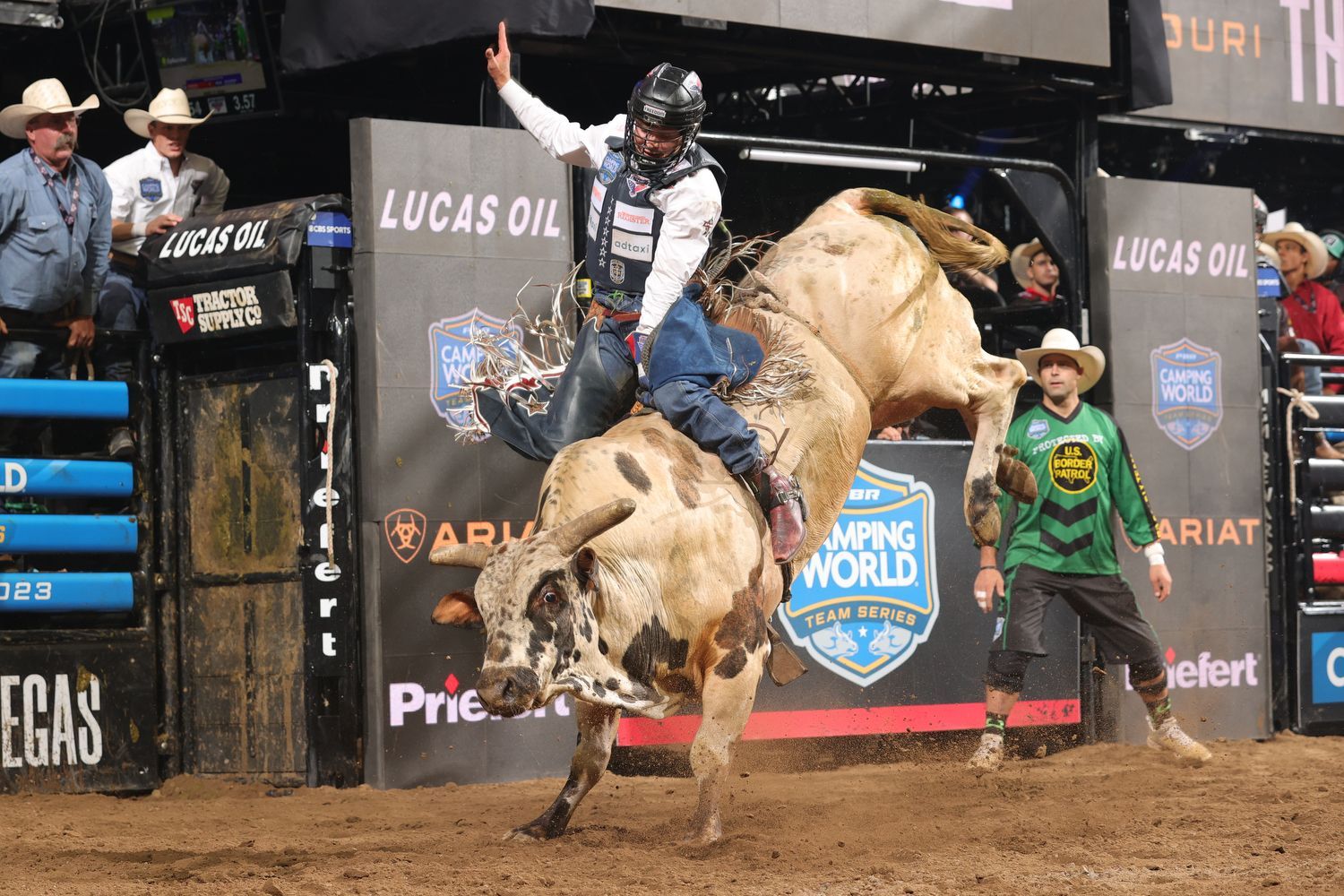 Remote interviews with team leadership, including Head Coach Cord McCoy, and competing riders are available upon request
ANAHEIM, Calif. – The Oklahoma Freedom rode red-hot at the second neutral site PBR (Professional Bull Riders) Camping World Team Series event of the season this past weekend in Anaheim, California, going a perfect 2-0 in game play to finish second at the event and climb to No. 3 in the league standings.
When competition got underway inside Honda Center Saturday evening, the Oklahoma Freedom first took on the Missouri Thunder. Courtesy of a key score from Elizmar Jeremias, the Freedom held off a potentially walk-off winning score from Thunder closer Kade Madsen to win the game by 1 point, 89.25-88.25.
Eager to continue their momentum, the Freedom took on the league's reigning Champion Nashville Stampede on Championship Sunday. Alex Cerqueira delivered what would be the game winning ride in the top of the first, as Oklahoma defeated a scoreless Nashville 84.75-0.
When the dust settled, the Freedom and the Austin Gamblers both concluded game play with a perfect 2-0 record, leading the event to conclude in extra outs. In the bull draw, the Gamblers earned first pick by virtue of having the higher aggregate score in Anaheim.
In the first round of extra outs, the Gamblers looked to Leme aboard Brusta(Joe & Nina Webb/ Julian/ D&H Cattle Co.), while the Freedom tapped Thiago Salgado to attempt July (Leffew Bucking Bulls).
Salgado began extra outs with a 7.3-second buckoff, opening the door for Leme to once again secure a win for the Gamblers. The two-time PBR World Champion matched Brusta jump-for-jump, scored a monstrous 91 points to cement the weekend win for Austin.
While the Freedom settled for second place in California, they climbed from No. 4 to No. 3 in the league compliments of the 2-0 effort. Now 5-2 this season, the Freedom trail the No. 1 Gamblers by two games.
PBR RidePass on Pluto TV will offer replays of all the PBR Camping World Team Series action from Kansas City, Missouri. Check https://pluto.tv/en/live-tv/pbr-ridepassfor the latest programming schedule.
The PBR Camping World Team Series will next travel to the Bridgestone Arena in Nashville, Tennessee, for the second team-hosted homestand event of the 2023 season. The Nashville Stampede will welcome the league's other seven teams to Music City on Friday, August 18 at 7:45 p.m. CT, Saturday, August 19 at 6:45 p.m. CT and 1:45 p.m. CT on Sunday, August 20.
During the opening night of competition in Nashville, the Oklahoma Freedom will play the Carolina Cowboys.
For more information about Oklahoma Freedom, visit https://pbr.com/teams/freedom/, Oklahoma Freedom on Facebook, @OK_Freedom_ on Instagram, or @OKfreedom_ on Twitter.
ANAHEIM TEAM STANDINGS:
Here are the final team standings for the PBR Camping World Team Series event in Anaheim, California:
1.       Austin Gamblers, 2-0-0-609.5
2.       Oklahoma Freedom, 2-0-0-174
3.       Kansas City Outlaws, 1-1-0-518.25
4.       Texas Rattlers, 1-1-0-261.75
5.       Carolina Cowboys, 1-1-0-261.25
6.       Missouri Thunder, 1-1-0-173
7.       Arizona Ridge Riders, 0-2-0-256
8.       Nashville Stampede, 0-2-0-174.75
PBR TEAMS SEASON STANDINGS:
Here are the current team standings for the regular season after the conclusion of competition for the PBR Camping World Team Series event in Anaheim, California:
1.       Austin Gamblers, 7-0-0-1395.25
2.       Carolina Cowboys, 5-2-0-1139.25
3.       Oklahoma Freedom, 5-2-0-507.5
4.       Kansas City Outlaws, 4-3-0-1132.75
5.       Texas Rattlers, 3-4-0-1130.5
6.       Missouri Thunder, 2-5-0-608.75
7.       Arizona Ridge Riders, 0-7-0-610
8.       Nashville Stampede, 0-7-0-430.5