KANSAS CITY, Mo. (August 7, 2022) – At the second regular-season PBR (Professional Bull Riders) Team Series event in Kansas City, Missouri, the three-day homestand for the Kansas City Outlaws, the Oklahoma Freedom finished fifth.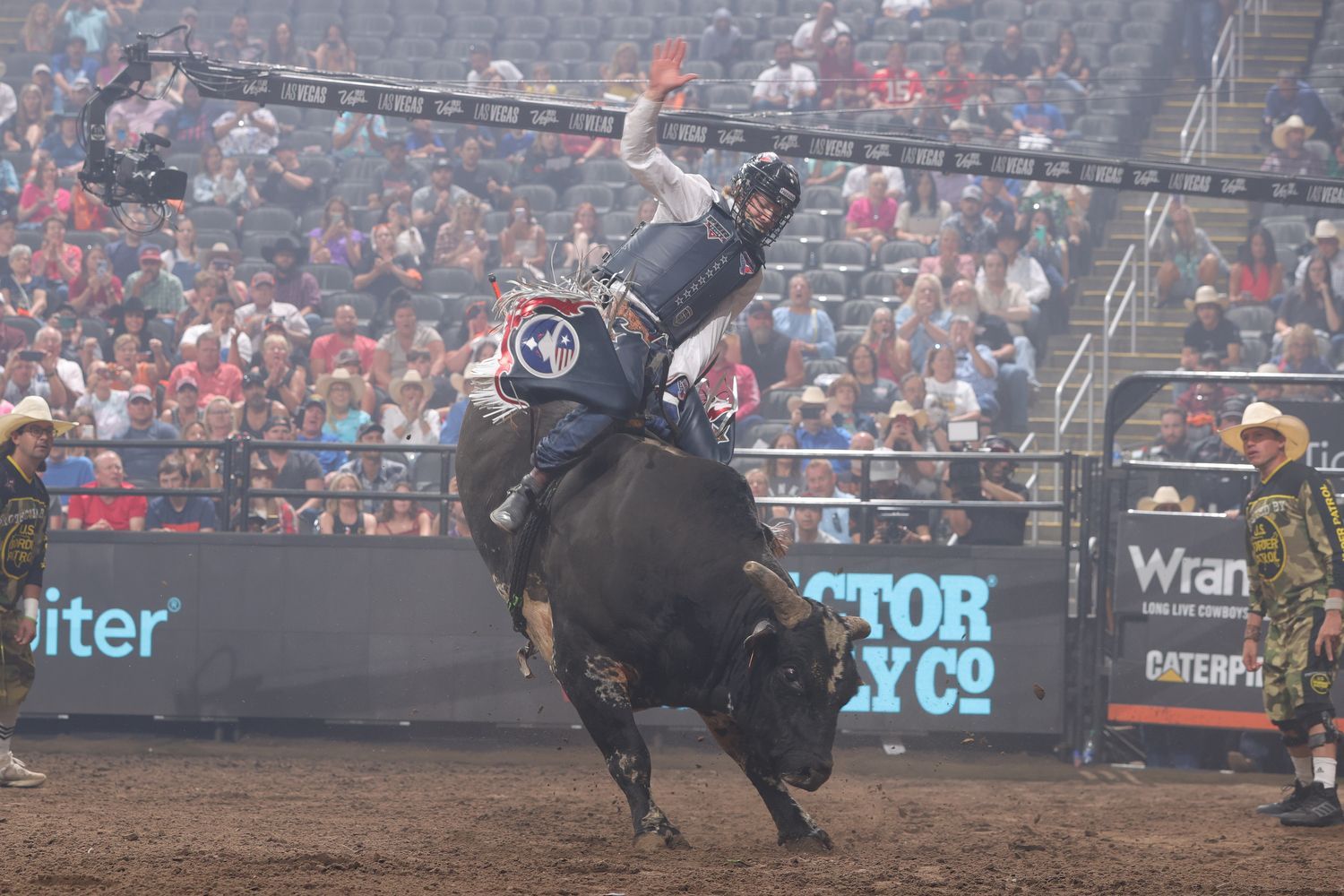 On the opening night of competition, compliments of a walk-off score from Captain Eli Vastbinder, the Freedom won the team's first game, knocking off the then No. 1 Missouri Thunder 173-87.
The Freedom, however stumbled, when Outlaw Days continued Saturday evening. While Vastbinder was once again in a fifth frame, must ride position, he was unable to rise to the occasion, as the team ultimately fell 168.25-87.25 to the Arizona Ridge Riders.
In their final game inside T-Mobile Center, the Freedom took on the Carolina Cowboys. Outscored by one ride, the Freedom sustained their second loss at PBR Outlaw Days, beaten 255-171.75.
Locked in a four-way tie for fourth place in the event, Head Coach Cord McCoy tasked second round Draft pick Derek Kolbaba with the crucial tiebreak out. Kolbaba was upended by JAG Metals Grand Theft (D&H Cattle Co./Philip Elkins) in 5.86 seconds, positioning the Freedom fourth in the round and netting them 5 bonus points.
The Oklahoma Freedom are now sixth in the regular season standings, having gone 1-4 in game play, amassing 10 bonus round points.
PBR RidePass on Pluto TV will offer replays of all the PBR Team Series action from Kansas City. Check https://pluto.tv/en/live-tv/pbr-ridepass for the latest programming schedule.
The PBR Team Series will next travel to the Honda Center in Anaheim, California, for the second of two neutral site events scheduled during the 2022 season. The event will be on Friday, August 12 at 7:45 p.m. PT, and Saturday, August 13 at 6:45 p.m. PT.
During the opening night of competition in California on August 12, the Oklahoma Freedom will play the Ariat Texas Rattlers.
The Oklahoma Freedom are based at Paycom Center in Oklahoma City, Oklahoma, where they will host their inaugural homestand, Freedom Fest, on Sept. 16-18.
For more information about Oklahoma Freedom, visit https://pbr.com/teams/freedom/, Oklahoma Freedom on Facebook, @OK_Freedom_ on Instagram, or @OKfreedom_ on Twitter.
KANSAS CITY TEAM STANDINGS:
Here are the final Team standings for the Kansas City PBR Team Series event PBR Outlaw Days:
Arizona Ridge Riders, 3-0-0-3
Carolina Cowboys, 2-1-0-8
Missouri Thunder, 2-1-0-7
Nashville Stampede, 1-2-0-6
Oklahoma Freedom, 1-2-0-5
Austin Gamblers, 1-2-0-4
Ariat Texas Rattlers, 1-2-0-2
Kansas City Outlaws, 0-3-0-1
PBR TEAM SERIES SEASON STANDINGS:
Here are the current Team standings for the regular season after the conclusion of competition for PBR Outlaw Days in Kansas City:
Arizona Ridge Riders, 4-1-0-9
Missouri Thunder, 4-1-0-8
Carolina Cowboys, 3-2-0-16
Austin Gamblers, 2-3-0-11
Nashville Stampede, 2-3-0-9
Oklahoma Freedom, 1-4-0-10
Ariat Texas Rattlers, 1-4-0-6
Kansas City Outlaws, 1-4-0-3
GAME RECAP – OKLAHOMA FREEDOM VS. CAROLINA COWBOYS:
Carolina Cowboys Record Three Rides to Edge Oklahoma Freedom by One Ride Score in Back-and-Forth Shootout and Earn Second Game Win of PBR Outlaw Days
Carolina Cowboys: 255
Oklahoma Freedom: 171.75
After being blanked on Saturday night, the floodgates opened for the Carolina Cowboys on Sunday's final day of PBR Team Series competition in Kansas City. The Cowboys came out flying, logging three consecutive qualified rides to start the game and outlast the Oklahoma Freedom 255-171.75 in a thrilling shootout. While the game began with a Freedom buckoff from Casey Roberts (Munford, Alabama), the Cowboys then triggered a five-out ride streak in the very next out. First up for the Cowboys in the bottom of the first frame was 2022 PBR World Champion Daylon Swearingen (Piffard, New York), who covered Apper's Mind Freak (Jo-Z Bucking Bulls/K-C Bucking Bulls/Spark-Lin Acres) to give his team an early 85.75-point lead. The Freedom responded compliments of a gritty 87.75-point effort by second-round draft pick Derek Kolbaba (Walla Walla, Washington) atop American Gangster (Jane Clark/Gene Owen). That two-point lead, however, quickly dissipated, as Mason Taylor (Maypearl, Texas) put the Cowboys back on top in the very next out inside T-Mobile Center. Taylor dominated Surprise Package (Clay Struve/Dakota Rodeo/Chad Berger) for 86 points, leading the game score to read 171.75-87.75 and giving the Richard Childress Racing-operated outfit an 84-point lead. The back-and-forth battle on the final day of the three-day event continued in the fourth frame. After Deklan Garland (Foster, Oklahoma) tied the game with an 84-point score aboard WSM's Scary Larry (WSM Auctioneers/Clay Struve/Dakota Rodeo/Chad Berger), Ramon de Lima (Rio Branco, Brazil) delivered what would prove to be the game-winning ride when he covered Lil Hott (Stinger/Brunner/Clay Struve/Dakota Rodeo/Chad Berger) for 83.25 points. Both teams were blanked in the fourth frame, and for the third consecutive event, the fate of the Freedom rested in the hands of captain and first-round draft pick Eli Vastbinder (Statesville, North Carolina). Matched up with Pickle Moonshine (Shuler Bucking Bulls), Vastbinder needed to convert for the Freedom to remain in contention for the game win. Vastbinder, however, was unable to deliver under pressure, slammed down onto the dirt in a heart-breaking 5.47 seconds. Despite Leonardo Lima (Vale do Paraiso, Brazil) being bucked off in the final out of the game, the Cowboys (3-2) had already clinched their second game win of Outlaw Days, beating the Freedom (1-4) 255-171.75.
ABOUT THE OKLAHOMA FREEDOM:
The Oklahoma Freedom are based at Paycom Center in Oklahoma City, joining team tenants including the NBA's Oklahoma City Thunder, and their G League affiliate Oklahoma City Blue, where the team will hold its inaugural Oklahoma Freedom Fest homestand September 16-18, 2022, the 8th regular season event of the 10-event PBR Team Series 2022 regular season. The Freedom are coached by Oklahoma native Cord McCoy, a former bull rider and four-time qualifier for PBR World Finals. Under the leadership of General Manager Brandon Bates, the team is operated by Prodigal, a full-service sports and entertainment agency based in Oklahoma City, Oklahoma. The senior staff at Prodigal has more than 100 years of experience managing sport and entertainment events and teams. PBR and Prodigal have a longstanding relationship dating to 2007, partnering annually on Unleash The Beast events in the Sooner State.
ABOUT THE PBR (PROFESSIONAL BULL RIDERS) TEAM SERIES:
The PBR Team Series is an elite new league that will feature the world's top bull riders competing on teams in five-on-five bull riding games during an 11-event season beginning in July and culminating in a team championship at T-Mobile Arena in Las Vegas November 4-6.  During the 2022 season, each of the eight teams representing teams in Austin, TX; Fort Worth, TX; Glendale, AZ; Kansas City, MO; Nashville, TN; Oklahoma City, OK; Ridgedale, MO; and Winston-Salem, NC will host a three-day homestand.  There will also be neutral site games in Cheyenne, WY and Anaheim, CA. To determine team rosters, the league held a rider draft on May 23 prior to start of the 2022 season among any bull riders who have declared for the draft during a league eligibility window. The PBR Team Series builds on the existing structure of professional bull riding with the same basic rules for judging and scoring qualified 8-second bull rides. Events will be staged in a tournament-style format with all teams competing in head-to-head matchups against a different opponent each day. Each game will feature five riders per team squaring off against another team. Full team rosters will be comprised of seven riders on the core roster and three practice squad members. The team with the highest aggregate score of qualified rides among its riders will be declared the winner of each game. The event winner will be the team with the most game wins across an event, with a special bonus round designed as a tie-breaker to determine final event standings. All PBR Team Series events will be carried on either the CBS Television Network, streaming live on Paramount+, CBS Sports Network, or RidePass on Pluto TV.