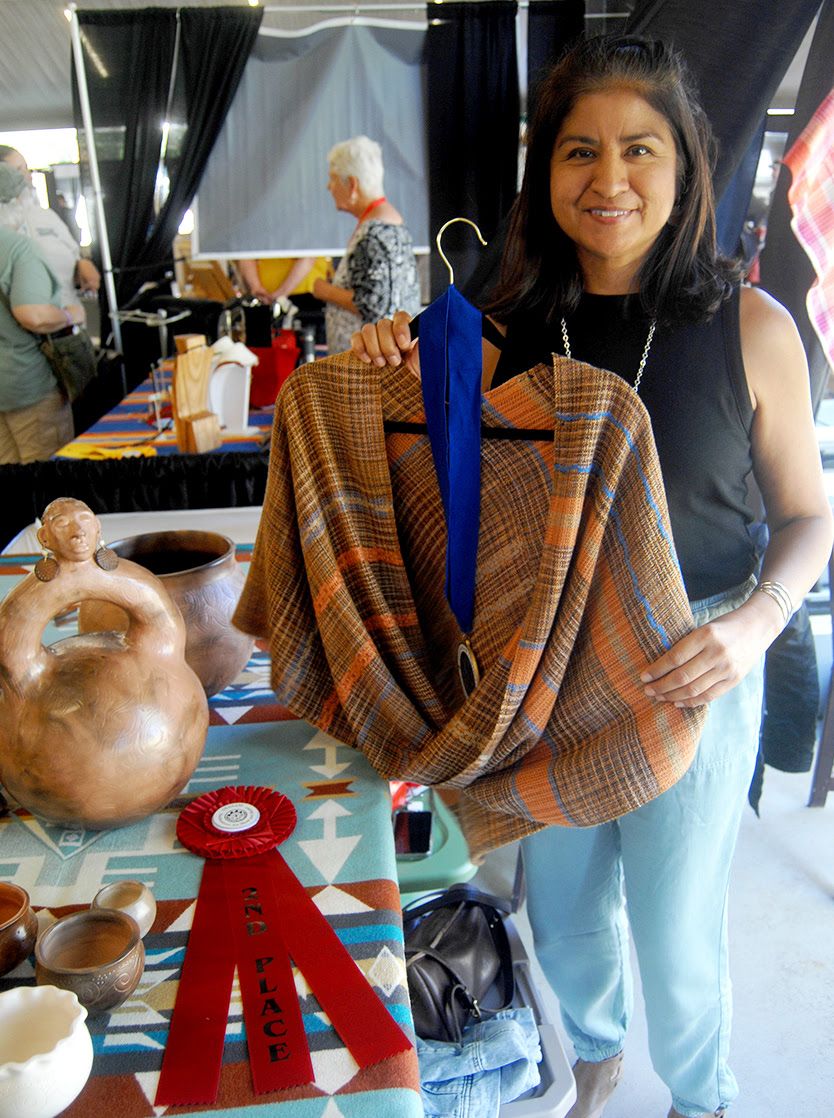 TISHOMINGO, Okla. – Joanna Underwood Blackburn is no stranger to bringing home top awards for her innovative and beautifully crafted pottery. Now she has added a first-place award in Textiles at the Southeastern Art Show and Market (SEASAM).
"The infinity shawl, titled 'Fall,' was handwoven on a loom using various weaving techniques, including what I call a basket weave pattern," Blackburn explained. "Cotton and rayon threads were used in colors of browns and oranges to represent the fall season and harvest time.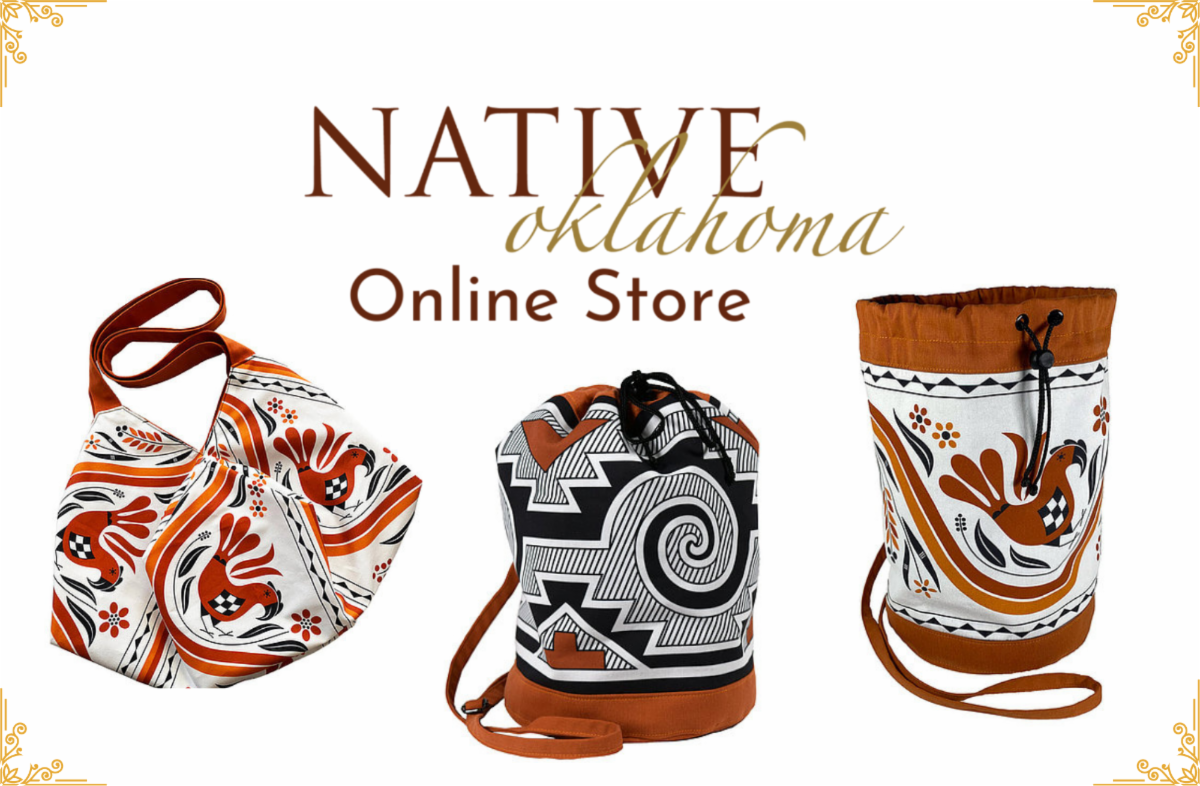 "This year was the first time to enter the handwoven textiles category, and I was very honored to have placed," she added.
Her interest in weaving was sparked by the owner and friends at Mahota Handwovens and her niece, Taloa Underwood.
"My husband and I have a studio next door to the weaving studio at the ARTesian Gallery and Studios in Sulphur. I always found myself wandering into Mahota Handwovens to see the beautiful weaving projects everyone was working on and was encouraged to join. My niece, Taloa, was already a student and helped me to get started. I loved the idea of weaving and learning something new with her."
In the summer of 2019, she became a student at Mahota Handwovens studying under the direction of Chickasaw textile designer Margaret Roach Wheeler.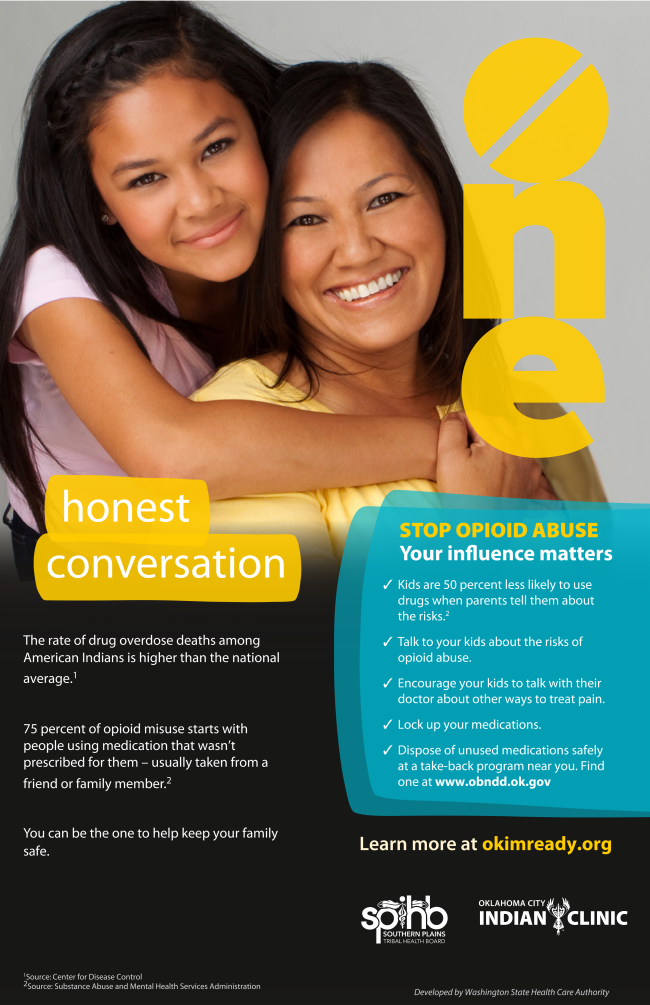 "It was great having Margaret as a teacher and a mentor. Being in the weaving studio was great, and I learned so much from everyone there as well. At first it was a challenge to learn about the loom and how it worked. There are all kinds of weaving patterns and different kinds of threads to use," the Chickasaw artist said. "There were new terms to learn such as warp, weft, shed, harness, heddle, shuttle and treadle to name a few. And you have to know some math as you are dealing with a certain number of threads to make the warp.
"I would say for me, there is a lot of time spent choosing the treads to use and creating the warp and tying them to the loom. At first, I started out making small items such as washcloths and tea towels, but my first larger piece was a poncho, and I had to tie on 400 threads, and it seemed daunting," Blackburn said with a laugh. "It took two days to get them all tied on. But once the threads are tied, weaving can begin, and this is where you start to see your artwork come to life. Weaving is an ongoing learning experience which I have come to enjoy."
Blackburn is a widely recognized potter and sculptor. She also entered clay works for which she is most famous, claiming a second-place award in ceramic sculpture for "Water Bearer."
"Our ancestors made clay pots that were made into containers called water jars or bottles used for carrying water. I have made several water jars and love that these pieces represent women as water warriors," she said. "The water jar represents women as both water bearers and a time when women were the chief pottery makers of the Southeast.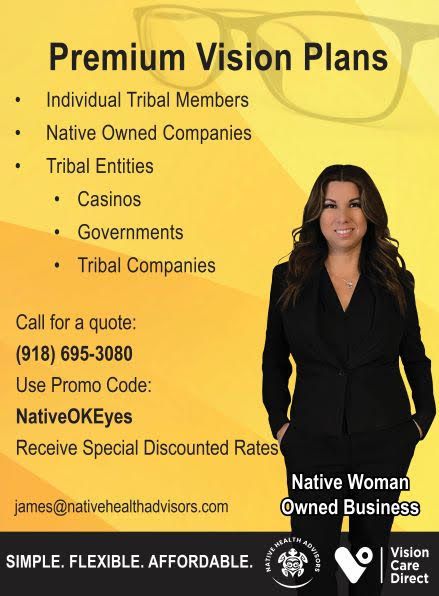 "Each water jar I make, including the large bronze edition, are similar but have their own design characteristics. Some are adorned with copper earrings, and some of my newer ones have clay earrings. The surface is sometimes textured and sometimes smooth and features different designs or motifs," she added.
Blackburn uses a "coil" technique to bring her creations to life. "My pots are made by hand- coiling the clay. Once the pot is built, I add any sculptural details and decorative designs. My pots are smoke fired with cedar branches and sometimes pine needles to give them a blackened or smoky color. I use both commercial clay, such as porcelain, and also Oklahoma red clay that I dig and prepare for building pots."
Blackburn relished the second in-person arts festival sponsored by the Chickasaw Nation since the COVID-19 pandemic.
The Chickasaw Nation hosted the first in-person show in June 2022 in Sulphur. It was the first time the Artesian Arts Festival was held in person since 2019. SEASAM was also open again in October 2022, during Chickasaw Annual Meeting and Festival.
"It is much better to have in-person shows as you get to interact with customers and see the artwork in person, so it was so nice to be able to greet friends and patrons whom we haven't seen for a while."
Blackburn is staying busy. "I will be working on more weaving pieces that will be wearable art and home goods. And I hope to focus more on creating some smaller bronze pieces to show at galleries and markets. At the moment, I plan to show at all of the upcoming Chickasaw shows and markets. You can also find my work at the ARTesian Gallery, Chickasaw Market in Ada, Chickasaw Cultural Center and on our website, JBlackburnStudios.com," she added.