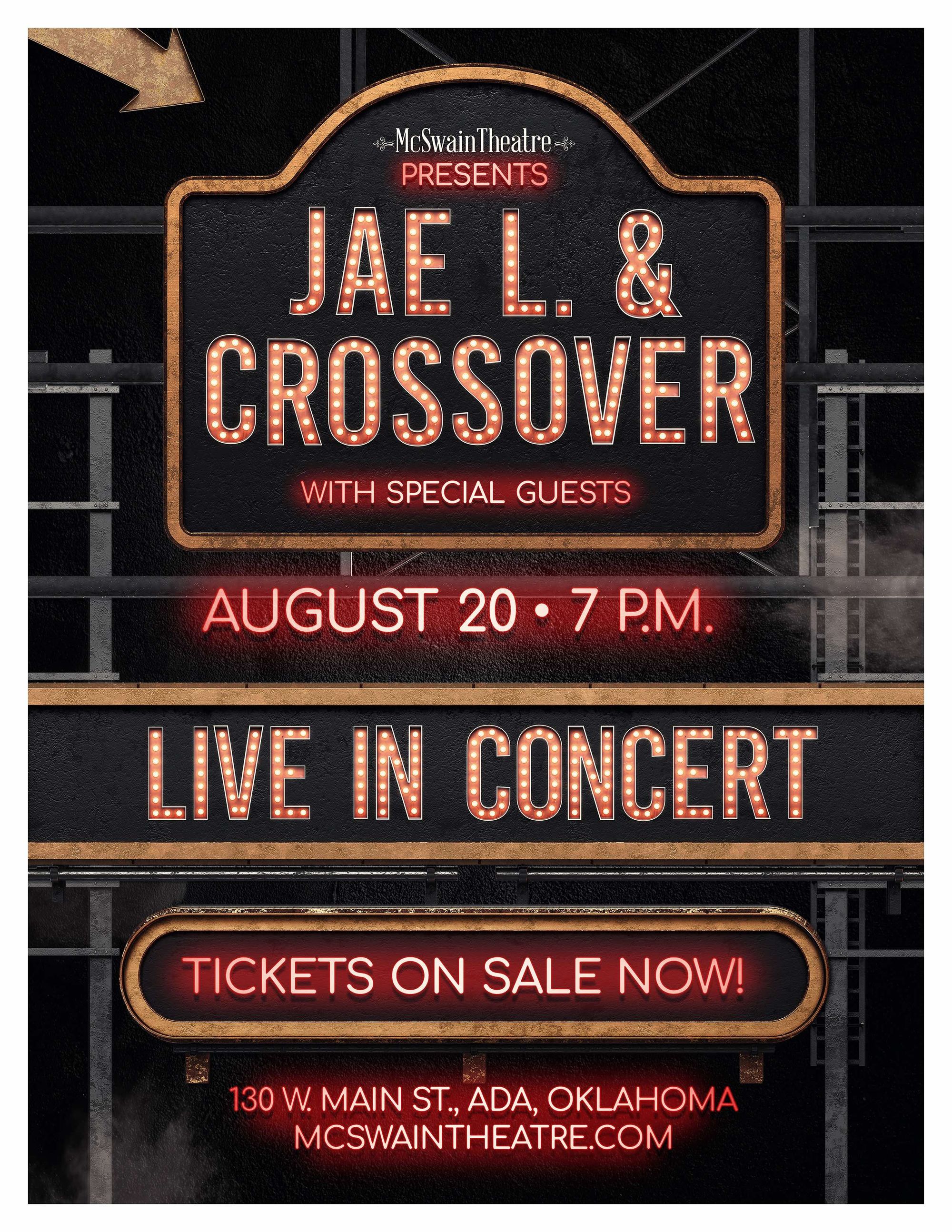 Jae L. & Crossover with Special Guests will perform for a live audience at the historic McSwain Theatre, 7 p.m., Saturday, Aug. 20.
Vocalist and theater manager, Jae L. Stilwell will lead the way with the band's classic medley of folk, blues, country and rock 'n' roll. Jae L. & Crossover band members include Jody Teeter, Deni Stubbs, Greg Griffin, Wayne Morton, Mike Price, Gary Bryan, Kenny Anderson, Debbie Allen and Tara Scott.
Several special guests will be joining in on the entertainment, including Red River, Mychall Lee Allen, Anne Young, Haley Miller and Patrick Thompson.
Red River is one of Ada's favorite local cover bands that plays a number of genres across several decades, including rock 'n' roll and blues classics.
Mychall Lee Allen is an entertainer from Wilburton, Oklahoma. He's an energetic and eclectic showman. He plays anything from blues and jazz to classic rock and country.
Country singer Anne Young from Murphy, Texas, will perform some classic country favorites.
Soulful singer, Haley Miller, was born and raised in Ada and will perform some of her favorites. Miller is no stranger to the McSwain Theatre. She has performed at the McSwain since the age of 16 and has also taken vocal lessons from Jae L.
Lastly, folk singer and songwriter Patrick Thompson will fill the McSwain with his dynamic tunes. Thompson is from Norman, Oklahoma.
Jae L. & Crossover perform each month at the McSwain Theatre. Their shows are lively, interactive and provide the audience with a family-friendly atmosphere.
The McSwain Theatre, 130 W. Main St., Ada, has remained one of Oklahoma's premier live entertainment venues since opening in 1920.
For more information, contact the McSwain Theatre at (580) 332-8108 or visit McSwainTheatre.com.
Follow theater updates on Facebook at Facebook.com/McSwain Theater, on Instagram at Instagram.com/McSwainTheatre or on Twitter at Twitter.com/McSwainTheatre.