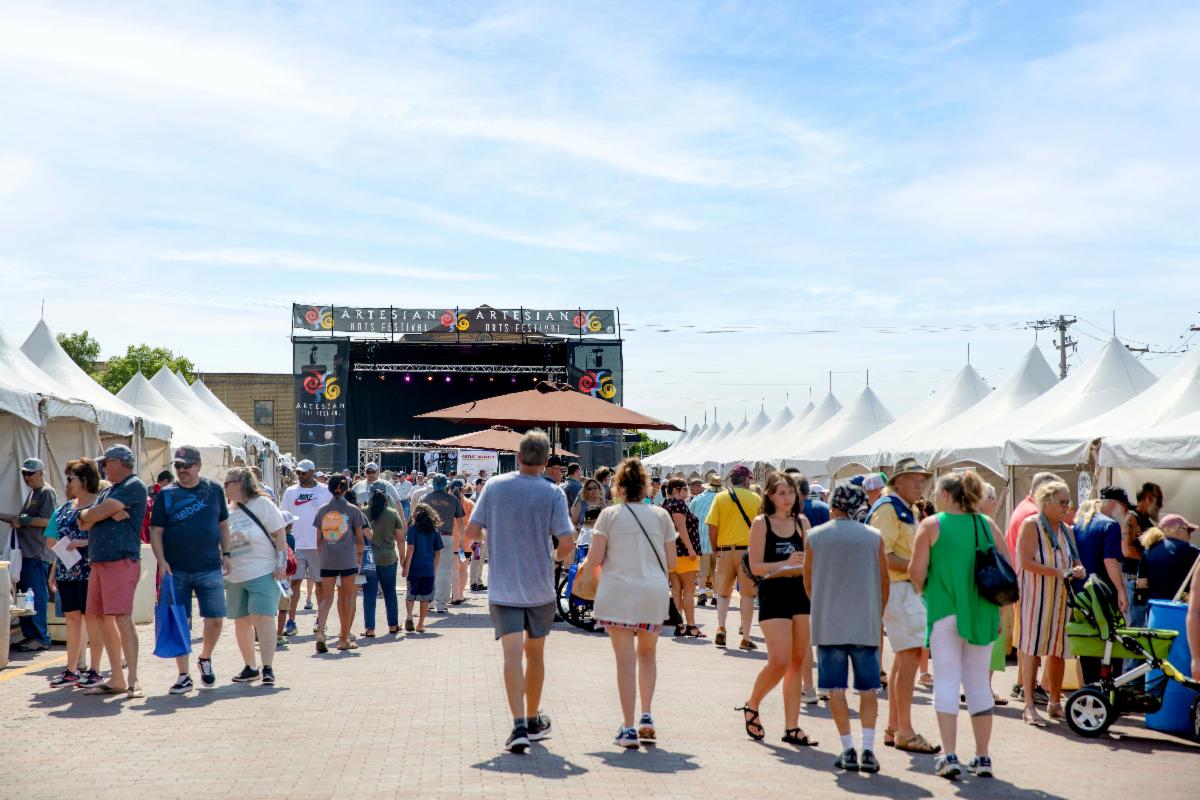 More than 100 First American artists to attend 10th annual event
Sulphur, Okla. – First American art and artists will be celebrated during the 10th annual Artesian Arts Festival, Saturday, April 22, at the Artesian Plaza.
The Artesian Arts Festival features music, dance and cuisine, and highlights First American art and artists.
More than 100 First American artists representing 15 tribal nations are expected to display a wide variety of original art such as jewelry, sculpture, beadwork, paintings, basketry, metalwork, textiles and pottery.
"We are thrilled to welcome many esteemed First American artists to the Artesian Arts Festival," Mark Milligan, Chickasaw Nation Arts and Humanities Executive Officer, said. "The Artesian Arts Festival provides First American artists a wonderful venue to showcase their works and offers family-friendly activities for all ages."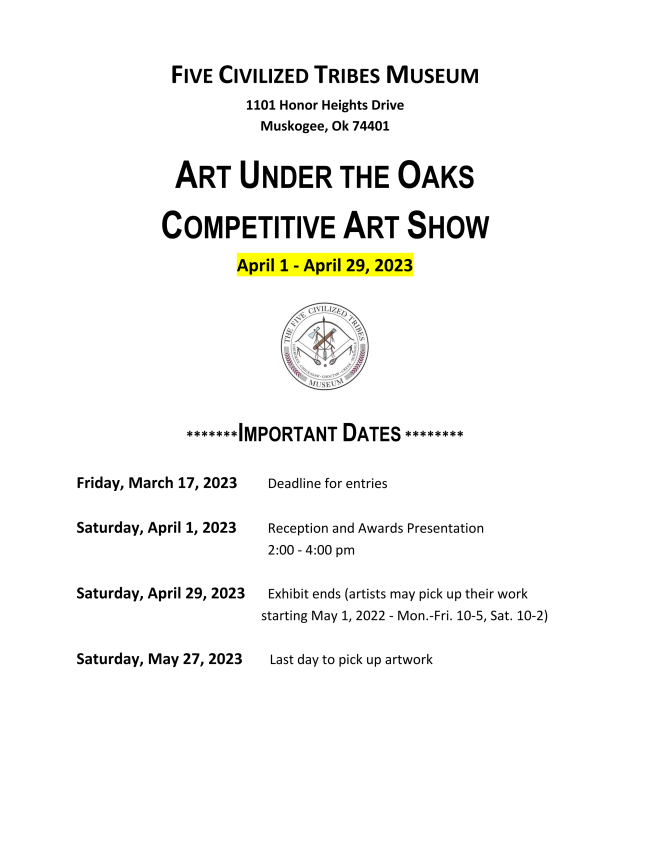 In its 10th year, the festival also features a wide variety of tribal dance demonstrations, musical entertainment and food vendors.
First American rappers Lil Mike and Funny Bone, of Oklahoma City, will headline this year's entertainment. Collectively known as Mike Bone, the Pawnee and Choctaw siblings are known as "America's Got Talent" standouts. The duo are also well-known motivational speakers, comedians and dancers. Both have recurring roles on the streaming series "Reservation Dogs."
Other musical entertainment scheduled includes High Water Gamble, Isaac McClung, The Redmen Blues Band, Justin Logan, Bluez Boyz, TJ Todd Band, Tone Gyah Dae and Emily Rhyne.
The Chickasaw Nation Dance Troupe, Pueblo Enchantment Dancers, Mitotiliztli Yaoyollohtli Aztec Dancers and Grey Snow Dance Troupe will demonstrate and share First American dances throughout the day.
Children's activities and several food vendors will also be available, as well as a Chickasaw elders' art market.
Open to the public at no charge, the Artesian Arts Festival takes place 10 a.m.-6 p.m., at the Artesian Plaza, adjacent to the Artesian Hotel and Spa, 1001 W. First St., Sulphur, Oklahoma.
Shuttle service will be available from designated parking locations, including the Chickasaw Cultural Center and the Sulphur Football Field.
For more information, contact Chickasaw Nation Arts & Humanities at (580) 272-5520, visit ArtesianArtsFestival.com or email ArtistInfo@Chickasaw.net.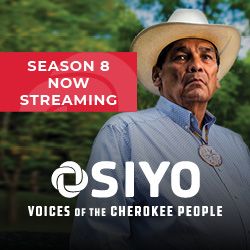 -30-
2023 Artesian Arts Festival Artists
Mary Ruth Barnes, Chickasaw
Tina Benavente, Coushatta Nation of Louisiana
Kelsey Breon, Chickasaw
Chance           Brown, Chickasaw
Melvin Burris, Chickasaw
Natalie Charqueno, Chickasaw
Kelton Cloud, Choctaw
Penny Coates, Citizen Potawatomi
Robin Coile, Cherokee
Brent Deramus, Choctaw
Glenda Dewbre, Chickasaw
Margaret Dillard, Chickasaw
David Dowdy, Chickasaw
Keith Edaakie, Pueblo of Zuni
Susie Edgar, Chickasaw
L Wayne Edgar Jr., Chickasaw
Wayne Edgar, Chickasaw
Hunter Erwin, Choctaw
Gary Farris, Cherokee
Sue Fish, Chickasaw
Danielle Fixico, Chickasaw/Muscogee/Choctaw
Cristina Foster , Chickasaw
Melissa Freeman, Chickasaw
Abby Gaines, Chickasaw
Amy Gantt, Chickasaw
Jenn Garcia, San Felipe Pueblo, New Mexico
Ray Garcia, San Felipe Pueblo, New Mexico
Allana George, Chickasaw
Don Grace, Chickasaw
Mariah Greenwood-Taylor, Chickasaw
Sharon Gregory, Chickasaw
Paul Hacker, Choctaw
Benjamin Harjo, Jr., Absentee Shawnee
Rita Hart, Choctaw/Jicarilla Apache
Beth Harvey, Chickasaw
Billy Hensley, Chickasaw
Jennifer Hicks, Chickasaw
Josh Hinson, Chickasaw
Steve Holland, Cherokee
Daniel Horsechief, Pawnee/Cherokee
Mary Howard, Muscogee/Creek
Norma Howard, Choctaw
Lisa Hudson, Chickasaw
Tyson Hudson, Chickasaw
Charley Johnson, Chickasaw
Jo Johnson, Chickasaw
Brenda Kingery, Chickasaw
John Knotts, Cherokee
Brian Landreth, Chickasaw
Kelly Langley, Chickasaw
Leanne Lee, Zuni Pueblo/Navajo
Sheena Logan, Seminole
Dustin Mater, Chickasaw
Howard McDonald, Chickasaw
De Armon Miller, Comanche
Vanessa Milligan, Chickasaw
Ron Mitchell, Cherokee
Susan Mueggenborg, Chickasaw
Steven Morales, Cherokee
Grant Morris, Cherokee
Lauretta Newby-Coker, Choctaw
Buddy Parchcorn, Cherokee
Courtney Parchcorn-John, Chickasaw
Vicki Penner, Chickasaw
Coco Percival, Chickasaw
Russ Percival, Chickasaw
Rose Ann Percival, Chickasaw
Jack Pettigrew, Chickasaw
Wendell Pettigrew, Chickasaw
Cotie Poe-Underwood , Chickasaw
Donnie Poindexter, Cherokee
Lisa Presgrove , Chickasaw
Monica Jo Raphael, Grand Travers Band of Ottawa and Chippewa
Heather Richardson, Chickasaw
Monette Richardson, Chickasaw
Stuart Sampson, Potawatomi
Amanda Schultz, Chickasaw
Jane Semple Umsted, Choctaw
Jackie Sevier, Northern Arapaho
Candace Shanholtzer, Choctaw
Courtney Smith, Chickasaw
Rena Smith, Chickasaw
John Sneed, Chickasaw
Sarah Stewart, Cherokee
Lance Straughn, Chickasaw
Richard Thomas, Chickasaw
Julie Thornton , Cherokee
Jon Tiger, Muscogee
Kaitlyn Tingle, Chickasaw
Cynthia Turner, Chickasaw
Toni Underwood-Castleberry, Chickasaw
Mercedes Volino, Chickasaw
Ashley Wallace, Chickasaw
Deana Ward, Choctaw
Tana Washington, Cherokee
Brittany Whelchel, Chickasaw
Ben White, Chickasaw
Mary Wilds, Chickasaw
Kate Wiley, Chickasaw
Laura Wilmoth, Chickasaw/Choctaw/Muscogee
Daniel Worcester, Chickasaw
J. Daniel Worcester, Chickasaw