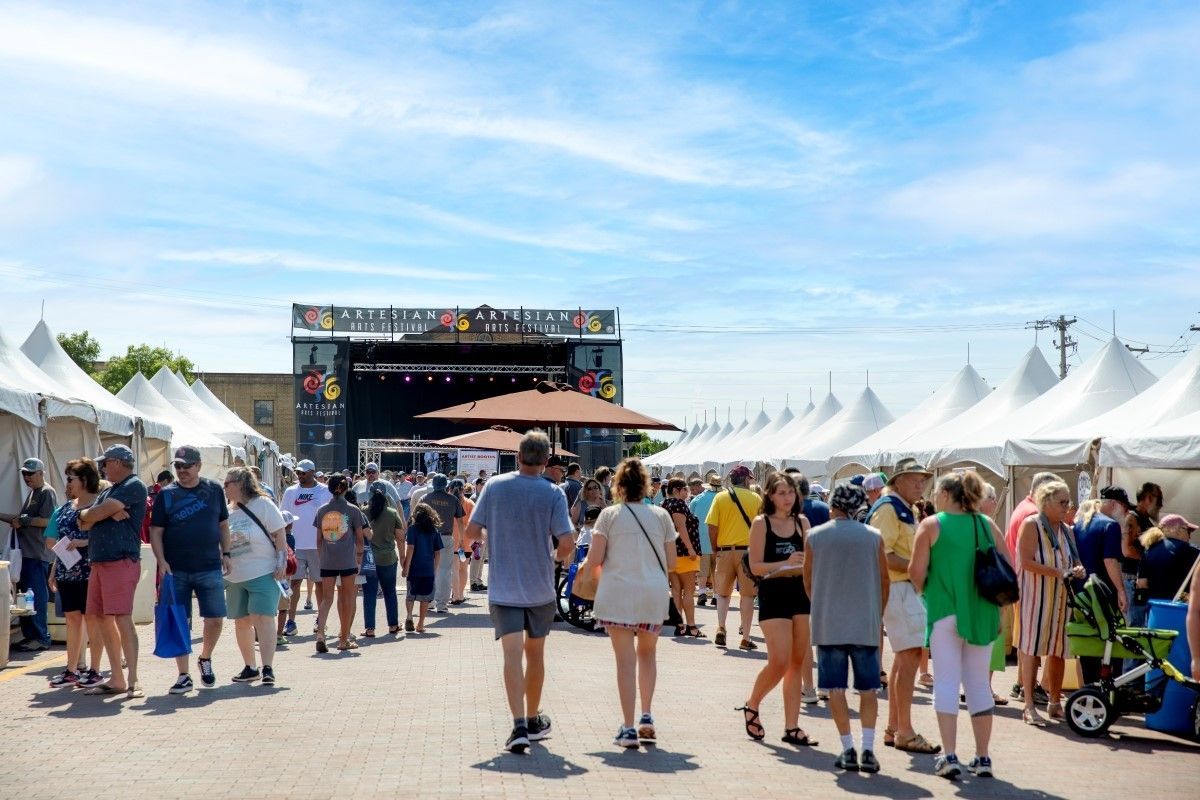 SULPHUR, Okla. - Thousands of art lovers descended upon downtown June 25 to experience the colorful art, scrumptious food and intriguing entertainment of the ninth annual Artesian Arts Festival.More than 50 Chickasaw artists participated in the festival, offering a colorful array of paintings, jewelry, stained glass, textiles, photography, beadwork and more. An estimated 5,000 patrons attended the festival.Earlier this year, Tanni' Tyra Shackleford, who earned "Best of Show" honors, quickly changed her plans to go out of state for the late June weekend when she learned the Artesian Arts Festival was resuming its in-person format after a two-year hiatus."It is wonderful to be back in person. It's kind of like a family reunion," the master weaver said early Saturday morning.Shackleford's 2D entry "Twin Turkeys," which won "Best of Show," features a design inspired by ancient Mississippian shell carvings, the Ada artist said."The design speaks to our place in the world," she said. "Mississippian had this belief of three worlds. The world we live in, the underworld and the upper world."The massive piece created with soy-silk yarn was woven by hand and took about 30 hours to complete. Shackleford used Excel to design the pattern and plot each placement of the 300-string work of art, a massive task which took about 100 hours to complete.

Participating in all but one Artesian Arts Festival, this is the first time the Chickasaw artist has won the top honor at the event."I am speechless. It is such a huge honor, especially when you look at all the great artwork (in the show). To be selected for Best of Show, I can't believe it. I am still kind of in shock," Shackleford said.The large, framed woven piece is the result of the acclaimed artist wanting to step out of her comfort zone with the "sprang" technique, which is an ancient lace making art form first introduced to her by Chickasaw weaver Margaret Roach Wheeler. Shackleford further researched this technique and taught herself."You don't see anyone using this technique and creating 2D art with it, so I wanted to do something different and use the weaving technique to create 2D art and reach a broader audience," she said.Shackleford is a master fabric weaver whose work is in museums, premier First American arts festivals and in numerous private collections.Typically, she creates wearable items, such as beaded stomp dance sashes, regalia, dresses and other fine, handmade garments.
Artesian Arts Festival Top Winners
Best of Show  Tyra Shackleford "Twin Turtles"
Best of 2D    Billy Hensley "Muskogean Sky Deer"
Best of 3D    Jack Pettigrew "Eagle flute/Triple flute"
Best of Culture Joanna Underwood-Blackburn "Water Bearer"
In addition to the wide array of art on display at the 2022 Artesian Arts Festival, demonstrations by the Chickasaw Nation Dance Troupe and the Mitotiliztli Yaoyollohtli Aztec Dance Company, as well as performances by Emily Rhynes, NDN Soul, John Bomboy, High Water Gamble, Justin Logan and Redmen Blues Band entertained the crowds throughout the day.The Artesian Online Art Market provides another opportunity to view the works of talented Chickasaw and First American artists. Hosted by the Chickasaw Nation at ArtesianArtsFestival.com, the 2022 virtual market opened June 27 and runs until Aug. 1, providing opportunities to browse and purchase the work of several First American artists. Transactions will be between the artist and the buyer. ArtesianArtsFestival.com will be updated with new artwork throughout the market.