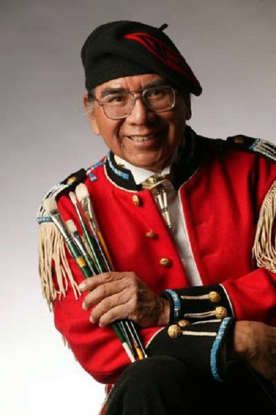 Esteemed Oklahoma Native American artist Benjamin Harjo Jr. dies

By Molly Young
Growing up near Byng, Harjo said he always knew he wanted to be an artist.
"That's all I ever really wanted to do (and) be, an artist. Even when I hit hard times and thought 'Well I need to do something to make a living,' art has always been in my soul. So I pursued it and continued," Harjo told The Oklahoman in a 2007 interview.
Harjo created uniquely contemporary work rooted in Native heritage
Harjo started his formal arts education at the Institute of American Indian Arts in Santa Fe, New Mexico, and earned his Bachelor of Fine Arts from Oklahoma State University in 1974.
"He came out of the Institute of American Indian Arts at a time when contemporary Native art was being redefined. And I think he contributed to that redefinition," Ahtone said.
"He didn't follow a path that was laid before him. He really forged something that was new, drew upon the palette of his Seminole cultural aesthetics but really danced with a line across the page and allowed that line to bring joy to all of us who have seen his work and appreciated it."
Over his half-century career, Harjo created art that was both contemporary and rooted in his Native heritage.
"The images really are as modern as anything you'll see made made by a Native artist two dimensionally, yet he used layers of color and texture and built that surface up into something that was rich and playful. He had every bit an Indigenous voice that was very uniquely his," Ahtone said.
In a 2022 interview at the First Americans Museum, where he received the Special Award for Artistic Leadership at the FAM Tribal Nations Gala, Harjo said a fellow artist dubbed him the "Picasso of Native American art."
"I don't think of my art as Cubism as much as I think of it as use of color and design and flowing line work," he said.
Oklahoman received lifetime achievement awards
Harjo earned many awards over the course of his lengthy career, including the 1987 Red Earth Grand Award, 1993 Heard Museum (in Phoenix, Arizona) 34th Annual Featured Artist and the Gold Medal Award at the 1990 American Indian Cowboy Artists Wichita (Kansas) Show.
In 2007, the Oklahoma Centennial Commission released a poster honoring the state's American Indian influence created by Harjo and titled "A Returning of Nations."
He received the 2002 OSU Distinguished Alumni Award, was named the 2003 Honored One at the 17th Annual Red Earth Festival and was deemed an Oklahoma Living Treasure by the OU Health Center Foundation in 2009.
"The passing of Benjamin Harjo Jr., a beloved member of the Oklahoma State community and a renowned Native American artist, marks the loss of a significant treasure for our university and state," said OSU President Kayse Shrum in a statement to The Oklahoman.
"Our thoughts and condolences are with his family and friends as we join together to mourn his loss and celebrate his life. Ben's unique artistic skills, dedication to his beloved Native American heritage and service to our country have profoundly impacted our world, and his legacy will continue to inspire future generations."
Harjo was inducted into the OSU Alumni Hall of Fame in 2012 and garnered the lifetime achievement award at the 2019 Paseo Art Awards.
"He was the epitome of the award as a person who spent his life contributing to the enhancement of the arts in Oklahoma as an artist, arts supporter and arts educator," said Paseo Arts Association Executive Director Amanda Bleakley in an email.
"He was a gifted artist and printmaker who was generous with his time and talents and will truly be missed by the arts community and the country"
His work is included in the Oklahoma State Art Collection as well as in the collections of the First Americans Museum, Red Earth Art Center, Gilcrease Museum in Tulsa, Wheelwright Museum of the American Indian in Santa Fe and the Smithsonian Institution's National Museum of the American Indian in Washington, D.C.
"Benjamin Harjo is among an exclusive company of artists whose creative abilities and inventiveness established Oklahoma's reputation nationally in the visual arts," said Oklahoma Arts Council Executive Director Amber Sharples in an email to The Oklahoman.
"His art has been exhibited in numerous high-profile exhibitions, and it has been the subject of stories in countless publications. Throughout his career and evident in much of his work, humor and fun are threads for which he, as an artist and person, will be remembered."
Esteemed artist Benjamin Harjo Jr. remembered as a beloved mentor
Harjo's work, along with pieces by fellow Native American artists Jordan Ann Craig (Northern Cheyenne Tribe) and Jeri Redcorn (Caddo Nation of Oklahoma/Citizen Potawatomi), are on view through Oct. 23 in the new exhibit "Patterns of Knowing," which opened May 18 at Oklahoma Contemporary Arts Center.
He continued creating art until just the past few months, ahtone said, and showed his work in a booth last month at the 10th Annual Artesian Arts Festival in Sulphur.
"He built a family through the arts. There are so many people who felt like he was an uncle, a brother, and, maybe even some of the younger artists, a grandfather," said ahtone, adding that the First Americans Museum and OSU Museum of Art are collaborating on an upcoming book about Harjo's art, life and legacy.
Amber DuBoise-Shepherd, who is based in Shawnee, is one of the young Native artists who considers a Harjo a mentor and inspiration.
"He impacted a lot of us younger kids. ... When I started doing my art markets regularly, he was one of the first artists that would come and visit with me and encourage me," said DuBoise-Shepherd, a fellow OSU alumnus who is affiliated with the Navajo, Sac & Fox and Prairie Band Potawatomi.
"He was always goofy; he was fun. He always made people feel welcomed, and he always had some story to tell. ... I will just miss him so much. I don't know what I'm gonna do: It's just gonna be so different not seeing him at the markets."
Services have not yet been announced.
This article originally appeared on Oklahoman: Esteemed Oklahoma Native American artist Benjamin Harjo Jr. dies
---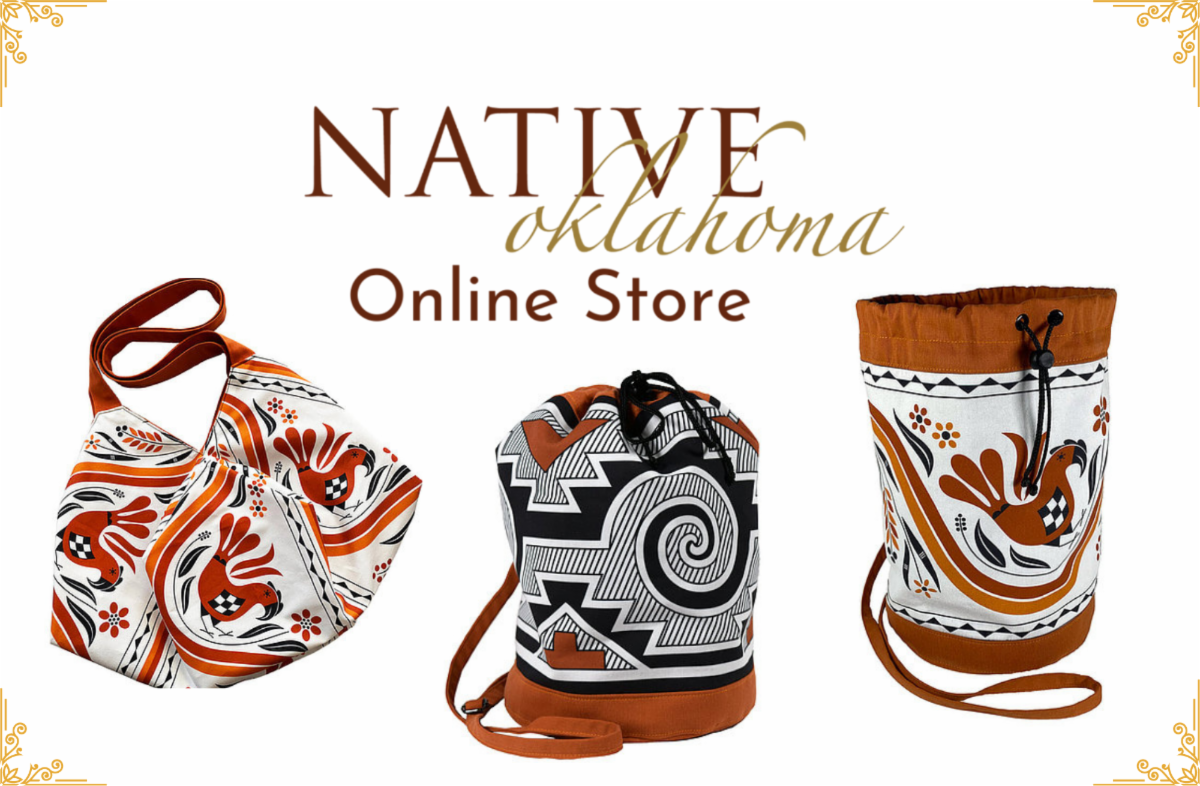 ---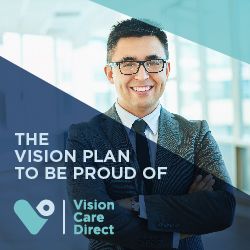 ---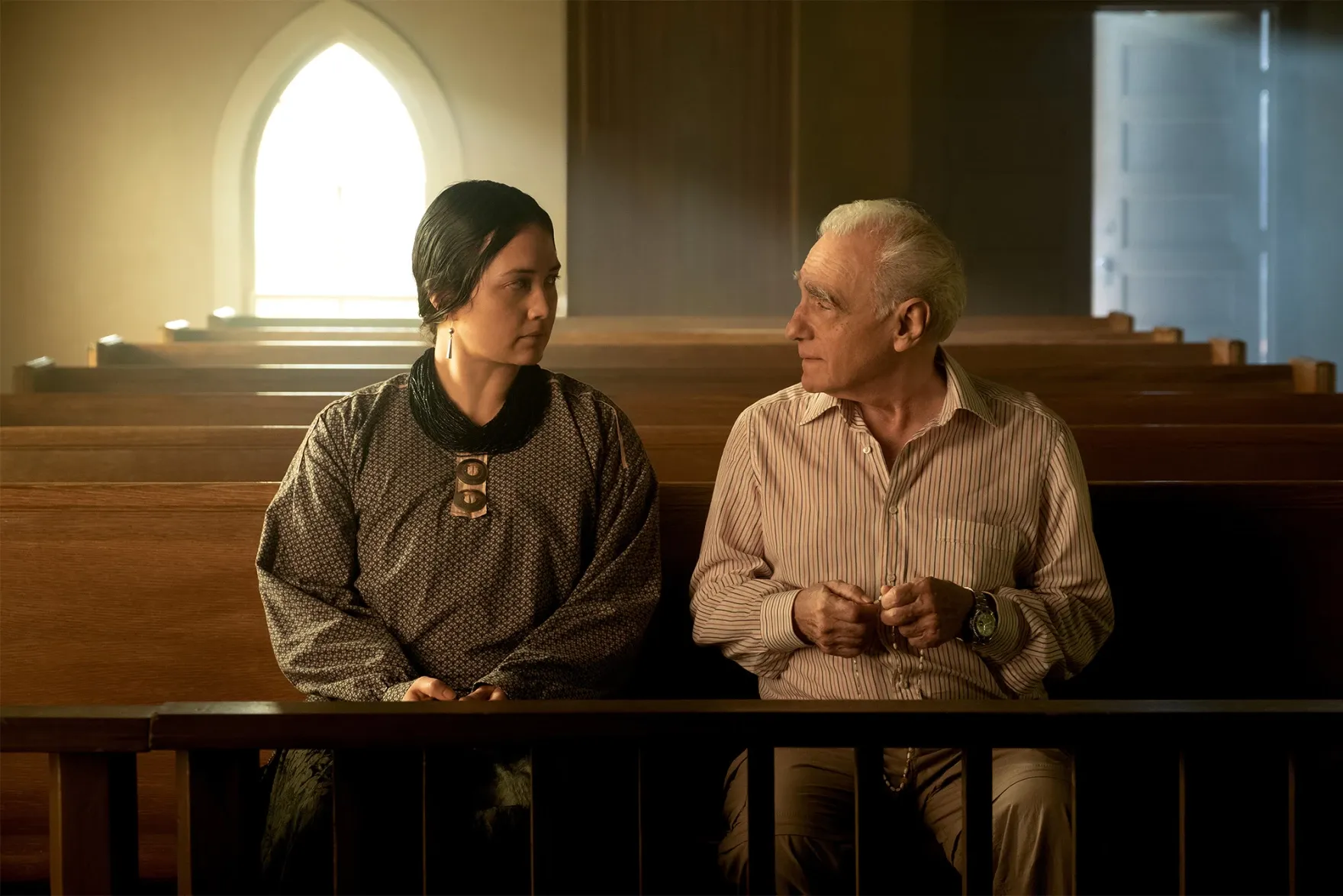 'Of course we should be here': Citizens of Osage Nation attend Cannes for 'Killers of the Flower Moon'
By Allison Herrera
JUANA SUMMERS, HOST:
A story about one of the darkest chapters in Native American history is being given a global platform. "Killers Of The Flower Moon" is a book by David Grann about a series of brutal murders that took place in Oklahoma in the 1920s, targeting Osage people for their money. Now it's become a film by Martin Scorsese. It premiered at the Cannes Film Festival this week, and those who worked on the movie hope it can mark a turning point for how Native people are treated on screen. Allison Herrera from member station KOSU reports from Cannes.
(SOUNDBITE OF ARCHIVED RECORDING)
UNIDENTIFIED PERSON: (Speaking French).
ALLISON HERRERA, BYLINE: It's not every day that you see Indigenous people - Osage people - own the red carpet at the Cannes International Film Festival, some wearing clothes that highlight Indigenous fashion designers and others wearing traditional dress. While rock music blared over the French emcee, the Osage delegation who attended were captured by a sea of cameras. Dr. Moira Red Corn, who was an extra in the film, wore a traditional Osage blanket made by her mother. She said the attention didn't faze her.
MOIRA RED CORN: I guess it didn't feel weird to me, you know? It felt, like, natural - like, oh, of course we should be here.
HERRERA: But the large Indigenous cast that makes up "Killers Of The Flower Moon" is rare. It's even more unusual to see them take over a space historically dominated by white actors. And when the film screening ended, it received a nine-minute standing ovation.
M RED CORN: The first probably 30 minutes, I was like, oh, there's so-and-so. Oh, there's so-and-so. Oh, there's my cousin. There's da-da-da (ph). After that died down a little bit and they went to more of this pace of the characters and the murders, it was haunting. But it wasn't gratuitous.
HERRERA: The story is driven by the portrayals of Mollie and Ernest Burkhart. Mollie's Osage and has oil wealth. In order to obtain that wealth, Ernest slowly poisons her at the behest of his uncle, a white Texas cattleman who masterminded many of the murders. Osage citizens say this story deserves attention.
YANCEY RED CORN: It was hard to watch. I mean, it was hard to watch because, you know, my great grandfather was poisoned, and my dad never knew him.
HERRERA: That's Yancey Red Corn, Moira's brother. In the movie, he plays the Osage Principal Chief Bonnicastle, who led the tribal nation in the early 1920s. He was there because he liked the way the story was told.
Y RED CORN: I was really impressed how Marty and his crew really got into the culture and really asked the right people to - starting off with the chief - and then asking the right people to be involved.
HERRERA: Martin Scorsese did get people involved. The film had Osage art directors, cinematographers, makeup artists. He met with Osage citizens in the Gray Horse community near Fairfax, Okla., where many of the murders took place. Based on that meeting, he changed the story from a movie about the birth of the FBI to one that centered on the trust Osage citizens placed on their white neighbors and the federal government and the betrayal of that trust. Here's Scorsese.
(SOUNDBITE OF ARCHIVED RECORDING)
MARTIN SCORSESE: I learned about the people themselves and the stories, and they're all related to each other. And there's still relations, and there's still issues, and - so-and-so was in love. No, he wasn't. Yes, she was. No, it - and it goes on like that. And I said, well, there's the story.
HERRERA: He and his producer worked with the Osage language department to be accurate. Indeed, Lily Gladstone, Leonardo DiCaprio and Robert De Niro all speak Osage in the movie. Principal Chief Geoffrey Standing Bear said it was impressive to hear.
(SOUNDBITE OF ARCHIVED RECORDING)
GEOFFREY STANDING BEAR: We get our own conceptions - preconceptions about what is involved and maybe think that, oh well, Bob De Niro just wakes up, and naturally it's - everything comes right out.
(LAUGHTER)
STANDING BEAR: But these are very hardworking people.
HERRERA: Cara Jade Myers plays Anna Brown.
CARA JADE MYERS: I've been on sets before, and you walk in there, and you're the only Native. And then, literally, you're the cultural consultant. You're, like, the fact-checker. You know, they expect you to know everything.
TATANKA MEANS: We're always, you know, a little hesitant, right?
HERRERA: Actor Tatanka Means plays the Native FBI agent John Wren. He says the experience working on this film was different.
MEANS: Martin Scorsese, I feel like, laid down new foundation here that I hope other filmmakers take into consideration and I hope other studios take into consideration and writers - is go to the community. Go to the people, speak with them, and, you know, work with them. That's big.
HERRERA: For the Osage, the movie is big. But more importantly, they want people to know they're not relics. As the film comes out this fall, the tribal nation will have its own message - we are Wah-Zha-Zhi always. They're still here, and they are thriving. For NPR News, I'm Allison Herrera in Cannes, France. Transcript provided by NPR, Copyright NPR.
Tags Arts & Culture Killers of the Flower Moon
---
---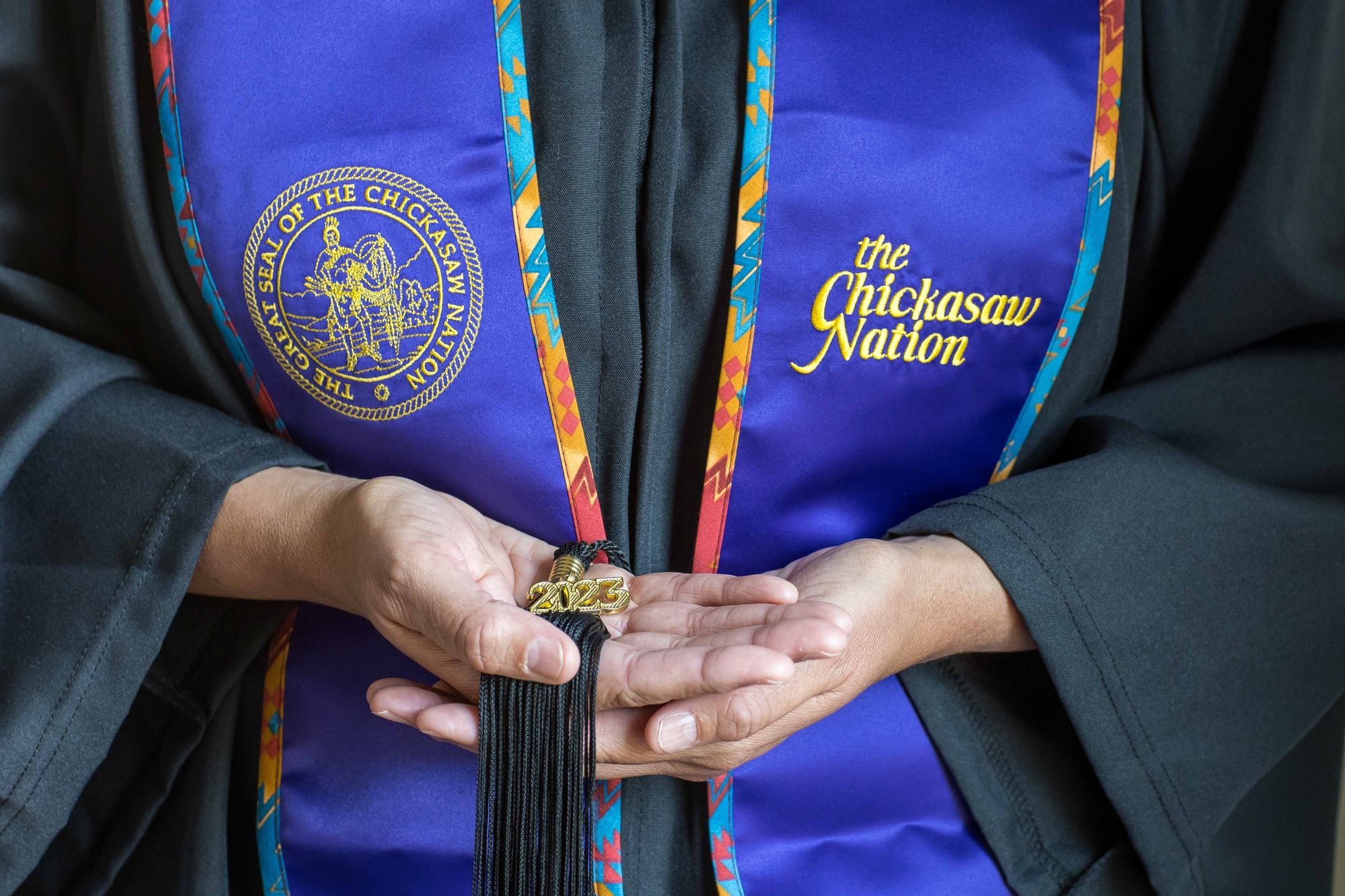 Commitment to education a hallmark of the Chickasaw Nation
Education has historically been one of the Chickasaw Nation's highest priorities, and this year marks 40 years since the launch of two programs that forged a foundation for many modern-day education programs.
Building a Foundation, 1983
The origins of Chickasaw Nation modern education programs can be traced to 1983, when the tribe began administering the Johnson- O'Malley (JOM) and Higher Education programs.
Formerly managed by the Bureau of Indian Affairs, the Chickasaw Nation's management of the higher education program meant Chickasaw students would apply directly to the tribe for educational assistance instead of the federal government. Since its establishment, the program has grown exponentially.
In 2022, 6,000 Chickasaw students received $28.8 million in higher education grants and scholarships.
Previously managed by the Oklahoma State Department of Education, the Chickasaw Nation first contracted to administer the JOM program in 1983. The goal of the program is to provide supplemental programs designed to meet the specialized and unique educational needs of First American students.
Formerly authorized in 1934, the act was part of the "Indian New Deal" with the aim of providing funding to support First Americans receiving education, health care and other support, especially in rural areas.
Currently, the Chickasaw Nation partners with more than 50 public schools in the JOM program with thousands of participating students. Since the implementation of those programs, the Chickasaw Nation has made tremendous strides to provide opportunities to Chickasaw youth.
Chickasaw Nation Governor Bill Anoatubby understands the importance of offering vital education services and its connection to the Chickasaw Nation's success and sustainability.
"Our history has shown that providing our youth with learning opportunities not only nurtures individual development, it is vital to tribal progress," Governor Anoatubby said.
"From our earliest negotiations with the English and a young United States, Chickasaws have sought educational advancements to gain social, political and economic ground.
"We strive to provide opportunities to our youth that will empower them with character, confidence and belief in themselves that with integrity, hard work and perseverance, they will be successful. Today's children are tomorrow's leaders. It is incumbent upon us to prepare them to lead our great nation into the next century," he said.
Chickasaw leaders such as Piominko, who sought literacy training for his daughter as early as the 1700s, understood the essential role formal education could play in the tribe's ability to adapt to change and overcome challenges.
From 1820 through 1826, Christian missionaries operated both boarding academies and day schools in the Chickasaw historic Homeland.
Education in Indian Territory
Removal to Indian Territory led to the establishment of boarding and community schools in the new territory. Chickasaw leaders realized how different life would be for their people in Indian Territory. Leaders knew that for their people to compete and become economically and socially successful among the non-Native settlers, their children needed continued education to read, write and speak the English language.
The Chickasaw Nation opened Bloomfield Academy for girls in 1852, near present- day Achille, Oklahoma.
The tribe supplied most of the funds while Protestant missionaries controlled the schools' operations, hiring teachers from New England colleges and academies.
Bloomfield was among five boarding schools the Chickasaw Nation opened after first writing into law the foundation of a tribal academy called the Chickasaw Manual Labor Academy in 1844. Other schools included the Collins Institute for boys as well as the Wapanucka and Burney Institutes for girls.
Chickasaw Nation schools ceased operations during the U.S. Civil War. Following the war, the reopening of these schools was highly prioritized.
In 1876, the Chickasaws reopened their boarding schools and fully controlled their operation. Chickasaw leaders shaped the institutions' curricula and operated the schools on a contract basis. Most of the teachers were also Chickasaw.
That same year, the Chickasaw Nation opened 11 neighborhood schools as the Chickasaw legislature passed a law increasing the number of elementary-level schools to 23.
Douglas Henry Johnston, a former student of Bloomfield Academy, served as the school superintendent from 1884 to 1897 prior to serving as Governor of the Chickasaw Nation.
While Governor Johnston was superintendent, he strived to popularize education among the Chickasaw people. As a result, the Chickasaw Legislature created a grant for the maintenance of each pupil.
Beyond funding elementary and secondary-level schools, the Chickasaw Nation also invested in the future of its young people by offering scholarships to qualified students to attend college or university.
In 1879, Richard Henry Pratt established the first off- reservation, government-run boarding school called Carlisle Indian Industrial School, located in Pennsylvania. Infamously proclaiming "kill the Indian... and save the man," Pratt wanted the government to fund a school that would require Native children to move away from their homes, leaving behind their families, communities and land. This federally run boarding school, and many others like it, negatively impacted First Americans, including Chickasaws.
After 1898, U.S. officials had final say in educational matters, including setting curricula, qualifications for teachers and teacher appointment.
Oklahoma statehood forced the closing of all Chickasaw Nation schools except for Bloomfield Academy, which was transferred to the U.S. government.
By 1907, the federal government developed a state educational system by using the schools of the Chickasaw, Choctaw, Cherokee, Muscogee and Seminole as models.
Investing in the Future
A significant investment in education services has been made to ensure the future well-being of the Chickasaw Nation. As a result, a variety of educational services and resources for Chickasaws of all ages are available, ranging from child development centers and school-age programs to science, technology, engineering and mathematics (STEM) programs, camps and academies, student support services and higher education grants and scholarships.
"We have educational resources to assist students of all ages and in all phases of life," Governor Anoatubby said. "It is important that we offer these invaluable opportunities for our youth to learn, grow and develop in a safe and positive environment."
Early Childhood Education, and Beyond
A program designed for the youngest Chickasaws, the Chickasaw Nation Preschool and Head Start Program has greatly expanded in the past four decades.
Established in 1979 with one class in Ada, the Head Start and preschool program has grown to include four centers in Ada, Ardmore, Sulphur and Tishomingo and serves more than 320 students from ages 3 through 5.
The Chickasaw Nation Early Childhood Centers in Ada and Ardmore provide a positive educational environment for children from birth to 3 years old. The child development program strives to challenge and stimulate the developmental capacity of Chickasaw children year-round. Chickasaw culture and language are incorporated in the facilities' design and the curriculum.
The Chickasaw Nation Sick Child Care Program in Ada provides working parents with peace of mind by knowing that, though their child is feeling under the weather, they are in a high-quality and nurturing environment.
The Chickasaw Reading Program is designed to assist children by providing books to encourage reading. Children receive one book per month until they reach their fifth birthday.
The School Readiness Curriculum program assists families with children ages 3 to 5, who do not live in an area with access to a preschool, or where children are home-schooled. This program provides teaching aids to families of preschool- age children to enhance their educational development.
Camps, Clinics and Academies
For school-age children, the Chickasaw Nation camps, clinics and academies offer Chickasaw and First American young people an opportunity to explore a variety of diverse interests and develop skills of lasting benefit in fields such as math and science, government and law enforcement, environmental education, sports, culture and the arts.
The Chickasaw Nation Aviation and Space Academy, Space Camp and several other events teach children innovative lessons in the field of science, technology, engineering and mathematics.
Tennis, golf, football and basketball camps keep Chickasaw children healthy and active and prepare many of them for the sports and activities in which they'll participate during the school year.
The Chickasaw Arts Academy offers an intensive program providing children with training in a wide variety of artistic mediums, such as painting, sculpting and beadwork.
Numerous cultural camps are teaching and introducing children to the Chickasaw language, art and even the tribal judicial systems.
Last year, Chickasaw youth camps, clinics and academies attracted more than 791 young people. The Chickasaw Youth Clubs in Tishomingo and Sulphur served 92 Chickasaw youth, and our recreational programs served more than 339 Chickasaw youth.
The school-age program is provided after school and during school breaks for children ages 4-12. This program provides meaningful and culturally enriching programming to develop social and emotional skills through arts, music and dance, scientific exploration, field trips, and much more, all while learning valuable life skills and leadership development.
Access to high-quality tutoring services through Varsity Tutors is available to all Chickasaw students, from kindergarten through the 12th grade.
Launched in 2022, the Student Tutoring Assistance Program allows Chickasaw students access to classroom resources and instruction designed to assist learning in a content-specific, one-on-one, virtual environment. Accredited instructors offer lessons for all learners through an interactive experience that will enrich and enhance traditional classroom instruction.
Opportunities to Succeed
The Chickasaw Nation Science, Technology, Engineering and Math Academy provides a hands-on, community learning environment to First American youth, ages 6-18, inspiring pursuit of careers in these exciting fields.
Chickasaw Nation STEM Academy fulfills the Chickasaw Nation mission, to enhance the overall quality of life of the Chickasaw people, by increasing access and providing opportunities to achieve academic success, empowering students to find and secure meaningful education and employment in these commonly higher paying fields.
The Chickasaw Nation Career Technology Program is available to part-time and full-time Chickasaw students attending a state or nationally accredited career technology center, trade school or private licensed training facility, whereby graduating students receive a professional certification or license upon completion of their program. This program is open to all Chickasaw students.
The Chickasaw Honor Club rewards participants in three areas: grade incentive, perfect attendance and outstanding achievement.
The college-age and Junior Native Explorers program offers guided exploration of the natural world to First American college students. Participants travel with a team of First American research scientists, educators and physicians on a scientific and cultural expedition.
Higher Education Grants, Scholarships and Incentives
Higher education grants, scholarships and incentives assist students with college-related expenses including textbook grants, general scholarships, fee assistance and more. The program also offers several events, such as campus tours, college application assistance and Chickasaw Education Days – where high school students can explore postsecondary options and visit booths representing the dozens of programs and services the Chickasaw Nation offers to students.
The adult learning program helps citizens take control of their educational journey, providing academic assistance to help them pass the High School Equivalency Exam (HSE). Application and higher education enrollment assistance is also available. Within the Chickasaw Nation boundaries, the adult learning program serves all adults ages 18 and older. Preference is given to Chickasaw citizens, then to other First Americans with a valid Certificate of Degree of Indian Blood (CDIB) and referring agency. Classes are offered in Ada and Ardmore.
Outside the Chickasaw Nation boundaries, the adult learning program aids Chickasaw citizens with the costs associated with high school equivalency testing fees.
School-to-Work
Through the Chickasaw Nation School-to-Work Program, eligible Chickasaw participants can pursue a full-time college or vocational program and complete on-the-job training in a specified degree field.
On-the-job training provides school-to-work students with employment opportunities related to their course of study. While working in these positions, students receive expert-level instruction and invaluable work experience. This training leads to a well- prepared individual, ready to enter their chosen profession upon graduation.
The Chickasaw Nation also collaborates with numerous universities in promoting education excellence and providing opportunities for success.
Enhancing Lives
"We work diligently to provide the best quality educational and recreational opportunities to our children and to broaden the possibilities of every new generation," Governor Anoatubby said.
"We will soon look to the generations following us for leadership and guidance, and we're committed to helping them attain the knowledge, skills and wisdom they'll need to succeed as servant leaders. Through these efforts, we can improve the quality of life of Chickasaws for years to come."
For more information, visit Chickasaw.net or contact the Chickasaw Nation Department of Education by phone at (580) 421-7711.
---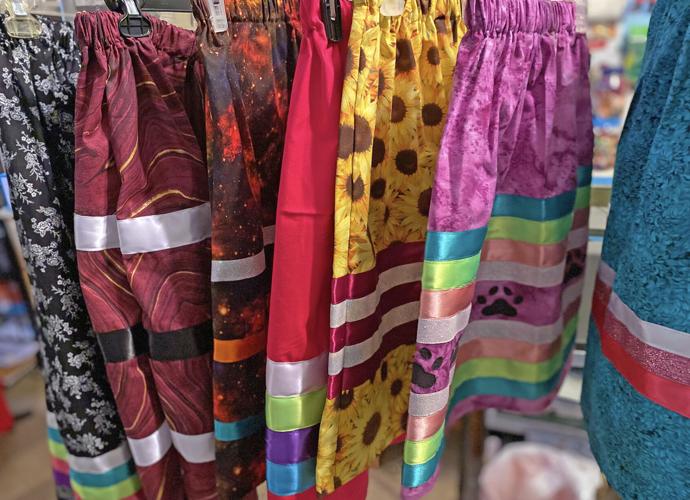 Threads Through Time: Ribbon Skirt
TAHLEQUAH – The ribbon skirt, while fashionable, stems from the histories of tribal wear such as wrap skirts and tear dresses, though it is not specific to one tribe. Today, the ribbon skirt is made and worn by all tribal nations as a symbol of solidarity in being Indigenous.
Her story: Nakiah Mouse, 24, of Tahlequah, learned to sew from her grandmother at a young age making baby blanket and bags. Her interest in creating the ribbon skirt started nearly 10 years ago.
"I was probably seven the first time I asked my grandma if I could start sewing and she was like, 'well, I can start teaching you,'" Mouse said. "When I started making ribbon skirts, I was probably like 15 or 16. They weren't super popular around here at the time in Tahlequah or Tulsa area."
She said her grandmother made her first skirt for her high school graduation. From there she went on to learn more about and study the ribbon skirt and how to make them.
"My grandma, she was raised in the mission. So, she didn't learn anything about our culture when she was growing up. It's definitely things that I have learned throughout the process of me making them because there's still things I'm learning to this day about them," Mouse said.
Ribbon skirt history: Textile artist and Cherokee National Treasure Tonia Weavel said ribbon skirts are a "new phenomenon," really becoming popular within the last five to 10 years.
"A lot of people relate to the ribbon skirt because it's non-tribal. All tribes utilize the ribbon skirt," Weavel said. "I think for women, it's kind of a show of solidarity. It's a show of Indigenous nations. It's a prideful, physical showing of Indigenous women. So, I think that it doesn't have anything rooted or steeped in Cherokee history. But the ribbon skirt today has really influenced, especially our younger generation, in a coming together and a support of all Indigenous nations."
Weavel said historically, Cherokee women wore wrap skirts with fibers made from the bark of mulberry trees until the trade era in the early 1700s.
"As a matter of fact, our Cherokee women often would unravel the wool or the blankets and use the yarn and reweave things that they wanted. So we had that source. When we got that wool, guess what? We still wrapped it. So the style of the skirt never changed. The materials for the skirt changed. When we got the wool and we began to trade then we began to trade for this beautiful silk ribbon." Cherokee women began decorating their wool wrap skirts with silk ribbon or "bed lace," as it was called.
"We started decorating the skirts with the ribbon," Weavel said. "We lined the edges of it, we lined the hem of it. We put rings of ribbon around the bottom of it. We put silver brooches on the skirts. We began to decorate them. So, ribbons and skirts have a long history with Cherokee people, just a different style. We've sort of returned to that."
She said the flair for decorating clothing became secondary when the Treaty of New Echota was signed and the events that happened thereafter.
"A lot of the beauty of the beautiful things that we did, the leisure, textile arts faded away because we were trying to stay alive," she said.
As the century progressed, Weavel said Cherokee women turned to the utilitarian dress, known today as the tear dress. From there, the ribbon skirt among many tribes began to make its way into modern-style Indigenous fashion.
"So, to go from a ribbon skirt of today's liking, where girls and women choose their fabric, they choose the ribbon, they choose designs, it really does kind of weave into our history," Weavel said. "It's not specific to Cherokees, to my knowledge, it's not specific to any tribe. But it is this wonderful show of solidarity among young and older Native women to show women's strength."
Ribbon skirt today: The creators and wearers of ribbon skirts utilize the skirt for several reasons. Some are used in certain ceremonial settings while others are used to show tribal identity and contributions to what is considered modern Indigenous fashion.
"It's like life skills," Mouse said. "My grandma was definitely happy that she has taught me that so I can fix my clothes if I need to. Then I can create things as well. I get a lot of joy out of making them. Especially when I see the final result of them and how happy they make other people. It just brings me a lot of joy knowing that I could bring that to them."
---