---
New museum explores U.S. justice in Indian Territory
by Chad Hunter
FORT SMITH, Arkansas – The highly anticipated, $48 million U.S. Marshals Museum in Fort Smith, Arkansas, opened its doors to the public on July 1 complete with exhibits detailing the federal agency's sometimes storied relationship with Cherokees in the frontier era.
To differing degrees, the museum acknowledges the likes of full-blood Cherokee and Deputy Marshal Sam Sixkiller, Cherokee statesman Ned Christie, Cherokee senator and sheriff Ezekial "Zeke" Proctor and Crawford Goldsby, better known as "Cherokee Bill."
"We're very proud of the representation of the Cherokee Nation and Cherokee people in our gallery and in the story here," curator of collections and exhibits David Kennedy said, also noting that Cherokees are featured in both the main gallery and Hall of Honor. "It's a chance to tell some of the story after the removal of Cherokee people to Indian Territory. But I know there's a huge history there, a lot of it very convoluted and lot of different moments of really bad things happening."
Located on 16 acres next to the Arkansas River, the 55,000-square-foot, star-shaped building has been in the works for 16 years, according to those involved. The museum's official mission is to share stories and honor the legacy of the U.S. Marshals Service.
"This is an ever-changing story and honestly, it's part of American history," Kennedy said.
The museum's president and CEO, Benjamin Johnson, said there are many stories visitors don't expect.
"The one great thing this team and the U.S. Marshals Service have done over the years is they've made sure we are trying to make a true and accurate representation of historical events and facts as much as possible, which means the marshals aren't always the white hats coming in to save the day," Johnson said. "Just like American history, marshals' history has moments that are challenging in their relationship with the Cherokee Nation and also various tribes in the region. There were bad times, but there was also a lot of cooperation and collaboration to an extent I think a lot of people don't expect. There are more times than not that all of that history has intersected in a way that they end up on the same side of history frequently."
CEO: It's much more than an Old West museum
While the U.S. Marshal Service-Cherokee connections reside primarily in 1800s-era frontier exhibits, the sprawling museum spans every decade to present day.
"The Old West side is an important part of the story, but the 20th century and now the 21st century plays an immensely important part in the narrative," museum President and CEO Benjamin Johnson said. "Marshals Service history is very much American history. They came about with the Constitution in 1789 and have been here ever since. Really, we tell a broad narrative of American history through the lens of the U.S. Marshals Service. So, you get everything from 1789 to the present, even looking out into the future, through the Marshals Museum stories."
Galleries include "To Be A Marshal," "The Campfire, Stories Under The Stars," "Frontier Marshals," "A Changing Nation" and "Modern Marshals."
"They've spared no expense," Johnson said. "The talent around the country that has done the creative work and created a lot of what you see in here is absolutely top notch. Almost everybody who has been around the project that has come through in the last month has said, 'Oh man, this is way more than I thought.' This is not just an Old West museum. This is something very, very special."
The United States Marshals Service handpicked Fort Smith as the permanent home for its national museum in 2007. According to historians, more marshals and deputy marshals died riding out of Fort Smith into Oklahoma territory during the frontier era than in any other place or time in the nation's history.
Museum officials budgeted for 120,000 visitors – who also live closer to home – in the first year.
"The first year we're putting the bulk of our effort into a roughly 250-mile radius," Johnson said. "I don't know if people are hopping on a plane from Europe to get to the Marshals Museum just yet. But this is going to be one more thing for the state of Arkansas and the region to draw from. Beyond that, then we're going to move into national coverage and really working with the state and tourism officials to get folks from around the world."
Admission prices are $13 for adults; $11 for seniors 65 and older; $10 for veterans of the military and law enforcement; $8 for youth ages 6-17; and free for children under 6 years, current military and law enforcement with ID and members of the U.S. Marshals Service.
For more information, email info@usmmuseum.org or call 479-242-1789.
---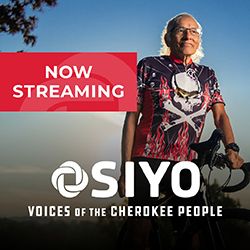 ---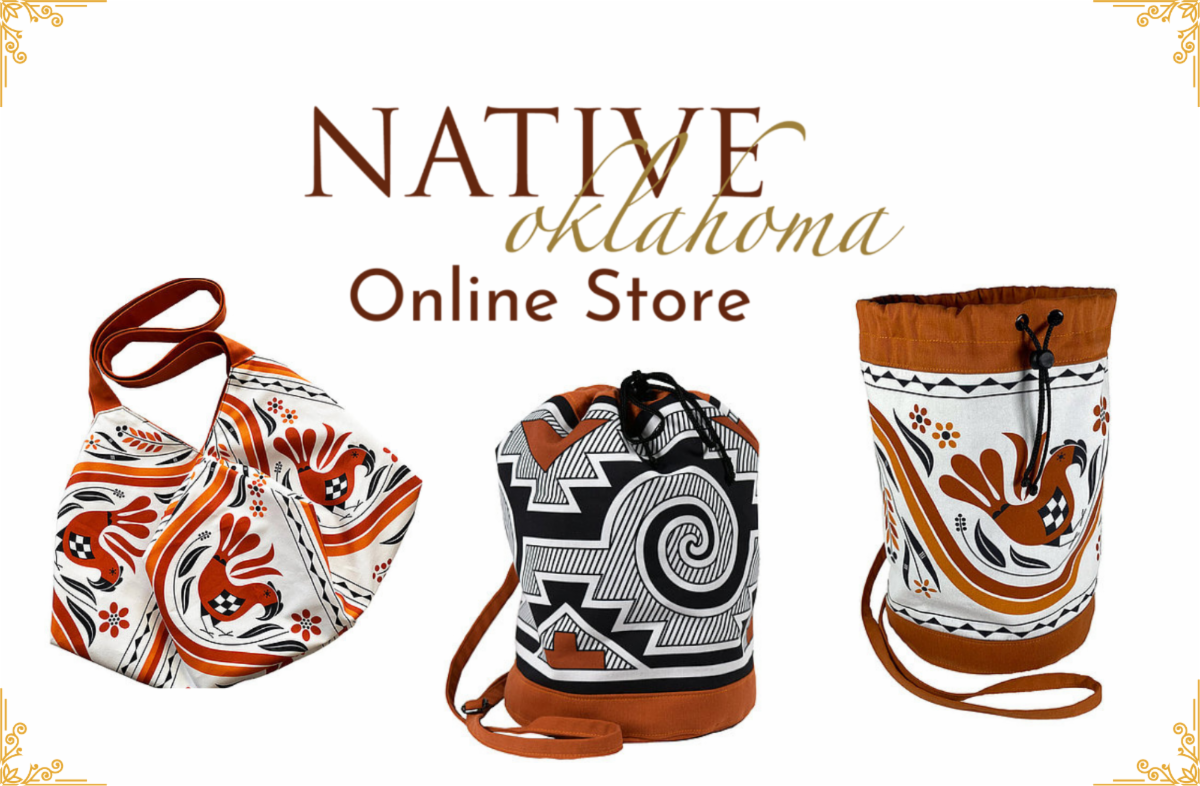 ---
Osage County Historical Society honors three Osages as 2023 'Heroes and Legends'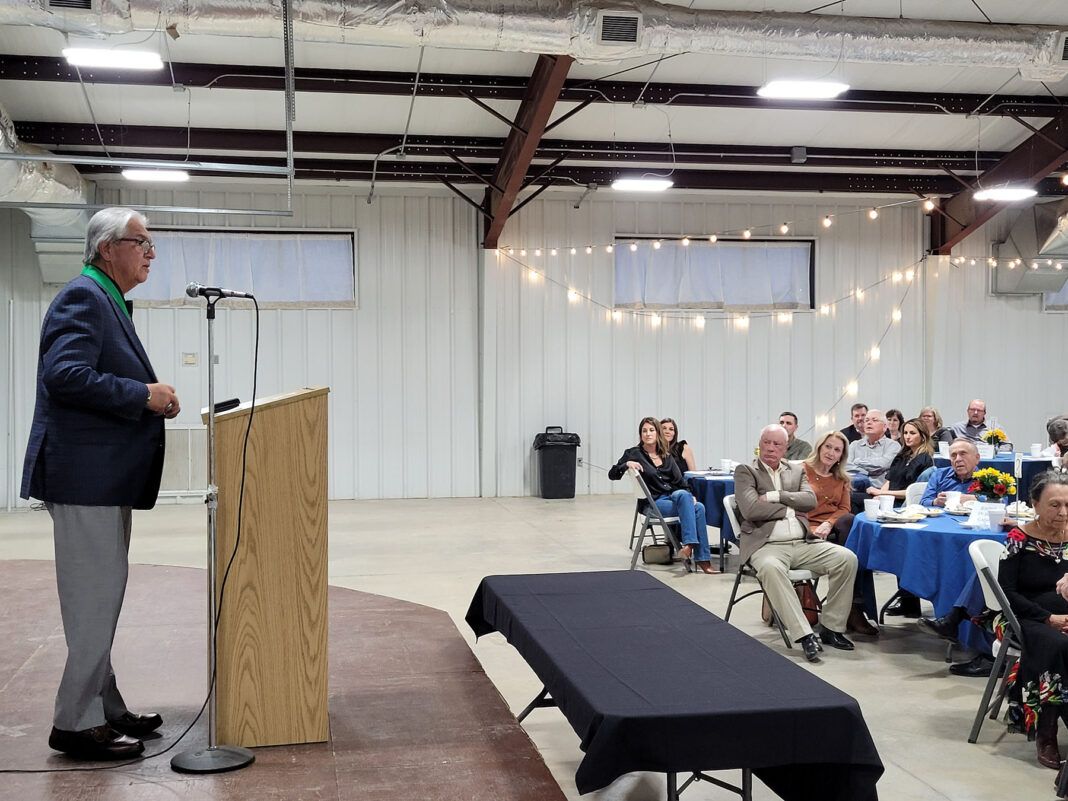 Honorees included Archie Mason and two posthumous honors for artist John D. Free and Maj. General Clarence Tinker
by Benny Polacca
The Osage County Historical Society honored former Osage Nation Congressman Archie Mason and posthumously honored Osage artist John D. Free and Maj. General Clarence Tinker as 2023 "Heroes and Legends."
Now in its seventh year, the county Historical Society Board of Directors selects five outstanding county citizens as honorees for the "Heroes and Legends of Osage County" acknowledgments. Mason, Free and Tinker received their recognitions during the Historical Society's annual meeting, dinner and live auction on May 4 at the county fairgrounds.
According to the Historical Society: "Osage County was built by the strength and character of many extraordinary men and women … Five honorees will be awarded a very special medallion with their story retained at the OCHS Museum. Their names have been chosen by the Osage County Historical Society Board of Directors from all corners of Osage County for their significant contributions to their communities."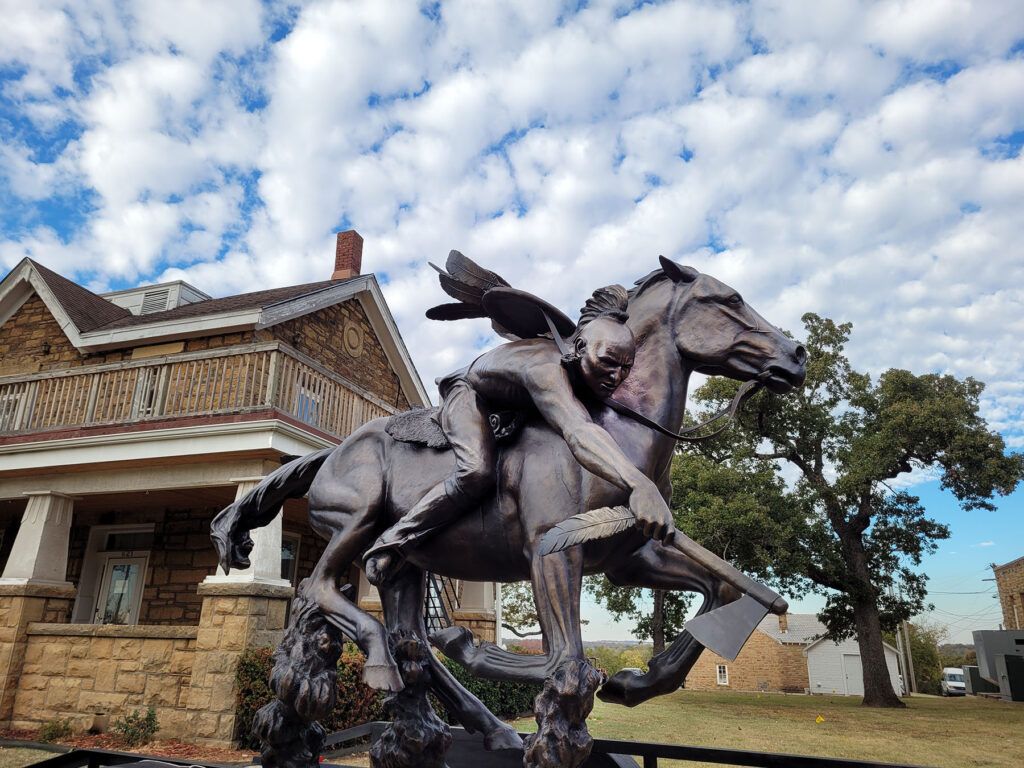 The Historical Society recognized Free (1929-2014) with a bio statement read highlighting his life's accomplishments and artworks. According to his obituary, Free "was a member of the Nation Academy of Western Art, Oklahoma Sculpture Society, Prix De West, and a past member of the Cowboy Artist of America. He has shown artwork at the (National) Cowboy Hall of Fame, Gilcrease Museum, Woolaroc, as well as numerous galleries and shows. He was a silver medal winner at the annual Prix De West Art Show, and the Wrangler Award given out at the annual Western Heritage Award Banquet was sculpted by John. He is nationally known as his artwork is part of private and corporate collections across the nation. He has received numerous awards and recognitions during his 50-plus years as an artist … John began his art career in 1960 and trained under Thomas Lewis in Taos, N.M. and spent many summers in Taos shaping his craft. His wife Rayma went to work full time to allow John to have time to start his fledgling career. Rayma was instrumental in managing John's career. John lived on a small ranch north of Pawhuska where he cared for his horses including his favorite horse, Old John, and his longhorns. He also started a foundry, The Bronze Horse, with his brother-in-law, which is a family-operated business. John was a member of the Osage Nation, First Baptist Church of Pawhuska, and served in the military in Japan in the 1940s."
Free's grandson, Cameron Free, also an artist, accepted the medallion on behalf of his family.
Historical Society board member Faren Revard Anderson read a statement on Mason before he received his medallion. Anderson and Mason were both elected to serve on the First Osage Nation Congress when the Nation's 2006 reformed government launched.
Anderson said Mason "has completed post-graduate studies at the University of Tulsa, he is currently the executive minister of Tulsa's All Tribes Indian Baptist Church and he has been an Ambassador of Goodwill for Oklahoma and the city of Tulsa and has traveled internationally. Mason spent 30 years as an educator for Tulsa Public Schools, first as a classroom teacher then a certified counselor and Title IX and Johnson O'Malley Indian Education Director. He continued in education as an adjunct professor in the Humanities Department at Rogers State University. He is currently a Bacone College Ambassador. From the education field, he entered the political arena. He served on the Osage Nation's First Congress in 2006 and subsequently served for the next 14 years… He also holds the distinguishment of being the Nation's first Congressional Speaker. Mason is a 20-year member of the U.S. Selective Service System. He was appointed by (President) George W. Bush and subsequently appointed by Barack Obama to the Oklahoma Selective Services System District Appeals Board. Mason is involved in numerous organizations, including Rotary International, Oklahoma Indian Baptist Association, Phi Delta Kappa, and American Indian Children with Disabilities. He is also active with Sigma Tau Gamma, (Northeastern State University) Alumni Association and the National Association of Campus Ministries."
Anderson said she asked Mason, a 1962 Pawhuska High School graduate, about his memories growing up in Osage County and said "he has wonderful and cherished memories of times past growing up in the 1950s and the 1960s in Pawhuska such as great cafes, movies and department stores and the pool hall, great fishing in the old city lake and the surrounding creeks, he enjoyed those very much … Archie cannot forget the local group of musicians, The Misfits, of the 60s, they were Pawhuska's own … Archie is a supporter of our city and he keeps an open communication with our sister city in France and other connections in the South of France … He appreciates the values instilled by his parents, his family and Pawhuska, which have allowed him to follow a career in education and other related endeavors."
Anderson also noted Mason was recently honored at Bacone College with having the "Dr. Archie Mason School of Religion" being placed on their campus and now in the curriculum as she called him to receive his medallion at the dinner.
After accepting his medallion, Mason shared memories of his youth in downtown Pawhuska, which was full of long-gone stores, businesses and popular entertainment spots. He then expressed thanks "for this privilege and this acknowledgment, it's something I shall take with me this evening as I retire … I'm going to think of this moment, think about Pawhuska here looking out and those of you in Osage County, cowboys and Indians alike, thank you one and all."
The final honoree bio statement for Maj. Gen. Tinker was read out loud. "He was born Nov. 21, 1887, north of Pawhuska on the Osage Nation and died June 7, 1942. He was the son of George Edward and Sarah A. Tinker, was raised Osage and spoke the Osage language … His elementary education was at Hominy and Pawhuska Catholic schools. His formal military education began when he entered Wentworth Military Academy in Lexington, Mo. From there, he was commissioned as a Third Lieutenant at the Philippine Constabulary. He gained a commission in the U.S. Army Infantry in March 1912. In 1913, Tinker was transferred to Hawaii where he met and married Madeline Doyle. During WWI, he was promoted to Major and Tinker began flying lessons with the ROTC in Riverside, Calif., and when his father came to visit, they spoke Osage to each other and Tinker established his identity as Osage."
"(Tinker) was transferred to the Army Air Service on July 1, 1922, in the same class with (future President) Dwight D. Eisenhower. After the attack on Pearl Harbor, Tinker became the commander of the Seventh Air Force in Hawaii. Tinker flew an early model of B-24s in the Battle of Midway chasing the Japanese when his plane with eight crew members plunged into the sea. They were officially reported to be missing at 2300 hours on June 7, 1942. The bodies of Tinker and his crew members were never recovered … Tinker became the first general to die in WWII. He received the Soldier's Medal in 1931 and posthumously was awarded the Distinguished Service Medal. In October 1942, the Oklahoma City Air Depot became Tinker Field and was later named Tinker Air Force Base. Tinker's personal papers and property were donated by his widow, Madeline, to Tinker Air Force Base. The Osages honor Tinker every year at the (Pawhuska) Inlonshka dances (during his memorial song). It's the only song when all Osages (and attendees) stand in honor."
Mason accepted the medallion on Tinker's behalf and said he would make sure family members received it after the event.
---
Graduating Chickasaw artist has realistic approach to art career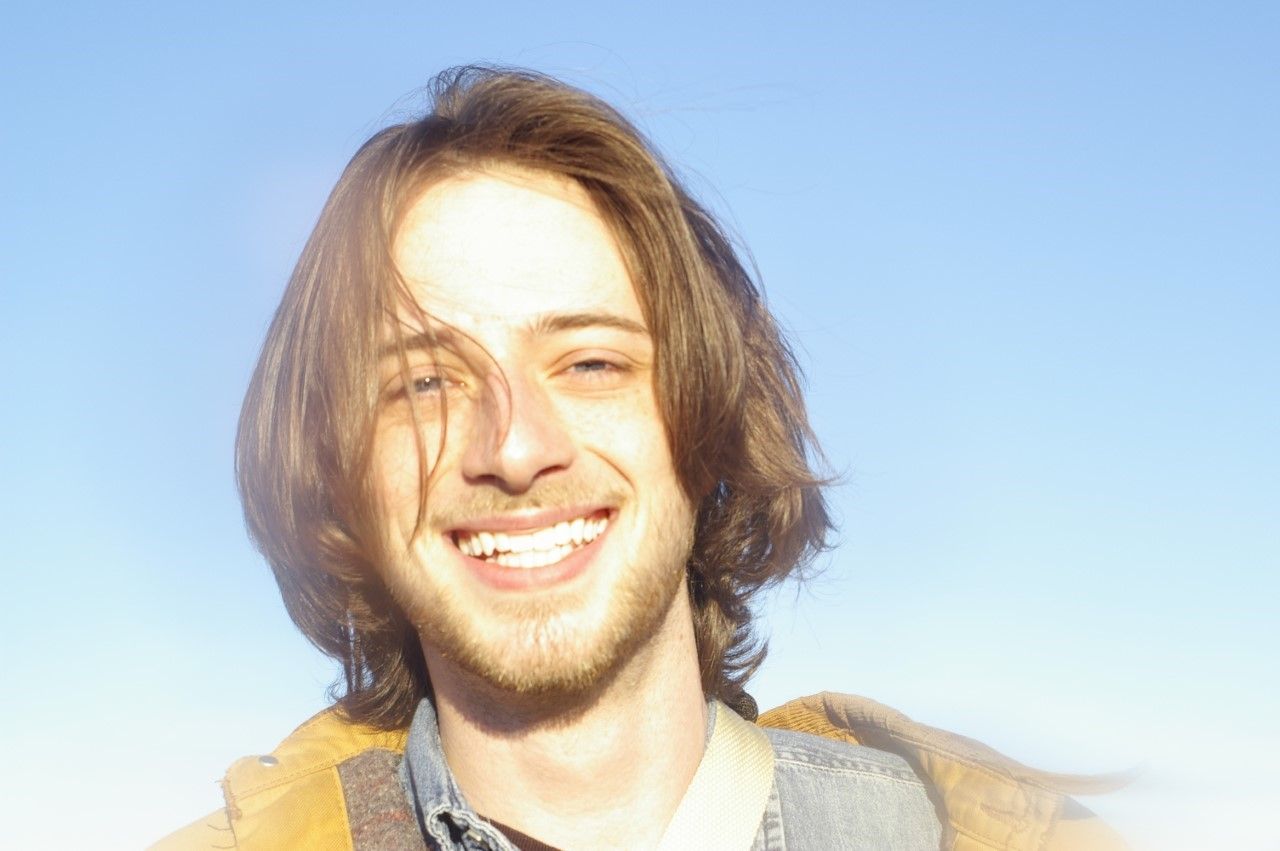 Levi Gentry was a busy young man in April of this year.
The four-year dean's list student was fine-tuning his thesis to complete degree work while holding down four jobs as a soon-to-be graduate of Washington University in Saint Louis, Missouri.
One job was courtesy of the school's art department that recognized his talents and asked him to supervise other students.
"If someone looked uncertain about what they were doing, I would direct them to a tool or process that would help them safely accomplish their goals," Gentry said.
He was also employed by the university's print shop.
"Once a year, we would have visiting artists do a weeklong residency with us. They were usually printmakers, but we would encourage artists of all disciplines to visit. We were responsible for continuing to produce their work in the year after," he said.
Gentry, a Chickasaw citizen, also served in management at the campus radio station and hosted two shows himself, all of which filled up most of the remaining time he wasn't creating artwork and keeping his grades up.
Well, almost.
"I co-curated a show at Lemp Factory here in Saint Louis and created a public sculpture commission for University City, Missouri," he said.
The former Norman, Oklahoma, resident graduated in May with a Bachelor of Arts degree in fine art. Deciding on his chosen field of study proved something of an evolutionary process.
"Initially, I looked to industrial design as a potential career field," he said.
He then considered studying architecture and even minored in the subject, but something still seemed amiss.
"It was a slow journey for me to realize that I am an artist," he said. "I fell into art. I didn't expect to become the artist I am today. I simply followed my nose."
His primary focus is on sculpture and printmaking and lately has begun investing his talents into extra-dimensional paintings.
"Extra-dimensional paintings are essentially paintings which occupy three-dimensional space," he explained. "They are paintings but they're also sculptures."
Gentry's post-graduation plans include eventually moving to New York City where he spent last summer as an intern at a design and fabrication studio in Queens.
Before moving to the Big Apple, though, he expects to take advantage of a more immediate offer in Nebraska.
"I have been awarded a residency in art in rural Nebraska called Art Farm. It's a well-known residency which pushes for a collaborative spirit and works outside the typical whitewall gallery," he said.
Gentry is realistic about his approach to a post-college art career.
"I'm not expecting to initially make my living as an artist, and that's OK. That's the normal way it goes for any successful artist. I have jobs in art I can do for money and job security, but I'm not making art for the money.
"I'm doing it to develop as an artist, which will open up career opportunities later on. For now, I will continue to create art in addition to my nine-to-five," he said.