By Mary Leaver
The Citizen Potawatomi Nation's newest enterprise, Sovereign Pipe Technologies, manufactures a product that can help safeguard precious natural resources.
Ronnie Wear, chief executive officer and general manager, is leading the new venture and proud to be a part of Iron Horse Industrial Park.
"Our employees have the chance to be a part of something new and original," he said. "The Tribe's innovative thinking is making business more accessible in Oklahoma, and we look forward to leaning into this exciting endeavor."
Sovereign Pipe Technologies specializes in manufacturing high-density polyethylene piping ranging in diameter from less than 1 inch to 48 inches. HDPE pipe is used by a variety of industries, including oil and gas, municipal and sewer, industrial, mining, geothermal and telecommunications.
The 45,000-square-foot plant is the first business located in the Tribe's 700-acre Iron Horse Industrial Park. With a central location, SPT has direct access to both railways and highway systems, making it easier to conduct both domestic and international business.
Common uses
Jeremy Hohn, vice president of international sales and marketing, and Barb Donaldson, vice president of quality, said HDPE pipe is manufactured in a wide variety of sizes for different uses.
Water transfer and agricultural setting typically use smaller diameter piping. Mid-range sizes are used in the oil and energy sector. The larger sizes find their place in irrigation projects, sewer use and capturing freshwater runoff in mountainous areas.
"The piping that we are making is intended for 100-year use. It will go well beyond 100 years when it's installed. There isn't anything that's going to be going into waste, which we're super proud of. Our product is the best product in the world to be able to provide that infrastructure. It is completely leak free. It is environmentally friendly," Donaldson said.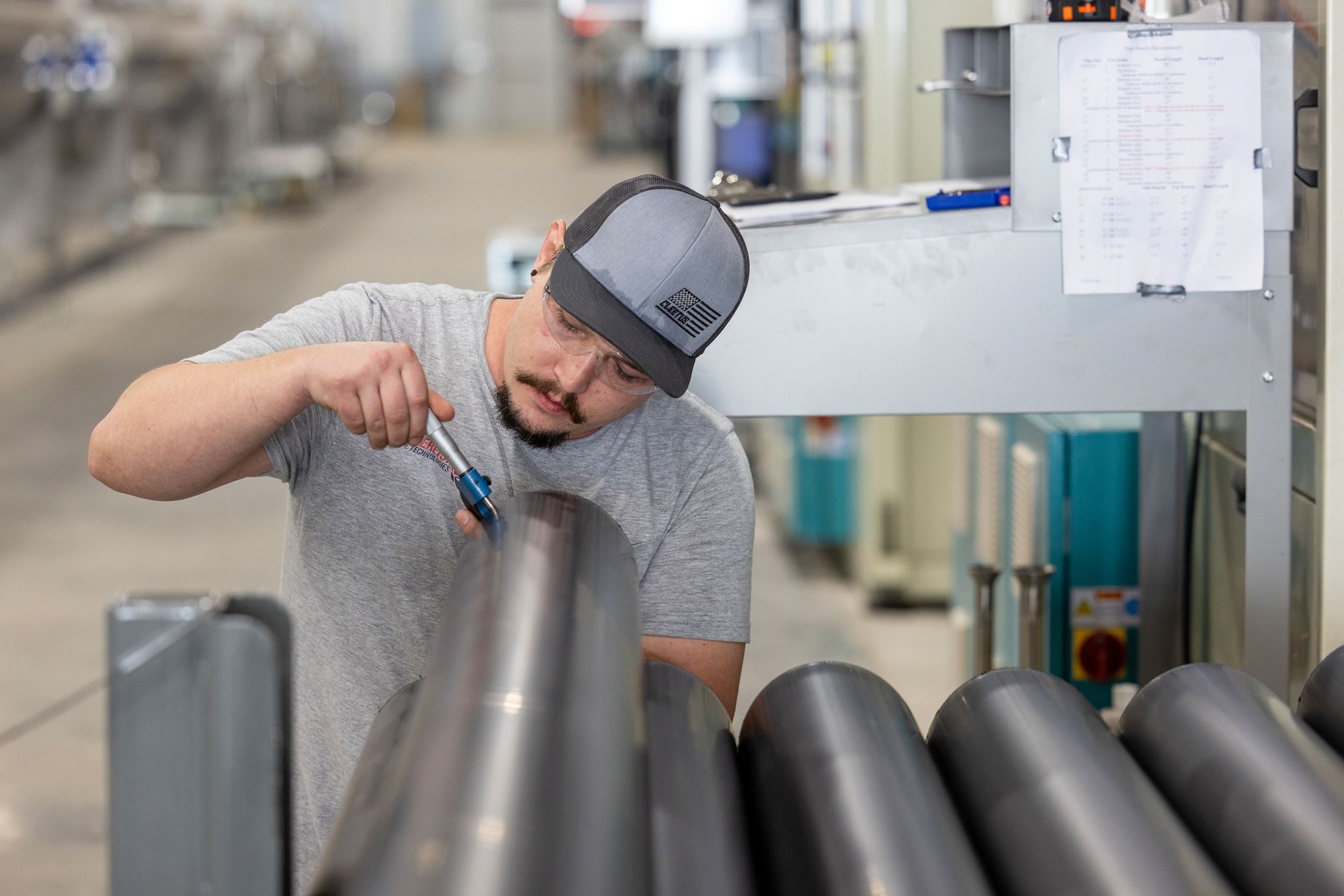 Meeting infrastructure needs
Wear has spent the majority of his 20-year career in the pipe industry. He is proud SPT can have a positive impact on the country's infrastructure needs. He expects that HDPE pipe will become the preferred medium in many industries as focus grows on replacing aging infrastructure and protecting natural resources like water.
"(Infrastructure) for the entire country is at a really critical point. We anticipate, worldwide, the need for plastic and pipe infrastructure to continue to rise over the next 20 to 30 years. And we're excited to be a part of that," Hohn said.
"As society experiences these scenarios where water is becoming more and more of a precious commodity, we have to have a pipe system and a pipe material that takes into consideration water loss and the magnitude to our society. Plastic pipe aligns very well with the CPN philosophy for having a green, carbon friendly business here in the industrial park."
Protecting natural resources
Wear, a Choctaw tribal citizen, said SPT's focus on environmental responsibility is one he shares as an Indigenous person. It is important to him that tribal values are upheld.
"One of the reasons I wanted to join the team here is the concept of why CPN is transitioning into manufacturing and the impact to (CPN) citizens. I'm excited what the business can do to support other programs and additional opportunities for the for the citizens in Pottawatomie County," Wear said.
As locations in the Western U.S. experienced a record drought followed by record rainfall this year, more municipalities are looking for ways to protect water during these events.
"There's a lot of projects in areas where they have a lot of that snow runoff, and they want to capture that really clean, fresh water in high volumes. With HDPE pipe, they can capture that and run it to many of the communities down in the valleys, because otherwise there's not a good way to transfer it efficiently," Hohn said.
"You're avoiding evaporation when you're in a closed system," Donaldson added. "So, you're not losing that precious water. We want to be able to make sure that we capture that and hold it and get it where it needs to go without losing any of it."
Hohn said HDPE pipe has advantages over materials like concrete, steel and ductile iron, and can address both aging infrastructure on the East Coast and water scarcity on the West Coast.
New employees
SPT's new employees will be working in manufacturing, quality control, shipping and receiving, and administrative capacities. Wear is proud of the benefits he can offer new hires, including health insurance and schedules with some flexibility.
"Our medical, dental and optical benefits for our employees is extremely competitive versus other employers in Pottawatomie County," Wear said. "We also have a very aggressive pay scale and a very attractive work schedule. We will be running 12-hour shifts, which is good because you have time off, and it allows you the flexibility with your family."
Local organizations and community groups from the greater Shawnee area have reached out and offered support, Wear said.
"We've been blown away by the support that we've received, not only from CPN, but also from everyone within Pottawatomie County," he said. "The local chamber of commerce and community groups are really helping us promote the business to people of Shawnee and the county. Our scope and our reach, we want it to be extensive in terms of building the team here and take that opportunity to find the best possible team members."
Wear eagerly shares the company's philosophy.
"We know about the importance of infrastructure and the importance of how we handle water and how we handle the different resources that our society uses. Our tagline for the organization is simple. It's 'We're building tomorrow's infrastructure today.'"
As each production line begins, Hohn expects SPT will continue to grow through the spring and should be fully staffed by the beginning of the summer.
For more information, connect with Sovereign Pipe Technologies on Twitter, LinkedIn or Facebook. To learn more about employment benefits or to apply for a position, visit potawatomi.org/jobs.