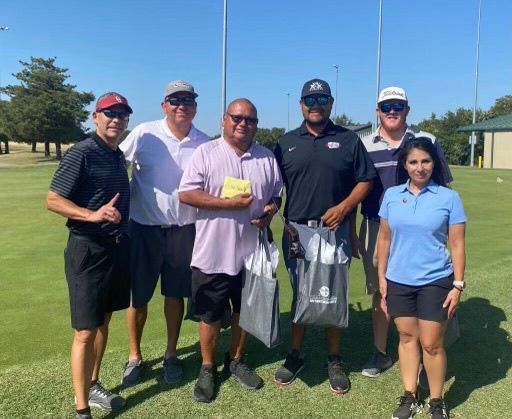 $5,000 of tournament proceeds to be donated to Comanche Academy and Comanche Nation Higher Education
LAWTON – (Aug. 2, 2023) Comanche Nation Entertainment is teeing up for the return of its third annual golf tournament to support Comanche Nation youth. The tournament will be held on Monday, August 7 at Fort Still Golf Course with funds benefitting Comanche Cares, Comanche Nation Entertainment's community giving initiative.
Committed to supporting the community and aiding those in need, Comanche Cares will donate $5,000 of the proceeds to Comanche Academy, a free public charter school that embraces the Comanche (Numunu) Culture and language as its instructional format, and Comanche Nation Higher Education, a department dedicated to supporting Comanche Nation tribal members in obtaining their educational goals, matching last year's contribution.
This year's golf tournament is supported by the contributions of over 20 sponsors, selling out every available team. "We would like to thank our sponsors for their generous support," said Mia Tahdooahnippah, CEO of Comanche Nation Entertainment "We are deeply grateful for their generosity and commitment to our education in the community."
Players will have several opportunities to win prizes and compete in challenges including, a Hole in One Challenge sponsored by Classic Lawton Chevrolet with a prize of a Chevrolet vehicle and another Hole in One Challenge sponsored by Nissan of Lawton with a prize of a 2023 Nissan Altima SR.
The tournament will also feature additional prizes for the Longest Drive Challenge, hole in one prize at all Par 3s, and the Closest to the Pin Challenge.
"Thanks to our local community and generous sponsors, this event marks another step forward in supporting Comanche Nation students and schools. Together, we're making a positive impact and building a brighter future," said Tahdooahnippah.
For more information about Comanche Nation Entertainment, visit www.comanchenationentertainment.com.
ABOUT COMANCHE NATION ENTERTAINMENT
Comanche Nation Entertainment operates Comanche Nation Casino in Lawton, Comanche Red River Hotel Casino in Devol, Comanche Spur Casino in Elgin, Comanche Star Casino in Walters, Comanche War Pony Casino in Devol and Comanche Cache Casino in Cache. Its Comanche Travel Plazas, Smoke Shops and Quick Stops are located throughout Southwest Oklahoma.
True to its tribal heritage, Comanche Nation Entertainment is committed to family. It treats its team members like family and supports vital community services in the towns where it operates. Its mission at all of its properties is to provide a fun and exciting experience for guests, a safe and rewarding environment for team members and prosperity for the Comanche Nation.
For more information on Comanche Nation Entertainment properties, visit www.comanchenationentertainment.com or follow the company on Facebook.